'Tony Hawk's Pro Skater 1+2' Review Roundup: What Critics Are Saying About Remasters
It's been more than 20 years since the first Tony Hawk's Pro Skater was released and Activision is about to release remasters of the first two installments in the skating-simulator franchise.
Many believe the first two Tony Hawk games to be total masterpieces, and from the looks of the reviews that came out Thursday, the remastered versions—which are coming out on Friday, in one package—live up to the lofty expectations.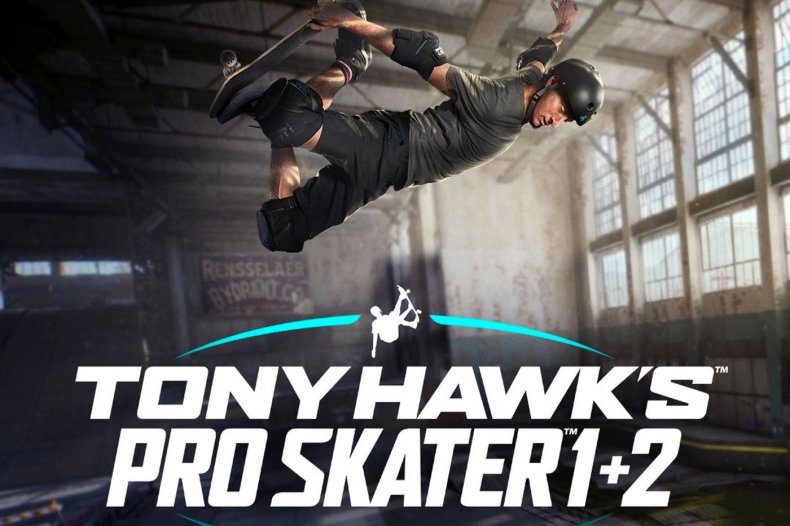 IGN - 9/10
Newsweek subscription offers >
IGN gave Tony Hawk's Pro Skater 1+2 a 9.0-out-of-10 score, praising how the games have been updated visually to meet the standards of modern gaming. The reviewer also noted that the new versions stay true to what made the first games such a delight to play—particularly the way that the maps, tricks and music have remained the same from the earlier versions.
"The accessible yet tricky skating is earnest and old-school fun, the wonderful looking levels are lovingly designed odes to the past, and the music is like the hearty embrace of an old childhood buddy," writes Luke Reilly.
Read IGN's full review.
Kotaku - No Score
Newsweek subscription offers >
Kotaku doesn't give out game scores, but you don't need a number to realize how enthusiastic the outlet is about the remastered Tony Hawk games.
Writer Ian Walker calls Tony Hawk's Pro Skater 1+2 a "masterpiece" that offers the same gameplay and nostalgia as the original classics. According to Walker, the small changes—like how manuals, reverts and spine transfers that were added in later installments of the franchise are present—make the gameplay even better.
"The idea of one of my favorite games of all time getting dolled up for a date with modern consoles was a dream come true. Thankfully, Vicarious Visions nailed it with THPS1+2," writes Walker.
GameSpot - 9/10
GameSpot's Mat Paget gave the remaster a 9-out-of-10 score. Even though the gameplay has stayed relatively the same from the original releases (down to the placement of the hidden areas and items), Paget does feel that the remasters make gameplay a bit smoother.
"While you still control it the exact same way you would the originals, it feels a lot less stiff. Tricks are as exciting to pull off as they've ever been, but the speed of the game moves faster and the skaters' animations are a lot more fluid," writes Paget.
Despite the glowing review, Paget did dock the game for some frame dropping in some of the online multiplayer modes, but that wasn't enough to get the reviewer off their skateboard.
Tony Hawk's Pro Skater 1+2 is available Friday, September 4, for PS4, Xbox One and PC.
'Tony Hawk's Pro Skater 1+2' Review Roundup: What Critics Are Saying About Remasters | Newsgeek