Is Tony Robbins for Real? New Doc Skirts the Question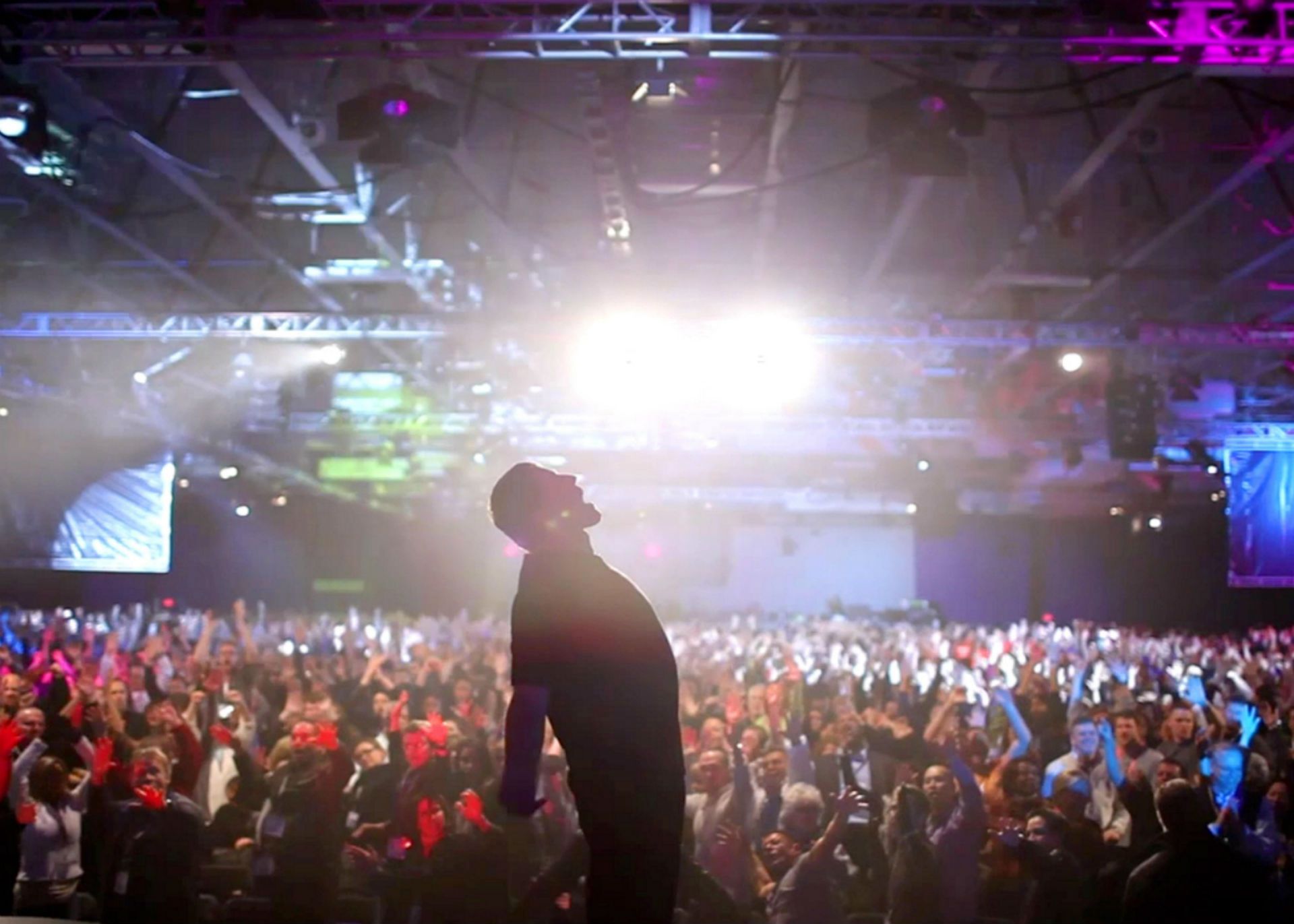 Tony Robbins: I Am Not Your Guru, a new Netflix documentary that takes viewers inside a seminar conducted by the world-renowned self-help expert, begins with a question. "Why are you suicidal?" Robbins bluntly asks a man holding a microphone. They are standing up in the middle of a ballroom at a Boca Raton Hilton, surrounded by thousands of people who paid $4,995 to attend Robbins's annual Date With Destiny seminar, which takes place over six intensive days.
The man has trouble articulating a response—as most anyone would in this situation—so Robbins takes the lead. He makes fun of the man's shoes. The man smiles. Robbins gently caresses the man's cheek with the backs of his fingers. "Don't you be smiling like that," Robbins says before stepping closer. "You'll fuck everything up." Now he has him. He stares into his eyes, into his soul, and deposits a few lines about self-worth. The man begins to well up with emotion. Robbins smiles with delight and presses on with even more intensity. Can the man "fucking feel it," Robbins wants to know. After acknowledging that yes, he can feel it, he breaks down crying in Robbins's arms, at which point the sound tech starts pumping "lift me on high"-style inspirational music into the room. Robbins then backs away, leaving the man to be swarmed by the other attendees, who hug him one after another before literally lifting him on high and crowdsurfing him around the venue.
As this scene was playing out at the documentary's world premiere in Austin, Texas, this March, half of the audience were biting their knuckles in suspense and half were trying to stifle laughter. It was a deeply emotional moment, but for those who had never attended one of Robbins's seminars (I Am Not Your Guru marks the first time outside cameras were allowed to document one), the process was comical, in the same way a YouTube video of an over-the-top demon exorcism may be comical. In fact, it wouldn't be a stretch to argue that here Robbins was performing his own, secular version of a demon exorcism. He has all the bombast and charisma of a tent preacher or carnival barker. The near-disturbing level of intensity is there, as is the near instantaneous, overwhelming sense of relief on the part of his subject. The motto of Date With Destiny is, after all, that "our entire life changes in a moment." It's in big block letters on the poster and everything.
This is what Robbins does, though, in front of 200,000 people a year, and along with a handful of books, private consultations, and other ancillary enterprises, it's made him hundreds of millions of dollars. In 2012, Robbins met award-winning documentarian Joe Berlinger, known primarily for his work chronicling the story of the wrongfully convicted West Memphis Three, and invited him to attend Date With Destiny. After attending, Berlinger was sold, and for two years tried to convince Robbins to allow him to film the event. Robbins pushed back, ostensibly out of fear that Berlinger's cameras would disrupt the healing process, but eventually relented when Berlinger said he would pack up and leave if at any point the filming made Robbins uncomfortable.
The result, I Am Not Your Guru, is not so much a documentary as a promotional film. It certainly has the glossy sheen of such, and is strictly laudatory of its subject, which is usually the case when a film's subject funds a portion of the production. It is also wholly ignorant of the fact that people may be dubious of Robbins, an unaccredited, self-appointed therapist charging people $5,000 to hear him give on-the-spot counseling advice, using their vulnerability to convince them of his healing power, and then returning to his lavish Palm Beach mansion to meditate to the sound of waves washing up on his private beach. This is a hyper-cynical way to describe what Robbins does, but at the same time it feels naive to take Berlinger's portrayal of Robbins as a selfless miracle worker with a skeleton key for happiness and fulfillment at face value.
Robbins isn't one for skeptics
A few days before I Am Not Your Guru premiered on Netflix, I spoke with Robbins at his suite in the Four Seasons, just off Park Avenue in Midtown Manhattan. It is just me and him in a room upholstered in creams and whites and light tans. Robbins sits in front of a floor-to-ceiling window, framed by a sprawling view of Central Park. He is practically radiating light. He is smiling, always smiling, and he buzzes with a confidence that is Trump-ian. No, Robbins is not at all modest. He is the best at what he does. He has 18 companies. He has fed 100 million people. He changes lives. He also loves to name-drop the athletes, politicians, CEOs and other high-powered figures whom he has counseled over the years. Whenever doubt is raised, they are what he falls back on—a last, impregnable line of validation.
When I ask Robbins if there is a difference in how he coaches these self-confident people who have already achieved a great deal of success versus how he coaches the typical, more vulnerable seminar attendee, he cuts me off. "See that's the delusion that the press has," he says. "If you watch the film you'll get a better sense, although, for drama's sake you want to show the most dramatic examples. But the idea that you've got a bunch of broken people and that's who goes to these programs is the biggest bullshit on the planet."
But when watching the film, that is precisely the sense you get. One woman highlighted throughout sold all of her possessions to attend Date With Destiny, even her furniture, and she of course wasn't the only one taking a huge financial risk to participate. Seminar attendees are painted as having pain in their lives, often exhibiting suicidal tendencies and, yes, most are extremely vulnerable. They have taken a risk, and opened up their lives and their wallets to Robbins, and because of this are predisposed to rationalize anything that transpires at Date With Destiny as a transformative experience. Maybe this is all that is really needed for a life-changing experience, though: something, anything, to believe in. Robbins certainly gives people that and does so with force, but the apparatus he uses to do so, unconventional and mysterious and bizarre as it is, certainly invites skepticism.
Robbins is not only uninterested in acknowledging those who are skeptical of him or his empire, like Trump, he dismisses them as losers. After I tell him that several people I have mentioned the documentary to have been dubious about what Robbins does, he asks if these people I've spoken to are thoroughly happy in their own lives. I say that this doesn't preclude them from being skeptical, but to Robbins, it does.
"What is skepticism?" he says. "When someone says, I am skeptical, I say, 'Bullshit. You're fearful. You're gutless.' It takes no guts to say, 'This will never work. It's all bullshit. Not do any homework. Not investigate. Not do anything. Not put effort into it. That's just fear. All you're doing is trying to position yourself as sophisticated."
He continued with the type of life-affirming, hard-to-argue-with pitch that serves as the foundation for his seminars.
"On the other hand, it takes guts to put yourself on the line and to say I'm going to try something and it could fail," he says. "I'm going to put time and energy into this. I'm going to look at my own life. I've got to look at my own life. I've got to stop running around and stop making my life just function, and to actually design it. What is the deepest fear everyone has? That they're not enough. Not rich enough, smart enough, young enough, pretty enough, handsome enough. Everybody knows their fear. The deeper fear is that if I'm not enough I won't have real love, and love is the oxygen of life. The fastest way to deal with things is to make everything else wrong. That's why our society is where it is."
This all makes sense, and it's a line of thinking that is easy to buy into. Robbins's ethos is one of decisiveness, and his charisma and confidence with which he delivers his message is magnetic. At one point in the film, he listens to a woman who is having problems with her "feminine" (Robbins's word) boyfriend. As he does with just about everyone, he traces the problem back to the woman's relationship with her parents. "[Your father] taught you you're his little princess didn't he? ...Motherfucker!" he says, shockingly. (Again, it's hard not to laugh at some of these moments.) He then gets the woman to call her boyfriend on the phone and break up with him on the spot, on speakerphone, in front of thousands of people. As the film's closing credits rolled, an update was given: her and her boyfriend ended up working it out. When I told Robbins that this wasn't very solid evidence that Date With Destiny had solved her problems, he said he wasn't trying to convince me, and that I should interview her. This is fine, and this woman may very well be happy in a way that she wasn't before; but again, it certainly invites skepticism and, again, Robbins will have none of it. His world is unassailable.
More questions than answers
I Am Not Your Guru is fascinating solely by virtue of the look it provides inside the bizarre world of Robbins's seminars. There is loud music. There is screaming, yelling, crying and hugging. There is fist-pumping. One guy was dressed in a full Santa suit. Others brought poster board signs like they were attending a football game. Most incredible of all is the way Robbins commands not only the room, but the very souls of those in it. Whether this is inspirational or terrifying is up to the viewer.
The film also leaves plenty to be desired, though, such as how Robbins built his empire and what happens to these people in the months and years after their "lives are changed." Mostly, what is missing is a critical eye, which is why I Am Not Your Guru should be viewed more as a kind of concert film rather than a documentary. It will be endlessly satisfying for those who already belong to the Cult of Robbins, who have attended his seminars and accept him as their guru. But for that other half of the room at the world premiere in Austin and wherever else the film has been or will be screened, the half that was either laughing or scoffing or raising an eyebrow at this truly jarring subculture of self-help, I Am Not Your Guru offers more questions than answers.