Tony Shalhoub on Season 2 of 'The Marvelous Mrs. Maisel' (Abe Still Gets No Respect) And Why 'Monk' Will Never Come Back
He kept a tight lid on his emotions as the obsessive detective on the USA comedy Monk (a role that earned him three Emmys). Restraint was key again when Shalhoub recently starred on Broadway as an Egyptian conductor in The Band's Visit (for which he won the 2018 Tony for best actor in a musical—his fifth nomination). But finally, as Abe Weissman on Amazon's hit series The Marvelous Mrs. Maisel, Tony Shalhoub gets to let it all hang out. The first season, which takes place in 1958, stars Emmy-winner Rachel Brosnahan as aspiring stand-up Miriam "Midge" Maisel. It's hard to top her act, but as her tightly-wound math professor father, Shalhoub delivered some show-stopping meltdowns.
"The role was appealing because it's a departure for me," says Shalhoub, "I get to unleash all of my pent-up frustration." (Sometimes on the family piano.) The actor hesitated when Gilmore Girls creators Amy Sherman-Palladino and her husband Dan Palladino offered him the part, mostly because there wasn't much Abe in the pilot. "But they assured me he would expand," he says, and so he did. Get ready for more Shalhoub fireworks when the show returns on December 5. "I think people will be stunned by Season 2," he tells Newsweek.
How did you connect with Abe?
It had a lot to do with the my being a child during this time period. I'm from a big family. Abe's personality was somewhat like my dad. He wasn't a math professor at Columbia, but, like Abe, there was an effort, once your children are adults, to remove yourself and let things play out. And yet, my father never seemed to be able to do that. He was always involved, always invested, no matter how old my siblings got—adults with their own jobs, their own children. Abe likes to think his job is done with Midge, and of course that turns out not to be the case.
The scenes where Abe loses it are particularly fun.
Yeah, he goes off! I get to unleash all of my pent-up frustration without it costing me too much on a personal level. It's great material and really interesting to play. I think that was one of the things that appealed to me about taking the job—that it's a little bit of a departure for me.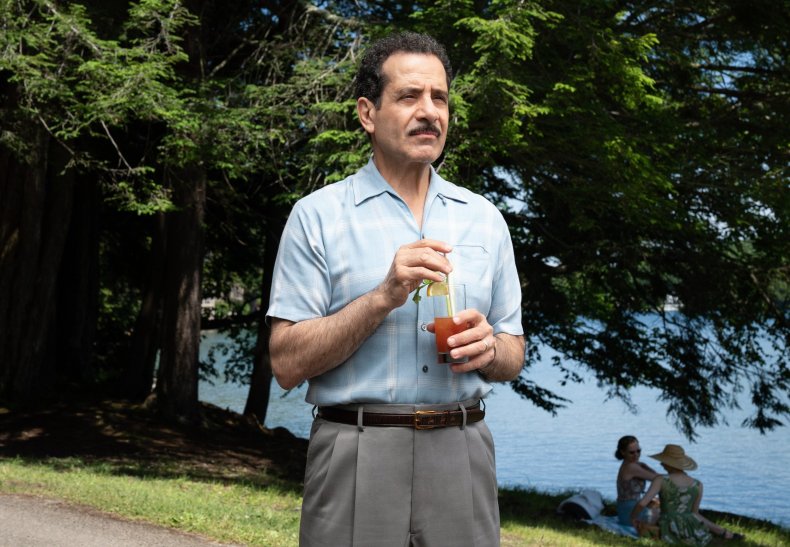 What's Abe in for this season?
He's a bit of a control freak, but he doesn't have any control over anything. I wouldn't say that things get less stressful for him, but he tries—especially when they go to the Catskills, which is his safe space, where he goes to relax. That doesn't necessarily turn out in his favor. [Laughs] Nothing seems to turn out in his favor. I can tell you that Abe does drink more, and that provides a bit of relief!
What about everyone else, where are they headed in Season 2?
I can't divulge too much. The first season was focused mostly on all of the changes that Midge goes through, like the dissolution of her marriage, going into the workforce, starting her stand-up career—which isn't really a career since it doesn't make any money. In the second we see the ripple effect of her choices, how they impact everyone around her.
You have two daughters with actress Brooke Adams. Were you as strict with them as Abe is with Midge?
Abe tries to be strict and ultimately isn't that effective. I really try to be a disciplinarian, too, but I'm also not very good at it—I fold my hand very quickly. [Laughs.] My daughters will tell you I was very strict, but you can take my word for it: That's not true.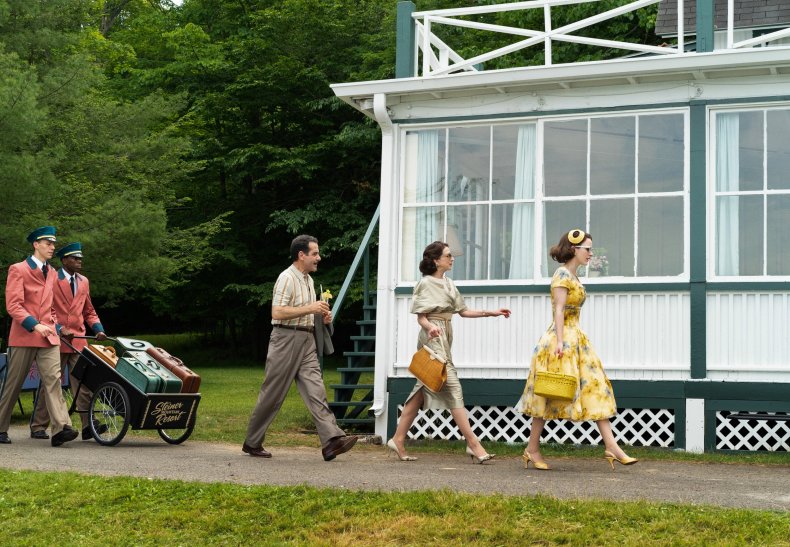 How is Abe different from past roles?
It sort of combines the best elements of a lot of different things that I've done. It's really funny, but It's also got deep emotional themes, some relevant to now, like what women are going through, what families are going through. We started in the late 50s and every season it's another year forward, so hopefully, if this show runs long enough, we'll get into the 60s, a time of big cultural shift in this country.
I feel fortunate to have fallen into this world, working with these writers. I knew Amy and Dan's work from Gilmore Girls—my wife and daughter were devoted fans of the show—so I knew the pedigree was strong.
The Band's Visit was your first musical. How did that feel?
I'd always been terrified of musicals. This time I couldn't seem to talk the creators out of it. I gave them a lot of other names of actors that I thought would be better, but they just wouldn't leave me alone! It took me a long time to get over the terror of having to sing, but they gave me coaching and coddling. I'm really glad I did it. It was an incredibly special production and just the right thing for me at the right time. I still sing the songs around the house—I'm a great singer when no one's around!
It's been almost ten years since Monk. Do people still bring the show up?
Monk was great for us all, and I'm glad people still respond to it, but it almost feels like some people think we're still making it! They'll say, "Oh I just saw this episode, it was great," and it was made in 2006. It occurred to me recently that I've been off of that show longer than I was on it. People always ask if it's going to come back, like Will & Grace or Roseanne. I don't see that happening. It was a great eight years, and we should let it be what it was.