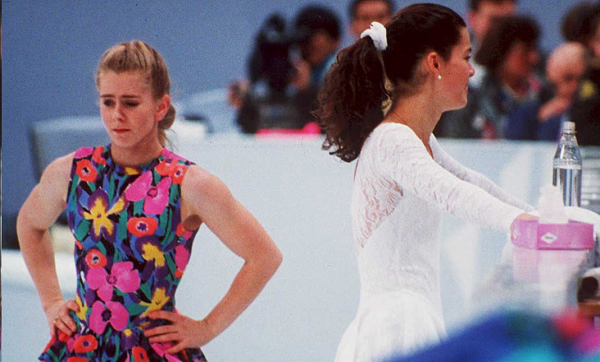 It's been more than 20 years since professional ice skater Tonya Harding fell from grace.
The Oregonian skater was approaching a career high, just one month shy of the 1994 Winter Olympics when she was stripped of her U.S. Figure Skating Association membership and later convicted for hindering an investigation stemming from the brutal knee-clubbing of rival U.S. figure skater Nancy Kerrigan.
Now, 23 years later, Harding is back in the spotlight. But this time, the former pro skater is using her platform to set the story straight—or at least, share her side of it.
The upcoming biopic, I, Tonya, starring Margot Robbie, will dramatize Harding's darkest moments amid the scandal that cost the rising star her career and reputation.
At the time of the altercation, it was alleged that Harding—just 21 years old—colluded with her ex-husband Jeff Gillooly to hire someone to attack Kerrigan, who also was set to compete at the 1994 Winter Olympics after becoming the U.S. national figure skating champion in 1993, a title Harding had claimed just the year prior.
Although Harding pleaded her innocence, she still ended up serving three years of probation, 500 hours of community service and had to pay a $160,000 fine.
After recovering, Kerrigan went on to win a silver medal at the '94 games in Norway, and in 2004 she was inducted into the Figure Skating Hall of Fame. The 47-year-old mother of two has kept a relatively low profile. She did, however, briefly return to the spotlight when she competed on ABC's Dancing With the Stars season 24 alongside professional dancer Artem Chigvintsev.
Harding's life since the '94 attack has been tumultuous.
Now 46 years old, Harding has been arrested twice, and has said she tried to commit suicide. The release of a sex tape with her ex-husband brought her media attention, and in 2002, she appeared on Fox's Celebrity Boxing for a match against Paula Jones.
Following her divorce from Gillooly, Harding married Michael Smith, who she divorced after just one year. In 2010, the former skater married her current husband Joseph Jens, with whom she shares her only son, Gordon Jens.
Harding is skating again, according to People magazine.