Which Couples From 'Too Hot To Handle' Are Still Together?
*Warning: This article contains spoilers about Too Hot to Handle Season 3. ***
Too Hot to Handle has recently crowned its Season 3 winners and audiences already want to know if any of the couples from Season 3 are still together. The most recent series broke Too Hot to Handle records, including reducing the prize money down to $0 with their constant rule breaks. But, thanks to the dedication of Nathan Soan Mngomezulu and Holly Scarfone, they were able to win back $90,000 for the cash prize for the winners, Harry Johnson and Beaux Raymond.
Too Hot to Handle Season 3 was filmed back in early 2021 and fans are curious to know which couples are still together. Too Hot to Handle may go down in history as the most sexually-charged contestants, but there is a tiny bit of hope for hopeless romantics out there as some couples from previous seasons are still together.
Which Couples From Too Hot To Handle Are Still Together?
Too Hot to Handle Season 3: PENDING
Harry and Beaux
At the end of Too Hot to Handle Season 3, Beaux and Harry were boyfriend and girlfriend. Harry even dropped the L-bomb, much to Beaux's surprise.
As Too Hot to Handle Season 3 has only just premiered on Netflix, it is still too early for Harry and Beaux to confirm whether they are still together. They will most likely confirm the status of their relationship after the reunion episode has aired in the coming weeks.
However, there is still hope for Harry and Beaux fans. There have been several little clues via their social media that the pair are in fact still dating and even if they are not, they definitely seem to be on good terms.
On January 16, just three days before the Too Hot to Handle Season 3 premiere, Harry posted a photo of himself on Instagram and Beaux responded with the pleading-face eye emoji. Harry then responded to her comment with a heart emoji.
On the day Too Hot to Handle Season 3 premiered, Beaux announced the news on her Instagram she had signed with agency Neon Management.
Underneath the picture, Harry commented "slaying" alongside the fire emoji. He also commented under another photo of Beaux sharing her excitement the series was streaming on Netflix the words "fit!" with a fire emoji. Hopefully, Beaux and Harry have made a way to make their relationship work.
Beaux also follows Harry's younger brother George Johnson and he also follows her back. Has Beaux met the family?
In an interview with Captial FM, Beaux also confirmed they are still in contact, despite having not seen each other since the show wrapped in 2021. She said: "I mean, it was strange because when he first walked in I didn't really fancy him so it was crazy that every day you're building up that connection, and from then we just got closer and closer. We're still in touch a lot, he's amazing, he's literally like the male version of me."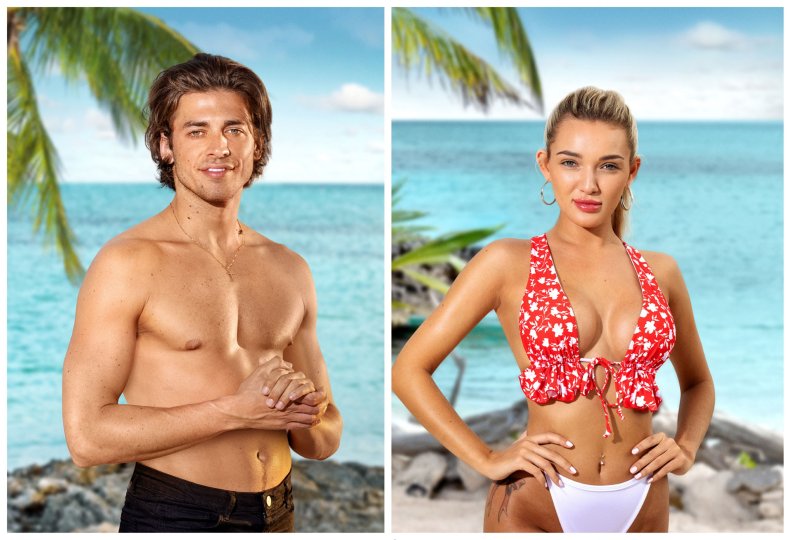 Nathan and Holly
Nathan and Holly caused absolute chaos in the Too Hot to Handle villa. The two student and models couldn't keep their hands off each other and even ended up costing their castmates $90,000 after they decided to finally sleep together, twice.
In a new twist, Nathan was even removed from the villa to undergo an intensive course to address his self-control and returned to the villa with one more chance to stay in the competition. He and Holly were tasked with spending the night together in the fantasy room without any sexual activity and if they succeeded, $90,000 would be returned to the prize fund. Thankfully, they succeeded but in the end, it was Beaux and Harry who were crowned the winners.
Just like Beaux and Harry's relationship, it is still unknown whether they are still together today but if their feelings for one another in the villa are anything to go by, hopefully, they have managed to make things work. By the end of the series, the couple had said they loved each other, clearly having formed more than just a physical relationship.
Speaking to bustle.com, Holly shared: "I met someone that I really, really wanted to get to know and I felt like it would've been a disservice to myself and Nathan if we didn't explore [our connection]. So [we] just went for it." She also shared she "definitely fell in love" in the villa.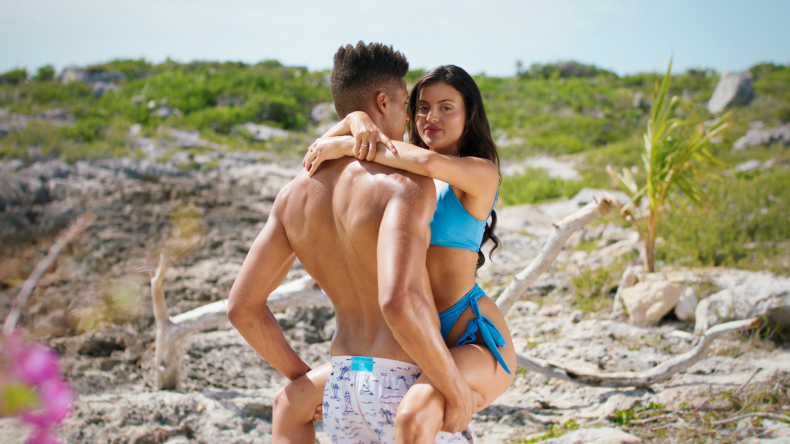 In a separate interview with Capital FM, Nathan revealed Holly had visited him in London and shared he will be going to visit her in the U.S. However, whether this was just as friends or as a couple, remains unknown.
He said: "We had a great time on the show, she came to London, we did our thing. We put a pin on things just because of COVID so I can fly to the States to go see her, but we'll see where we are this year. I'm flying back to London tomorrow, I'm pretty sure she's coming so we'll just wait and see."
If their social media is anything to go by, just like Harry and Beaux, Nathan and Holly have been leaving flirty comments on each other's posts and liking everything one another posts. On January 8, one week before the series premiered, Nathan commented three fire emoji's under Holly's post, and on January 19 when Nathan shared a trailer of Too Hot to Handle on his Instagram, Holly commented underneath the word "naughty" with a series of love heart eye emoji's.
Too Hot to Handle Season 2: 1 (confirmed)
Cam and Emily
Cam Holmes and Emily Miller are the only couple from Too Hot to Handle Season 2 who are still going strong.
They may have not won the competition, but they definitely saw themselves as winners after falling in love in the Too Hot to Handle villa.
Just a few months after their win, Cam and Emily moved into a flat together in London and have been together ever since.
To mark the new year, Cam posted a series of photos on his Instagram of him and Emily together, including one of them locking lips. Emily commented under the post, calling Cam a "cutie" alongside a red love heart emoji.
Emily also posted a photo of her and Cam together on January 1, 2022, in a pretty intimate embrace. She captioned the image "2022, hell yeah we coming through."
In a twist nobody saw coming, after Too Hot to Handle Season 2 ended, Melinda Melrose and Peter Vigilante A.K.A Pelinda began dating. During the series, Melinda was with winner Marvin Anthony but sadly after the show ended they called it quits after a series of arguments and the pressure of a long-distance relationship.
Peter and Melinda did go public with their relationship with a series of saucy Instagram photos but unfortunately, they have not been photographed together since September 2021, so at the moment, the status of their relationship is unknown.
Sadly, Christina Carmela and Robert Van Tromp from Season 2 are no longer together, with Robert confirming their breakup to the MailOnline in September 2021.
He said: "It's been a mutual decision in terms of parting ways because we both have the same frustrations when it comes to the process, the way the show has happened, and even though I think there may be potential down the line, in however months or years to come, I feel like in this moment it's gotten very challenging, and it has pushed us further apart."
Too Hot to Handle Season 1: 0
Nope, no couples from Too Hot to Handle Season 1 have survived since the show premiered in April 2020.
Fans were rooting for Harry Jowsey and Francesca Farago for months after the show ended. They dated on and off and even got engaged at one point, but they eventually called an end to their relationship.
Speaking to U.S. Weekly in June 2021, Jowsey said: "We tried to give it another go, but [there was] just clear miscommunication on [a lot of] fronts. I've been trying to handle the whole situation privately and offline. And that's what I'm going to continue to do if there's anything that arises with her. I can tell you now [until] forever [that] I'll never be put in a relationship or put myself in that situation again."
There was some hope in Nicole O'Brien and Bryce Hirschberg's romance, who got together after the show ended but sadly they split in mid-2020 due to long-distance, reports U .S. Magazine.
Too Hot to Handle Season 3 is streaming on Netflix now.