How Do the 'Too Hot To Handle' Creators Keep the Show Secret From Contestants?
After more than six months of waiting, Season 3 of Too Hot to Handle is here.
The latest series hit Netflix on Wednesday, January 19 and sees 10 sexy singletons make their way to the Turks and Caicos Islands, under the guise they are appearing on a totally different show.
However, on the night they arrive, they quickly learn they are in fact participating in Too Hot to Handle and to get their hands on the prize money, they must refrain from any form of sexual contact and build a meaningful relationship with another contestant on the island.
Looking back at the previous two seasons, here's how the Too Hot to Handle creators keep the show secret from the contestants.
How Do the Too Hot To Handle Creators Keep the Show Secret From Contestants?
For the past two seasons of Too Hot to Handle, the creators have attracted the contestants under the guise of a fake reality show and the same plan has been hatched for Season 3.
In the brand new Season, the contestants believe they are taking part in a dating show called Pleasure Island. The camera crew even sport Pleasure Island t-shirts and even employed a fake host.
However after a night of partying, the harsh reality of what show the contestants were really on came crashing down when Lana was revealed to be hidden inside a treasure box.
As the girls and guys freaked out over Lana's arrival, Stevan joked: "Lana is my worst nightmare. Can I call my mom? I wanna go home."
Each season, the Too Hot to Handle contestants are aware they are signing up for a dating show, but at the time of the audition process and when they arrive, the series either remains untitled or has a fake title.
The contestants are usually scouted via Instagram and are flown to the Too Hot to Handle villa on separate flights, to ensure they never meet their potential love interest on route.
On arrival, each cast member is required to isolate for three days on arrival, limiting any additional risk of them meeting their potential villa-mate.
After meeting in the villa, the contestants are invited to attend a party where the truth is finally revealed. Too Hot to Handle fans will recall in Season 1 the contestants believed they were taking part in an untitled dating show.
Francesca Fargo revealed to Oprah Mag she was "upset" at first when she realized she was on Too Hot to Handle. She shared: "I was shocked. I was upset. I had already formed a little bit of a connection at that point. The group thought it was hilarious. I was traumatized."
Fans may remember Francesca even debated about whether to stay or leave the series altogether.
Thankfully she didn't leave and went on Too Hot to Handle alongside Chloe Veitch, David Birtwistle, Harry Jowsey, Kelz Dyke, Lydia Clyma, Nicole O'Brien, Rhonda Paul, Bryce Hirschberg, and Sharron Townsend.
In Season 2, the contestants believed they were heading for a summer of fun on a new reality series called 'Parties in Paradise' and were even given fake merchandise and met pretend hosts to convince them.
Speaking to Heart.co.uk, contestant Larissa Trownson, from Season 2, said it was "super disappointing" to learn they were not allowed to have sort of physical intimacy with the person they were most attracted to.
She said: "The show had been portrayed as 'Parties in Paradise', a group of singles getting together, partying. They pitched it as if the boy or girl who got to the end who could party the hardest would win $100,000."
Season 2 winner Cam Holmes told The Tab he was scouted via Instagram, but had no idea he was going to be appearing on Too Hot to Handle. He reflected: "My first call was obviously, 'Girls, girls, girls, dating, dating, dating, and then the second one was more, 'What more have you got to offer? Have you got a different side to you?'"
The reality series itself was inspired by an episode of Seinfeld, titled "The Contest" where the characters try, and fail, to abstain from masturbating for a cash prize.
Too Hot to Handle creator Laura Gibson told OprahMag.com: "None of them can actually do it, and so they actually all lose the money. And I thought, 'There's a TV format in that.' Why don't we get some of the hottest people on the planet to try and see if they can hold themselves back for cash?"
As for how they set the prices for each rule broken, executive producer Viki Kolar told The Wrap: "We wanted to make it acceptable to break the rules so that we would have a show, but we also didn't want to be too much about the money...We felt that $20,000 for sex was big enough, but it was those middle ground things that were a big debate. We eventually settled on $6,000 [for oral sex], but I think that was a bit cheap, as well."
Who Are the Contestants in Too Hot to Handle Season 3?
To begin with, there 10 are contestants entering the villa in Too Hot to Handle.
Along the way, individuals and couples will face elimination, especially if certain rules are broken and some new faces will be joining them to stir up trouble.
The contestants taking part in Too Hot to Handle Season 3 are:
Beaux: 24, Kent, U.K., Legal Secretary
Georgia: 26, Brisbane, Australia, Student Midwife
Harry: 29, Middlesborough, U.K., Tree Surgeon
Holly: 23, Colorado, U.S.A., Student/Model
Izzy: 22, Manchester U.K.M., Personal Trainer
Jaz: 25, Virginia, U.S.A., Entrepreneur/Model
Nathan: 24, Cape Town, South Africa, Model
Patrick: 29, Hawaii, U.S.A., Model/Actor
Stevan: 26, L.A., U.S.A., Model
Truth: 23, Texas, U.S.A., Student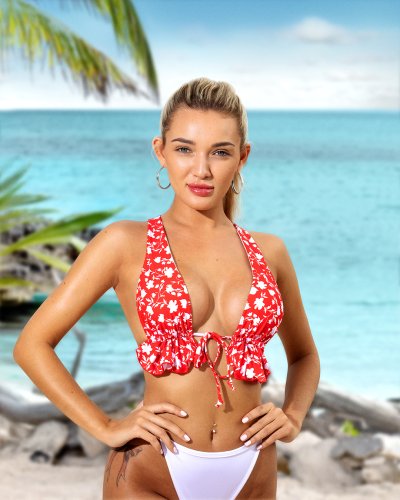 Too Hot to Handle premieres Wednesday, January 19 on Netflix.