'Too Hot to Handle' Season 2: Peter Shows Off His Best Stripper Moves on TikTok
Too Hot to Handle is the Netflix dating show everybody is talking about. It sees 14 singletons live together for four weeks with a sex ban imposed. Those who follow the ban will win the prize money of $100,000, which decreases in value every time someone breaks the rules.
The first four episodes are available to stream on Netflix now, with the remaining five dropping on June 30.
One of the show's more confident contestants is 21-year-old Peter Vigilante from New York.
Outside of Too Hot to Handle, Vigilante works as a personal trainer but when he isn't training New York's fittest, he is a TikTok influencer.
Speaking in episode 1 of Too Hot to Handle, Vigilante revealed he receives between 100 to 200 DMs a day from admirers.
He explained to his fellow contestants: "Once you've got the following I've got—100, 200 girls DM'ng you a day—and it's really just like oh my god there's so many I don't know what to do."
His DM stats are likely to have sky-rocketed following recent TikTok videos.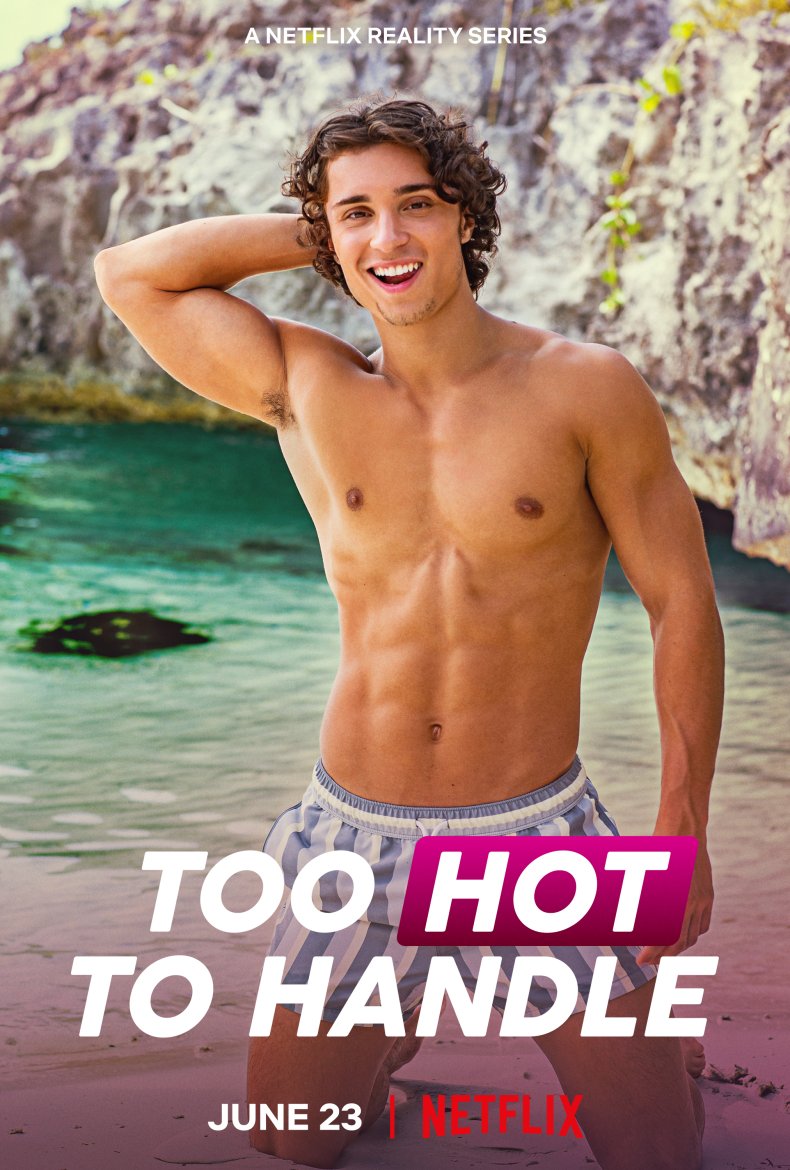 Vigilante often shares his best stripper moves on TikTok.
Many of his videos feature him pole dancing, including a dance-off with his "momma."
In the clip, Vigilante climbs up the pole topless and spins around with his legs wide open at an incredibly fast speed.
In another TikTok video, which has racked up 830,000 plays and 53,000 likes, Vigilante performs what can only be described as a Magic Mike-inspired routine. In the video, he dances to "Pony" by Ginuwine, captioning the post: "May have overestimated my flexibility."
Not only is Vigilante topless, but he also grinds along the floor and even jumps into the splits, showing off his snake hips and toned muscles.
In a third video, which has been viewed over one million times, a topless Peter takes a big swig of red wine from a bottle and breaks out into a dance routine on the floor, before making his way to the pole.
He then swings around, spinning effortlessly down and around the pole, showing off his toned physique.
So far, the video has received 123,000 likes and over 1,000 fans have commented.
Elsewhere on his profile, Vigilante often posts videos of him doing comedy skits, dances, TikTok challenges, and fitness videos.
Introducing himself on Too Hot to Handle, he said: "I'm from Staten Island, New York. I'm a personal trainer, I'm an influencer on TikTok... I do thirst traps and dance.
"I post a lot of different kinds of videos on TikTok. I think people just love seeing a dude with abs hop on a pole and spin."
For many Vigilante fans, he isn't entirely wrong, with his latest post racking up more than two million likes.
You can follow him on TikTok now @Peter_Vigilante.
Too Hot to Handle season 2 episodes 1 to 4 are streaming on Netflix now.