Meet Netflix's 'Too Hot to Handle' Season 3 Cast —Here's How to Find Them on Social Media
Too Hot to Handle is the racy Netflix reality series that sees 10 sexy single people live together in a luxurious villa under one rule: no sexual contact or sexual gratification of any kind. The aim of the game is to form a meaningful connection with the person they are most attracted to and together, be crowned the winners.
The series is back for its third outing on Wednesday, January 19, and this time around, the stakes are even higher with a greater prize fund on offer. However, anytime a rule is broken, the prize money dwindles and contestants risk being eliminated from the competition overall.
Along the way, there will be new contestants entering the villa but at the moment, Netflix has revealed the first 10 original heartthrobs who will enter Lana's world. Newsweek has everything you need to know.
Meet Netflix's Too Hot To Handle Season 3 Cast
Beux @_beauxraymond_
Beux is a 24-year-old legal secretary from Kent in the U.K.
According to her official Netflix bio, Beux has had "more boyfriends than hot dinners and if they can't keep up with her banter they are out the door."
On Too Hot to Handle, Beux will be looking for a "cheeky chap" who can keep her entertained during her time in the villa.
Georgia @Georgiahassarati
Student midwife Georgia has swapped the Australian hospital for romance in Turks and Caicos.
Georgia, 26, describes herself as a "serial ghoster" who gets bored and moves on quickly from her past relationships.
In Too Hot to Handle, Georgia is looking for a bad boy who looks just like her celebrity crush Justin Bieber.
Harry @harryjohnson92
At 29-years-old, British bad boy Harry is one of the older contestants on Too Hot to Handle.
According to his Netflix bio, he is a "secret" player and a self-proclaimed Harry Styles lookalike.
Harry has traveled the world and worked as a holiday rep in Ayia Napa, Cyprus and Zante, Greece, but his day job is as a tree surgeon.
Holly @hollyscarfone
Holly describes herself as "Hurricane Holly" in her Instagram bio and according to her Too Hot to Handle bio, she may just live up to the nickname.
A 23-year-old psychology student and model, Holly is introduced on Too Hot to Handle as a "work hard, play hard kind of gal" who is "super confident and super sexual."
Izzy @Izfairr
Personal trainer Izzy, 22, from Cheltenham, U.K., loves to be single and describes herself as a bit of a player.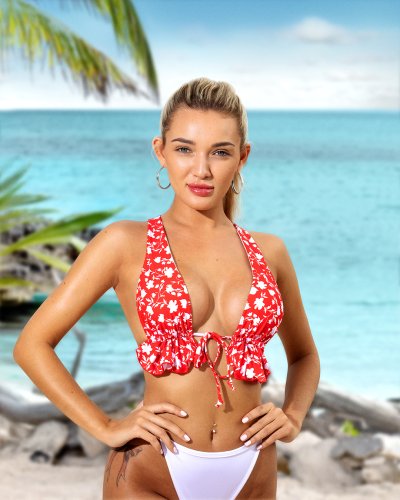 Jaz @jazkills
Jaz is a 25-year-old entrepreneur, model, and fashion designer from Virginia.
She describes herself as a "military brat" thanks to her dad's job in the air force and admits she has some pretty high standards.
Nathan @Nathsoan
Nathan is a 24-year-old model and business student from Cape Town, South Africa who loves to party and meet girls along the way.
Described as a "fun-loving free spirit" and "international playboy," the girls in Too Hot to Handle better watch out.
Patrick @Thepatmullen
Patrick is the second 29-year-old in the competition who may surprise the ladies when they learn he has a degree in botany.
He is six-foot-five and a guitar player from Hawaii who loves the outdoors.
Stevan @stevanditter
Introducing himself on his Instagram as the "answer to your daddy issues," 26-year-old model Stevan is looking for love at an international level.
He describes himself as "the flirtatious, loud and obnoxious one" and boasts of winning the title of biggest flirt at high school.
Truth @truthsworld
Truth is a 23-year-old basketball player from Texas studying criminology but in Too Hot to Handle, will he continue to be the star player?
Too Hot to Handle premieres Wednesday, January 19 on Netflix.