'Too Hot to Handle' Season 3: Will There Be Another Series?
Too Hot to Handle took the world by storm when it first came to Netflix in summer 2020. After six months of waiting, season 2 made its way to screens with 10 new contestants heading for what they believed to be the most sex-fuelled summer of their lives. Little did they know, they had signed up for Too Hot to Handle—where sex has some pretty big financial consequences.
The contestants have to live by straightforward rules—no sex, no kissing or sexual contact, and no self-gratification. However, this is significantly difficult for contestants with a high sex drive and good looks.
With every broken rule, money is deducted from the $100,000 prize fund. Serial rule-breakers who fail to make a genuine connection with another contestant are dropped along the way.
Chloe Veitch, David Birtwistle, Francesca Farago, Harry Jowsey, Kelz Dyke, Lydia Clyma, Nicole O'Brien, Rhonda Paul, Bryce Hirschberg, and Sharron Townsend were crowned the winners of Too Hot to Handle season 1and Marvin Anthony the show's second season winner, but will there be a third champion of Too Hot to Handle? Newsweek has everything you need to know.
Will there be another series of Too Hot to Handle?
There is good news for Too Hot to Handle fans. Season 3 has been given the green light by Netflix.
There is even more good news. Filming for seasons 2 and 3 took place back to back in Turks and Caicos. This means series three is already in the pipeline and should be ready to drop at any moment.
An official release date has not yet been given for the third series. Seasons 1 and 2 aired six months apart, so perhaps Netflix will deliver Too Hot to Handle season 3 just in time for Christmas.
On the other hand, as the third series has already been filmed, there is the potential it could drop sooner rather than later.
Announcing the news about the return of Too Hot to Handle, Brandon Riegg, Netflix's VP of unscripted and documentary series, said in a statement: "The secret is out — we're thrilled to bring back 'Too Hot to Handle' for two new seasons in a tropical paradise.
"Netflix members around the world fell in love with the hilarious antics of season one, and now fans won't have to wait long to see our new contestants try (and fail) to follow Lana's strict rules with plenty of twists and surprises along the way."
Where will Too Hot to Handle season 3 take place?
The third series will follow the premise of the first two seasons, but whether the prize money will to one contestant or more is yet to be revealed.
Just like season 2, the home of Too Hot to Handle will be at the Turtle Tail Estate in Turks and Caicos.
Filming took place in the winter of 2020, amid the coronavirus pandemic.
Considering the worldwide lockdowns throughout 2020 and the extensive quarantine the contestants had to endure before filming began, the sexual tension in the villa must have been high, making for entertaining television.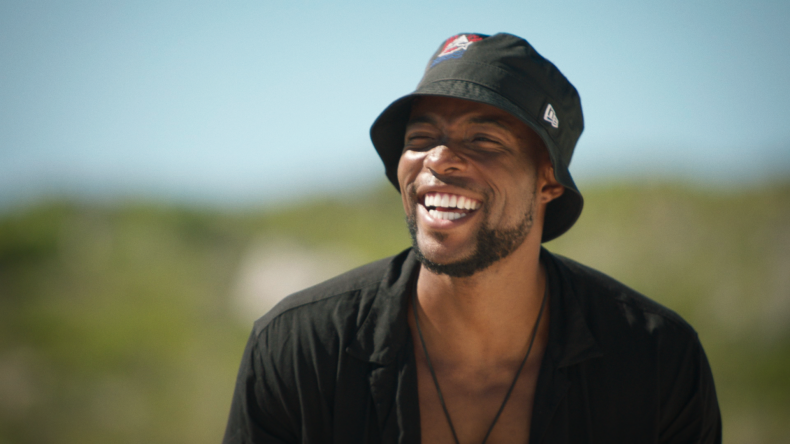 Who are the Too Hot to Handle season 3 contestants?
To attract the Too Hot to Handle contestants for series two and three, the show's production team covertly renamed the series Parties in Parties.
Past contestants have come from all walks of life, from male strippers to lawyers to social media stars, Too Hot to Handle is anybody's game.
At the moment, the season three contestant list has not been officially announced by Netflix.
However, some details about the new cast were let slip after three of the Too Hot to Handle hopefuls—Matthew Mawhinney, 29, Harry Johnson, 28, and Beaux Greenslade, 23—were arrested for verbally assaulting the flight crew on their flight home after completing filming in February 2021.
In May, it was reported the trio were fined £3,000 ($4,100) in total for verbally abusing British Airways staff on the flight home after they were refused alcohol.
They were also ordered to pay £500 each to two cabin crew members and ordered to pay a victim surcharge of £150 and £85. They also had to pay £100 for refusing to wear facemasks when told to by the captain.
At Uxbridge Magistrates' Court, Mawhinney, Greenslade, and Johnson admitted to failing to obey the lawful commands of a pilot and the use of threatening, abusive or insulting words and behavior.
Passing sentence, Judge Wright said: "You were at the end of a prolonged period of social confinement and that might have had some psychological impact on you and might have been the reason each of you behaved out of character."
"You each acted with a profound sense of entitlement, you each acted without any consideration for the crew or the job they had to do."
Elsewhere, season one contestant Chloe Veitch is likely to return as the host of Too Hot to Handle's spin-off show, Extra Hot, which launched this year on the Netflix UK YouTube channel.
Fans have been sharing their excitement online for the third series of Too Hot to Handle.
One fan tweeted: "Waiting for Too hot to Handle season 3 ASAP! These producers need to start producing again due to popular demand. Please and thanks, Lana."
A second fan said: "Can too hot to handle season 3 hurry up I'm suffering."
A third fan commented: "Yo I beg you drop season 3 of Too hot to handle today! This is wonderful television."
Hopefully, there won't be too much longer to wait for season three of Too Hot to Handle to land on screens.
Too Hot to Handle seasons 1 and 2 are streaming on Netflix now.