Too Hot in the Workplace? It Can Cost You Your Job.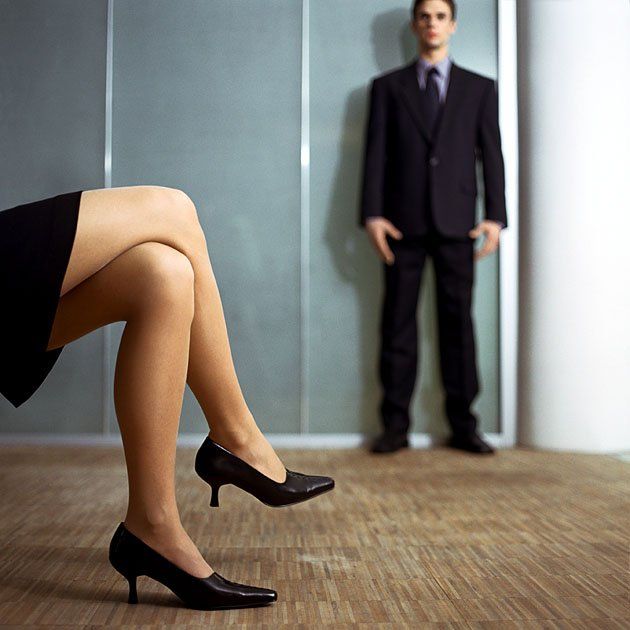 It's the story the tabloid press can't wait to eat up: curvy, attractive brunette, single mom, fired from Citibank because her bosses "couldn't concentrate" around her—she was simply too hot. The woman is Debbie Lorenzana, the allegations filed in a suit against Citibank, and detailed in an endless Village Voice profile this week, making the rounds online. Lorenzana, as the Voice so eloquently puts it (alongside a ginormous photo of her in a skintight dress) "is J.Lo curves meets Jessica Simpson rack meets Audrey Hepburn elegance—a head-turning beauty." Um, OK.
Anyway: Lorenzana was fired from her banking job last summer because of "work performance" (or so says Citibank, which disputes Lorenzana's claims). But now she's suing the company for discrimination, alleging that her bosses told her that "as a result of the shape of her figure, [her] clothes were purportedly 'too distracting' for her male colleagues and supervisors to bear." As the Voice puts it:
This is the way Debbie Lorenzana tells it: Her bosses told her they couldn't concentrate on their work because her appearance was too distracting. They ordered her to stop wearing turtlenecks. She was also forbidden to wear pencil skirts, three-inch heels, or fitted business suits. Lorenzana, a 33-year-old single mom, pointed out female colleagues whose clothing was far more revealing than hers: "They said their body shapes were different from mine, and I drew too much attention," she says.
Lorenzana's suit, filed in December (and being handled in private arbitration), is the latest of a number of sexually charged allegations at major banks, including Citigroup and Goldman Sachs, which both faced accusations of working mothers being "mommy-tracked" and demoted after they got pregnant. Lorenzana's isn't your typical sex-discrimination case, but it does shed light on the potential perils of being an attractive woman in a male-dominated workforce, and suffering when the men around you can't keep their zippers closed. As the 33-year-old's lawyer puts it: "It's like saying we can't think anymore 'cause our penises are standing up—and we cannot think about you except in a sexual manner—and we can't look at you without wanting to have sexual intercourse with you. And it's up to you, gorgeous woman, to lessen your appeal so that we can focus!"
It also raises interesting questions about the role of beauty in the workplace. It's a known fact that attractive people have it easier: résumés get more favorable assessments when they're thought to belong to attractive candidates; pretty students get doted on more by teachers; attractive men are paid an average of 5 percent more—and women 4 percent more—than their Ugly Betty counterparts. But women, in particular, can face a double-edged sword: they lose by being unattractive, but also by being, like Lorenzana, too attractive—forced to prove their competence, compete for the attention of male bosses, and deal with, um, this, according to the Voice:
In April 2003, the Municipal Credit Union named [Lorenzana] its sales rep of the month. [There], a manager once called her into his office to ask her opinion of a photograph. The picture he called up on his computer was of his penis.
"It's so tiring," Lorenzana tells the Voice. "My entire life, I've been dealing with this. 'Cause people say, 'Oh, you got a job because you look that way.' So you gotta work four times harder to prove you are capable. To prove you didn't get this because of the way you look."
But then you still get fired for it, apparently. Which can leave managers, colleagues, and, apparently, the media confused about how to take it all in. We get it: a woman who sues based on looks is gonna be examined based on 'em (and posing for the Voice in a bunch of sexy outfits isn't doing any favors). But was a 26-photo spread really necessary? As the Daily News so thoughtfully put it, "Lorenzana has said she's had to deal with unwelcome ogling her entire life thanks to a body that just won't quit."
Wait, aren't we the ones now doing the ogling?
Perhaps our former colleague put it best:
she is HOT
and got … fired? … because of it
so … naturally, we're outraged
but running pictures of her being all hot?
so many messages all mixed up.
it's like a tossed salad of outrage and boners!
And there you have it. Boners, tossed salad, and the perils of sexuality in the workplace.
Bennett writes on women's issues and culture. Find her on Twitter and at The Equality Myth.