Too Many Snow Days? Districts Consider Extending School Year Due to Winter Weather
With four nor'easters in March alone, school districts along the East Coast have been forced to deal with the uncomfortable decision to cut into spring break or extend the school year further into June.
In Massachusetts, which has been hard hit by severe snow fall, schools have reached out to parents to discuss how to make up for more than a week's worth of school. Massachusetts mandates that school districts in the state must operate at least 180 school days in a school year.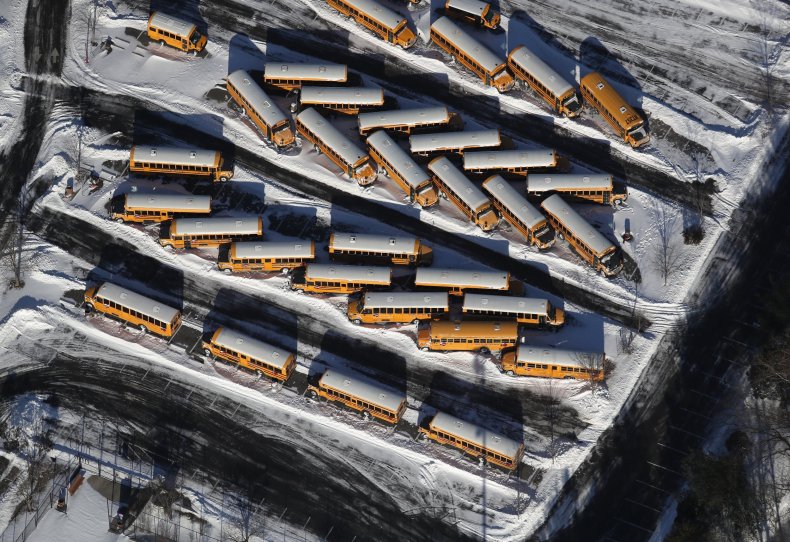 One school district in north Massachusetts has opted to extend the school year to June 29 and has proposed scheduling school on March 30, or Good Friday.
Chelmsford Public School Superintendent Jay Lang sent an email to parents and staff letting them know how the school district proposes to make up for the 10 days of canceled school. The email warned parents that any future winter-related school cancelations could result in classes being scheduled on Saturdays.
"While I hope we do not need to utilize any of these days, we need to have a plan to prepare for the worst-case scenario," Lang told parents and staff in the email, which was provided to Newsweek.
School districts near Chelmsford have been forced to do the same. The Lowell Sun reported that two other school districts were discussing extending school days during April break and summer vacation.
Parents and staff in the Billerica Public School District received a survey asking whether they would prefer cutting three days from April vacation or extending the school year until June 27. Billerica Public Schools, which has canceled at least eight school days so far, did not immediately respond to a request for comment from Newsweek.
Meanwhile, Dracut School District has been forced to contend with nine weather-related cancellations. Superintendent Steven Stone requested the School Committee allow Dracut schools to hold classes on April 19 and 20, schedule a half-day on March 30 and extend the school year until June 26.
"You don't expect to lose school before the snow starts flying—that's when I got worried," Stone told The Lowell Sun. The district canceled two days in October when a powerful wind storm knocked out power in the area.
School districts in New Jersey have also been faced with the same dilemma. Like Massachusetts, New Jersey mandates schools operate at least 180 days.
Vernon School District has been among the hardest hit, closing 12 days due to snow and one day in December due to a fire at the high school, Superintendent Art DiBenedetto told the New Jersey Herald.
The school district did not include a spring break when creating the school calendar, but planned to reinstate the break if the district has used five or less snow days by March 15. The onslaught of snow has allowed the spring break-less calendar to remain.
Schools in the district will remain in session until June 26, while the high school will have its final day on June 27.
"We will probably have the high school ceremony for graduation prior to the 180th day, but we will not distribute diplomas," DiBenedetto said. The superintendent did not immediately respond to a request for comment from Newsweek.
The New Jersey Herald reported that schools throughout the Garden State have had to come up with similar solutions.
Blairstown Superintendent Mark Saalfield said the district has been closed for nine days so far. "We also lost a few days because of poor road conditions," he said. "We couldn't send the busses out."
Saalfield told the New Jersey Herald that the district had five built-in emergency days in the school calendar but students will have to make up four more days.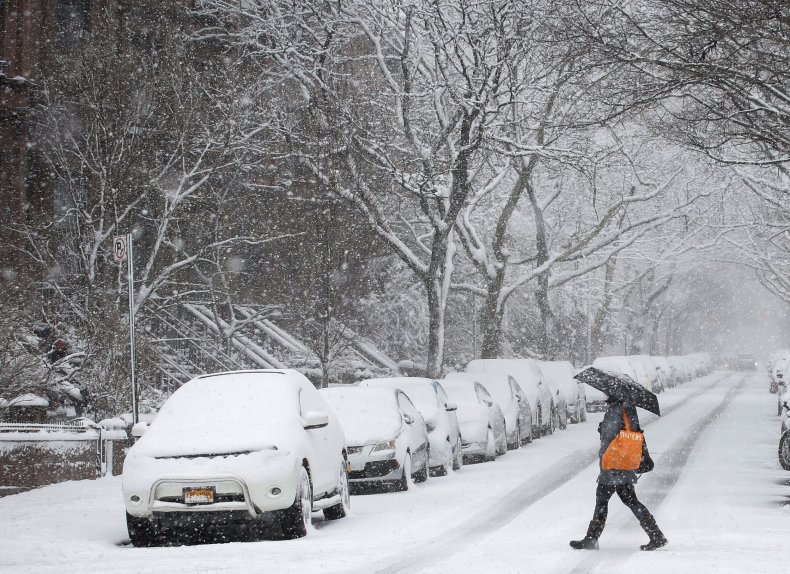 The latest nor'easter threatens to drop up to a foot of snow in some areas, further complicating the situation for school districts.
Too Many Snow Days? Districts Consider Extending School Year Due to Winter Weather | U.S.