Too Young to Die: The Senseless Murder of a Chicago Seven Year Old | Opinion
Her name was Jaslyn Adams. She was a beautiful young African-American girl, all of seven years old. Late in the afternoon of April 18, she was with her father—Jontae—at a McDonald's drive-thru in the West Side of Chicago, looking forward to sharing a Happy Meal. But this daddy-daughter trip to McDonald's didn't have a happy ending.
As the first grader and her father pulled up in their Infiniti sedan to the menu board, a silver Audi pulled up behind them. Two African-American men stepped out of the vehicle. They pulled out weapons, and began to fire at the back of Jaslyn and her father's car. A total of 45 shots were fired. Six struck the innocent seven-year-old, who was rushed to nearby Stroger Hospital by a responding police officer. She was pronounced dead at the hospital at 4:39 PM.
Jaslyn's father was struck in the stomach but survived. He was at a vigil for his murdered daughter last Wednesday. "'Daddy.' Her last words was 'daddy,'" Jontae said. "I want my daughter's killers locked up."
Jaslyn Adams was too young to die. Too young to be a victim of what by all appearances was a gangland hit. But you don't know her name. Massive rallies around America were not held on her account.
"It's really emotional now for my family," Jaslyn's aunt told WBBM in Chicago. "She was just...sweet and outgoing. Really talkative, really lovable."
Jasyn's life mattered to her neighbors, friends and relatives. The lives of so many other young African Americans senselessly murdered in Chicago matter, too. So many family members and loved ones mourn so many young black Chicagoans who were too young to die.
So far this year in the windy city, 185 people have been killed, 27 more than at the same time last year. And 2020 was a bad year to be young, male and black in Chicago: there were 769 homicides, one of the worst yearly totals in the past two decades.
Of this year's 185 homicides in Chicago, 145 were black victims, 24 were Hispanic and 5 were white. Most of the victims were under the age of 30, and the overwhelming majority were males.
Chicago's population is roughly 50 percent white and 30 percent African American, which means that nearly 80 percent of all homicide victims in the city are black. The same percentage are perpetrators, too. So many of them are part of Chicago's infamous gang culture, which is itself a type of death sentence for its mostly young male members.
The Chicago Tribune's homicide data tracker paints a grim portrait of the local body count. Here are some of the names of young black men you don't know—all of whom were too young to die.
Duntae Manuel, age 36 (April 25); Marcus Lewis, 25 (April 23); Bryone Dupart, 27 (April 23); Mario Sanders, 29 (April 21); Darius Fairley, 20 (April 21); Carl Taylor, 32 (April 18); Devon Jackson, 34 (April 17), Verico Veal, 25 (April 17); Jawon Ward, 18 (April 16); Ahmad Johnson, 30 (April 14); Larry Green, 31 (April 14); Nykere Curtis, 20 (April 13); Samuel Garrett, 22 (April 12); Caron Reaves, 19 (April 12); Davion Ward, 17 (April 9); Darrell Robertson, 24 (April 8); David Walker, 30 (April 8); Darius Mohead, 21 (April 7); Quinton Fisher, 16 (April 6); Michael Pipes, 35 (April 6); Norman Vonshe, 20 (April 5); Eugene Broach, 21 (April 5); Ricky Shipman, 35 (April 5); Dashawn Norman, 25 (April 4), Derrick Triplett, 31 (April 4); Courtney Macon, 24 (April 3). And that's just this month.
Why don't you know their names? Because they were not killed by a white cop. Why aren't civil-rights leaders and social justice warriors marching to end the epidemic of black-on-black violence in Chicago? Where are the rallying cries for justice for those young black lives?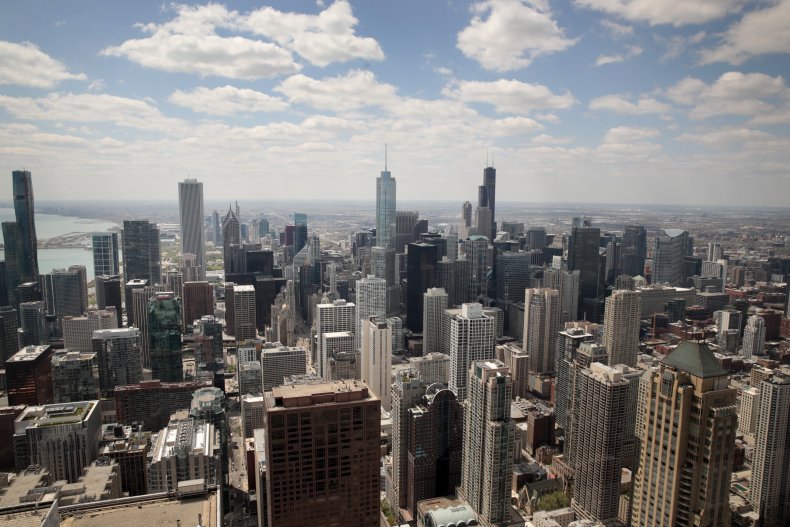 We hear endlessly about the need for police reform in America, but where are the cries for gang reform? School reform? Family reform—and fatherhood initiatives?
In Chicago, deadly police shootings have been on the decline for years, and radically so. Total annual shootings by police declined from 48 in 2015 to 12 in 2019, a 75 percent decline. Fatal shootings declined from 8 in 2015 to 3 in 2019.
You won't see or read any of the aforementioned statistics in most missives by the social justice movement. Because the real answers to the problems facing neighborhoods riddled with gang violence don't have easy answers.
In a 2012 Wall Street Journal column, Juan Williams cited a comprehensive Justice Department study on the subject that he said should have been a "clarion call" for the black community, and the nation at large.
Almost half of the nation's murder victims that year were black, and a majority of them were between the ages of 17 and 29, Williams explained. Black people accounted for 13 percent of the total U.S. population, but were victims of nearly half of all the nation's murders. And 93 percent of black murder victims were killed by other black people, according to the same report.
Williams went on to cite some other depressing figures. Less than half of black students graduate from high school, and the education system's failure is "often a jail sentence or even a death sentence." Black boys and girls are staring down such bleak prospects without much hope. And kids without hope can do desperate, senseless things.
Williams ended by pointing out what a growing consensus of social scientists now understand: fathers matter. Williams noted that 72 percent of black babies are now born to unwed mothers. They account for a staggering 40 percent of all children in America who grow up without a father in the home. It creates tragic outcomes for kids.
Here are just a few of the glaring disparities between kids from two-parent families and kids from fatherless homes:
More than 90 percent of all homeless and runaway children are from fatherless homes (32 times the national average).
71 percent of high school drop-outs come from fatherless homes (nine times the average).
85 percent of children with behavioral disorders come from fatherless homes (20 times the national average).
And an astounding 85 percent of all youths in prison come from fatherless homes (20 times the average).
As one 1995 study by two economists at the left-leaning Brookings Institution surmised, "If we have learned any policy lesson well over the past 25 years, it is that for children living in single-parent homes, the odds of living in poverty are great. The policy implications of the increase in out-of-wedlock births are staggering." One of the authors was an economist at Brookings that now runs the Treasury Department: Janet Yellen.
The numbers have gotten worse since then. The results have been staggering—and tragic. The problem of fatherlessness is a national emergency—even an epidemic.
If the problem continues without a real national dialogue—or any sense of urgency—the tragic loss of life and of human potential will continue unabated. The body count will continue to mount, and gang life will continue to attract young men.
And families in Chicago, and across America, will continue to bury their sons and daughters, all of whom are too young to die.
Lee Habeeb is vice president of content for Salem Radio Network and host of Our American Stories. He lives in Oxford, Mississippi, with his wife, Valerie, and his daughter, Reagan.
The views expressed in this article are the writer's own.