Jeffrey Toobin's Inappropriate Zoom Conduct Has People Sharing Their Own 'Me Toobin' Moments
Respected journalist Jeffrey Toobin was suspended from The New Yorker and placed on leave from his legal analyst role at CNN after colleagues reported him for exposing himself during a Zoom video chat.
"I made an embarrassingly stupid mistake, believing I was off-camera," Toobin told Vice.com, which broke the story. The incident occurred last week during a video talk with members of The New Yorker and WNYC radio. The married father of three was said to be seen onscreen masturbating.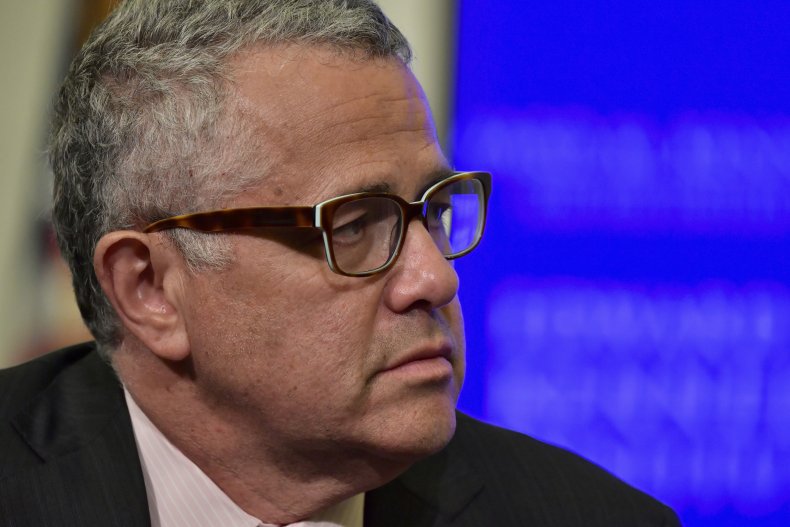 Not long after the news broke, #MeToobin began trending on Twitter, with users either sharing stories about how they've been caught engaging in similar behavior or dismissing it as commonplace. This immediately led to an even larger discussion about the number of people who commit such acts, particularly ones who would do so pre-pandemic when they could do so in meetings conducted over phone and thus off-screen. The outcry served as a reminder that doing anything comparable to what Toobin had admitted to doing constitutes what is as least sexual harassment in the workplace.
Author Adrienne Lawrence summed it up succinctly in her post that's being widely shared:
While Toobin's story is certainly personally embarrassing and even disturbing, he's far from the first public figure caught in a Zoom mishap. While some incidents are downright criminal, others are easier to laugh about. One instance of the former happened this past August, when a village chief from Cavite, Philippines, was caught having sex with his treasurer during a Zoom call. The chief, Jesus Estil, thought his camera was turned off, but he was in full view of other officials, one of whom recorded it, and the video soon found its way onto social media.
Another foreign politician behaving badly in September was caught during a session of Congress in Argentina. At one point during a Zoom meeting about the coronavirus pandemic, Juan Emilio Ameri, a deputy from Frente de Todo political party, was seen onscreen kissing a woman's bare breast. Since the video call was broadcast to the country's congress, it naturally sparked outrage.
A slightly less controversial Zoom mishap happened a month earlier when Bernardo Bustillo, a councilor in the Spanish town Torrelavega, decided he needed to shower but didn't want to miss a meeting. He brought his laptop into the bathroom and inadvertently showed himself lathering up.
Here in the US, reporter Will Reeve appeared on Good Morning America via Zoom in April to talk about pharmacies using drones to make deliveries. However, his message was lost among many viewers distracted by the fact you could see he wasn't wearing pants beneath his button-down shirt and blazer.
Reeve claimed afterward that he was wearing shorts and not just underwear. He also managed to laugh about it afterward by doing a subsequent GMA story about Zoom etiquette, during which he helpfully reminded viewers to make sure to be "dressed—fully."
Another notorious incident from April occurred in Vallejo, California, during a Zoom conference call amongst members of the city's Planning Commission. Near the end of the meeting, council member Charles Platzer held up a cat to the camera before throwing the animal off-screen. The feline is then heard landing with a thud. In another point in the public meeting, Platzer can be seen chugging a beer. Shortly after the incident received mainstream press coverage, Platzer resigned.
There have been numerous reports during year of virtual schooling of inappropriate behavior during Zoom classes, including Zoom-bombing moments when outsiders hijack screens with pornographic images. More serious instances include a 9-year-old Louisiana student being suspended from school after a teacher reported seeing a gun in the boy's bedroom during a virtual class in September. (The "weapon" was later determined to be a BB gun, and the boy's parents are now suing the school district.)
On the more lighthearted end, there have also been no shortage of stories about video calls and live videos being interrupted when someone's significant other appears in the background in various stage of undress. Perhaps none made as many headlines as when CNNanchor Chris Cuomo appeared to be enjoying the morning sun completely in the buff this past June while his wife Cristina hosted a yoga class on Instagram Live.
And then there's the Miss Potato Head incident. In March, Lizet Ocampo, the political director at People for the American Way, began a Monday morning Zoom meeting like she normally would—except that she showed up as a potato. The prior Friday, she had downloaded a filter for a virtual happy hour that made her face appear as a talking potato. Only, she forgot to turn it off. Even worse, she didn't know how to turn it off. After trying unsuccessfully to remove the filter, she gave up and carried on the rest of the call as a potato.
One call participant shared a screenshot of the meeting. Ocampo used the moment to embrace the absurd humor as well as send an important message for the recent COVID-19 stay-at-home orders. She tweeted: "I yam potato boss. Please stay planted at home," she tweeted.