Tool 'Fear Inoculum' Release Date: Rock Band Set to Release First Album in 13 Years
Progressive metal outfit Tool is releasing its latest album Fear Inoculum on August 30, the first album from the band since 2006. The act behind albums such as 10,000 Days, Ænima and Lateralus has also released its whole music catalog onto streaming services such as iTunes and Spotify.
The band, who rose to fame in the 1990s, was created by frontman Maynard James Keenan, guitarist Adam Jones, drummer Danny Carey and, then, bassist Paul D'Amour in Los Angeles. Its first EP, Opiate,was released in 1992, followed by Undertow (1993). The second album held such hits as "Sober" and "Prison Sex", confronting difficult topics, and went platinum within the year.
The second studio album Ænima was released in 1996 with tracks such as "Stinkfist" and "Eulogy" carrying on the recurring theme of complex issues and ideologies. This was followed by Lateralus in 2001 (with a live album in between), which included songs such as "Parabola" and "Schism" as well as a track sharing the same name as the album.
It wasn't until 2006 that the fourth and last album was released, 10,000 Days. The album included "Vicarious", "Jambi" and "The Pot."
The latest album Fear Inoculum includes a track of the same name, which can be streamed on Spotify and iTunes.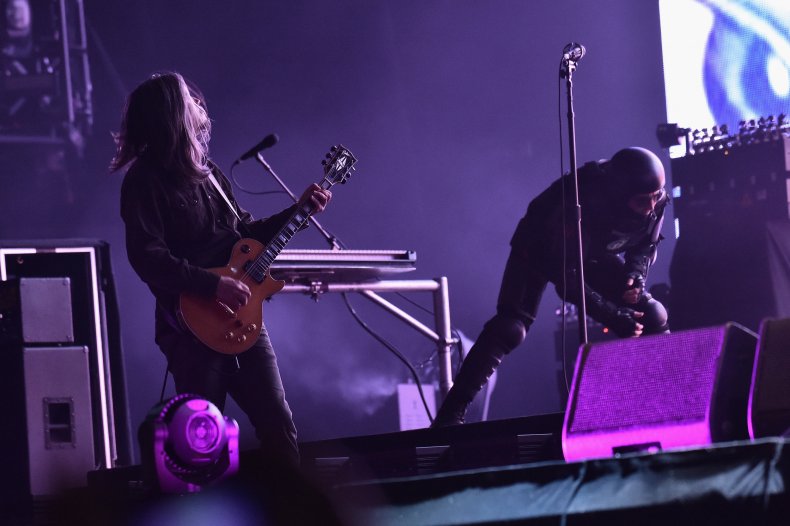 Why has it taken 13 years for a new Tool album?
The band has been on hiatus since the last tour which finished in 2008. Frontman Keenan, used the time out to focus on his other bands such as supergroup A Perfect Circle and former side project Puscifer. Keenan also runs his own vineyards in Arizona, which has kept him busy.
Rumors had long circulated that the band were working on a new album, however, it was in 2018 that Keenan himself confirmed that the new music would be released in 2019.
But interestingly, a 1994 interview with guitarist Adam Jones in magazine Guitar School, revealed that the band always want to be the best they can be: "I'm my own worst critic and I think everyone in the band is a perfectionist. With four perfectionists in the band, we have a hard time reaching perfection."
Top 10 Rated Tool Songs
To amp up the excitement for Tool's long-awaited album, Newsweek has scaled Billboard, analyzing data to bring you the top 10 ranked songs that the band has released into the Mainstream Rock charts.
10. H., peaked at No. 23 on March 22, 1997
The meaning of the song as been speculated over the years, however, Keenan says that it's reflective of friends trying to help you make decisions, but it all coming down to you.
9. Forty Six & 2, peaked at No. 22 on December 13, 1997
The basis for this song is how human DNA will evolve from 44 and two chromosomes to, you guessed it, 46 and two.
8. Stinkfist, peaked at No. 17 on December 14, 1996
At the time of release, this song was controversial for the connotations associated with the name. However, Keenan came out to say that the song was about "choosing compassion over fear."
7. Lateralus, peaked at No. 14 on December 1, 2002
This song is written based on the Fibonacci sequence (in which each integer is equal to the sum of the preceding two). A real prog metal song.
6. Sober, peaked at No. 13 on December 18, 1993
The video to this song uses stop-motion animation and set the tone for Tool's artistic and unique music videos.
5. Parabola, peaked at No. 10 on August 3, 2002
This song is featured on Guitar Hero: World Tour and has a ten-minute video, including a three minute lead in with song "Parabol".
4. Jambi, peaked at No. 7 on May 12, 2007
During one of Danny Carey's Drum Clinics, the drummer explains that the song was born from the bass line reminding the bassist, now Justin Chancellor, of Pee Wee's Playhouse, followed by Keenan's train of thought moving onto the genie Jambi. He then started writing about making wishes, and that was how "Jambi" was born.
3. Vicarious, peaked at No. 2, June 17, 2006
The song depicts was it becoming more so noticed today; how the public enjoys watching others through the eye of the media.
2. Schism, peaked at No. 2 on June 2, 2001
This song is Tool's only entry on the Billboard Hot 100, peaking at number 67 and staying on the charts for 20 weeks.
1. The Pot, peaked at No. 1 on November 25, 2006
This was Tool's first number-one song, topping the Billboard Mainstream Rock chart in 2007. It's a double entendre based on the phrase "the pot calling the kettle black" and drug-taking.
Tool 'Fear Inoculum' Release Date: Rock Band Set to Release First Album in 13 Years | U.S.