Criminologist Laura Brand on Her 'Friendship' with 'Toolbox Killer' Lawrence Bittaker
Criminologist Laura Brand opened up to Newsweek about her groundbreaking interviews with "Toolbox Killers," Lawrence Bittaker and Roy Norris.
In 1979, the infamous pair embarked on a 5-month killing spree in southern California, claiming the lives of Cindy Schaefer, 16, Andrea Hall, 18, Jackie Gilliam, 15, Leah Lamp, 13, and Shirley Lynette Ledford, 16.
Two years later Bittaker was sentenced to death, while Norris took a plea deal, receiving a life sentence.
Over the course of five years, Brand met with Bittaker and Norris to research the behaviour of criminal sadists. She interviewed the former on death row at San Quentin Prison, and Norris at Richard J. Donovan Correctional Facility, both in California.
Speaking to Newsweek, Brand shared she had a "visceral reaction" after reading about their crimes, explaining the case "stayed" with her. When she was given the opportunity to speak to them separately, she "jumped" on the opportunity.
Gradually, Brand developed a good rapport with Bittaker, in particular, whom she described as "forthcoming." His willingness to talk was surprising, she recalled. At trial, Bittaker did not enter a plea and Norris became the prosecution's star witness. However as the years progressed, Brand described how the pair "switched spots."
"I spoke to Roy for five years too, but when you talked to him, he said he was blacked out on drugs during the whole crimes," she recalled. "Now, during the trial, he actually testified and gave very, very accurate details of what they were doing through the crimes so this story that he was now trying to perpetuate — that he was blacked out on drugs — is a total lie."
She added: "I didn't focus in on the crimes themselves [with Norris] as much as I did with Bittaker, where he was actually being more forthcoming. It was almost like they changed spots. Because initially, Bittaker was the one saying, 'I didn't do anything. I didn't do anything' and Norris was like, 'this is what happened'. Now Bittaker is the one opening up."
Brand and Bittaker had endless phone calls and numerous meetings during the five-year period, where he would discuss his methods, motives and, ultimately, provide insights into the mind of a criminal sadist.
She also wanted to speak to Bittaker in the hope she would receive answers for the families of Andrea Joy Hall and Lucinda Lynn Schaefer, whose bodies have never been found.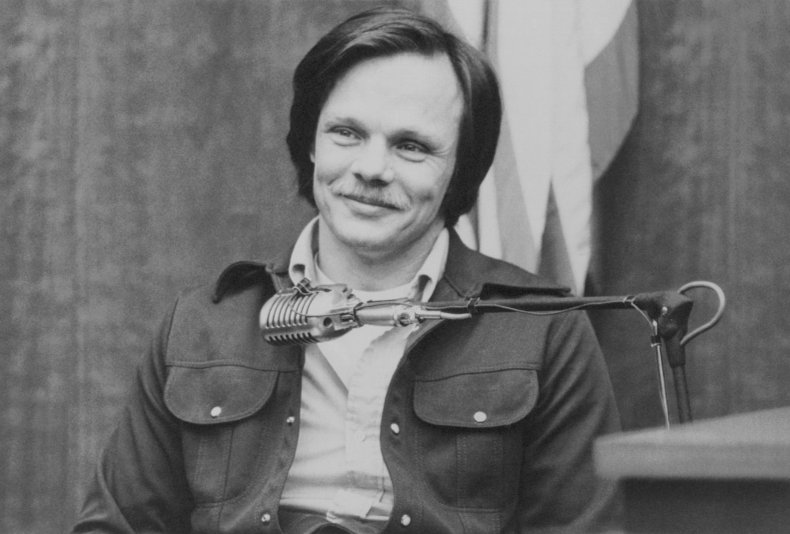 At first, Bittaker had been reluctant to meet and open up to Brand, but all of that changed the day she showed up on death row seven months pregnant. On that day, he gave her a map of the San Gabriel Mountains, pointing to where the bodies of Schaefer and Hall were located. Searches are still ongoing.
She recalled: "I just kept being persistent, persistent, persistent, and then finally, after three years, I get pregnant and I go there and something broke. It was like the dam broke and he finally warmed up to me, and that was the day he actually gave me the bodies. He gave me the very evidence that day."
From then on, Brand and Bittaker formed a "friendship." Bittaker was there when Brand's baby son kicked for the first time, he would ask Brand to bring him packets of ketchup and even asked to be the uncle of Bittaker's son — a request Brand puts down to his "mommy issues."
Discussing their bond, Brand said: "Just over the course of working together you just form a friendship and stuff. It's almost like a coworker, I would say is the best way to describe it. You're working together every single day so you're getting friendly, and you're making jokes over the coffee, and you're just bonding that way and you get close to that way.
"My main goal is always building that trust and rapport, I always love to use humor to help them break down the walls. When going into the prisons, they can be very paranoid too. You have a lot to work against, you have their personalities, you have to work against the paranoia, the prison, the institution, everything you're working kind of against to build that trust and rapport."
Despite their good rapport, while speaking with both killers, the true nature of their crimes and who they really were was never far from Brand's mind.
"You can definitely both tell even with their personality, the level of sadism. Even before death, it popped out. They'll give you a little degrading comment here or there. Or, just like little kinks or something, I guess you could say, comes out in their personality. This sadism was still there."
Bittaker died aged 79 on December 13, 2019 and Norris died on February 24, 2020, aged 72. Both men died of natural causes.
The Toolbox Killer is streaming on Peacock now and will be televised on Oxygen on Sunday, October 3 at 7pm ET/PT.