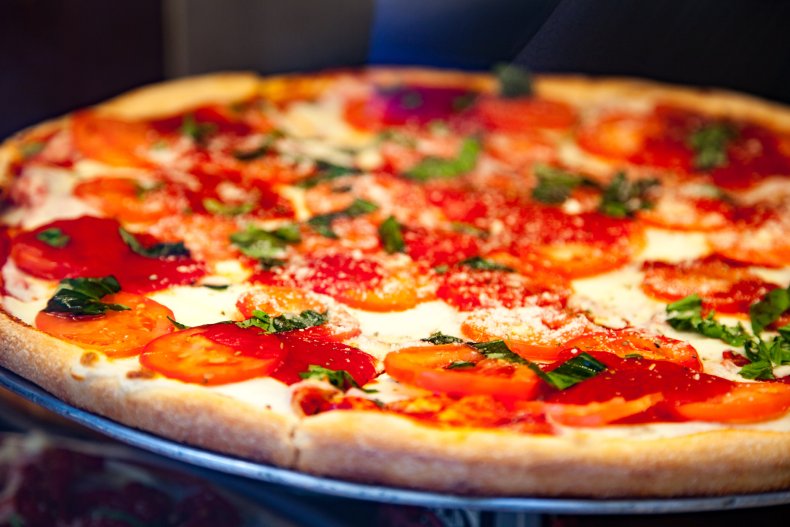 You can't toss a pepperoni in New York City without hitting a pizza joint. But that's a good thing. After all, the most delicious pies in the U.S. can be found many times over in the Big Apple. Which ones are the best? Arguments have resulted in fistfights. We'll take a punch for these 10 pizzerias below.
View a Google Maps list of some of the best places to get pizza in New York.
A lot of interesting things happened in 1937: Franklin D. Roosevelt was sworn into his second term as president. Picasso painted his masterpiece Guernica. And a pizzeria was born on Staten Island called Denino's. If you're not from this vastly overlooked borough, it's worth jumping on the free ferry and making a pizza pilgrimage to this sanctuary of the slice. Denino's is famed for its clam pie—try it!—but the other classics at this salt-of-the-earth spot are worthy biting into.
524 Port Richmond Ave., Staten Island
This is the real deal. This Hell's Kitchen spot is the love child of Roberto Caporuscio of Keste Pizza in the West Village and Antonio Starita, a third-generation pizzaiolo and owner of Pizza Starita in Naples. Chef Starita made the Montanara pizza famous: a lightly fried pizza with various toppings. It's crispy. It's crunchy. It's filled with flavor. There is also a long list of creative pizzas topped with things like truffles, walnut sauce, and artichokes.
309 W. 50th St.
First opened in Clinton Hill, Brooklyn in 2014, this West Village outpost serves up excellent Detroit-style square grandma pies to adoring regulars. The pan-cooked pies come out extra crispy, both on the bottom and the top offering a textural satisfaction on the taste buds that you won't find at many other pizza joints around the city. There are other excellent and creative options too: pizza with pork and kimchi, asparagus and burrata, and bacon and ranch, among others.
35 Downing St.
Many have tried to emulate this Greenwich Village slice spot. Most have failed. This is classic New York City-style pizza, cooked until crispy on the bottom and bubbling on top in a gas-fired oven. The pizzas here are consistently solid – whether you're stopping by for a quick lunch slice or you're on your way home after a night of boozing and need some tasty tummy filler – Joe's is always right.
7 Carmine St.
Mark Iocono is the man behind this perfect 30-seat Brooklyn pizzeria. He rolls out the dough with a wine bottle, splashes some tangy tomato sauce on, peppers it with pieces of mozzarella, and into the wood-fired oven it goes. The result is possibly the best pizza in the borough (many would say in the city and some, even, the country). Whatever the case, it's impossible to walk out of here without feeling super satisfied. One bonus: it's BYOB so compliment the pie here with your favorite vino. Expect a wait.
575 Henry St., Brooklyn
It's fitting this Bushwick pizzeria is named for the Roman goddess of the harvest. They make the pizzas here with special wild yeast that adds a unique and special texture with every bite. Moreover, they make their mozzarella in house and it's extra creamy. There are only three pizzas on offer—marinara, margherita, and a square pie—and any of them are worthy of trekking deep into Bushwick for. It only adds to the experience that the wine list is made up mostly of nicely priced natural wines, about 20 of which are offered by the glass.
346 Himrod St.
Locals know not to go to Little Italy to eat (or for anything else, really). But Pasquale Jones is different. Helmed by chef Ryan Hardy (who also runs the kitchens at Charlie Bird and Legacy Records), this Nolita/Little Italy spot is the best Italian restaurant in the neighborhood. The pizza here is topnotch but there's one particular pizza P.J. excels at: the clam pie. The white pizza is creamy, salty, and garlicky. Squeeze some lemon over it and commence eating the best littleneck clam pie in the city. Otherwise, the margherita and the anchovy-spiked burrata are excellent too.
187 Mulberry St.
The best pizza in New York City is in ... Jersey City? Quite possibly. Meet Razza, a Neapolitan pizzeria that is luring New Yorkers across the Hudson River for its perfectly baked crusts, tangy sauce, and flavor-popping toppings. First-timers should be contractually obligated to get the burrata pizza: a nicely charred crust cradles tomato sauce, garlic, basil and super creamy burrata. A heavenly pie that will leave a lingering sensation on your palate during the PATH train back to Manhattan.
275 Grove St., Jersey City, NJ
Gino Sorbillo became famous when this Neapolitan pizzaiolo stood up to the local Mafia in Naples. But he happens to make some insanely great pizza too. The world took notice. And then late 2017, he hopped over the Atlantic to New York and opened this Bowery pizzeria. The only mob here to fight off are hungry pizza lovers. That's because it might be harder to find a more authentic Neapolitan pizza this side of the Atlantic. Get the margherita with buffalo mozzarella and you'll be transported to the streets of Naples in one bite.
334 Bowery
This family-run spot in Coney Island has been firing up pizzas with pizzazz since 1924. While the name claims to be Neapolitan—and perhaps it was nearly 100 years ago—the pizza here is pure New York City pie. The plus-sized pizzas are crispy on the bottom and bubbling with cheese and red sauce on top. Come early as they only stay open until the dough runs out. Once it's gone, lights out, oven off.
1524 Neptune Ave., Brooklyn