Top 5 Best Nintendo Switch Games of 2019 - 'Pokémon,' 'Fire Emblem' & More
This year was an important one for the Nintendo Switch. With PlayStation and Xbox essentially taking the year off to gear up for the next generation of home consoles, the Switch had to deliver with new and impressive first-party titles. Its 2019 lineup didn't disappoint.
It was another great year for Nintendo Switch owners, as popular IP received sequels, indie games were adored and a brand-new Pokémon world was discovered.
Here are our five favorite Nintendo Switch games that released in 2019.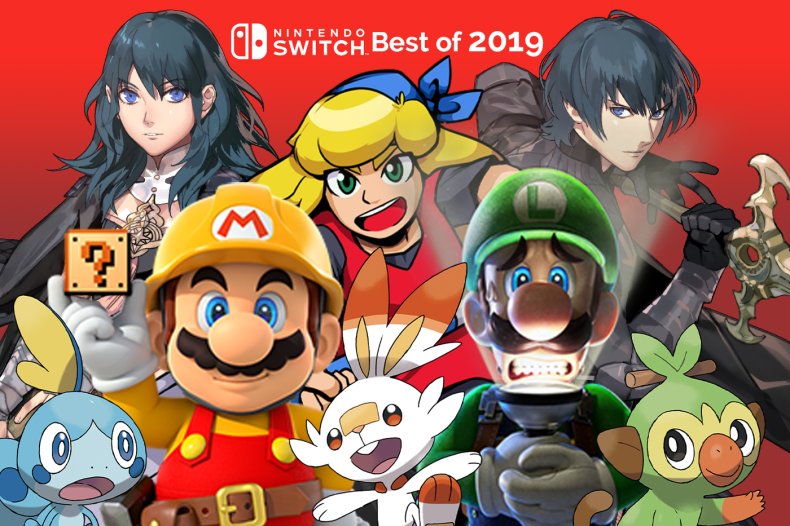 Luigi's Mansion 3
The third installment of the Luigi's Mansion franchise, this title gave more love to everyone's favorite green-clad plumber as he tries to save his brother and friends from the ghosts nestled in a creepy hotel.
The exploration and puzzle-solving is great, the humor and story is fun and there's a lot to love about the game's unique sense of charm and style. The introduction of Goo-igi prompted excellent co-op, which made Luigi's Mansion 3 one of the best family games Nintendo released in 2019.
Cadence of Hyrule
Roguelikes aren't a favorite genre amongst our staff, but there's so much love for Tales of the Necromancer that when Cadence of Hyrule was announced we had to check it out. The end result was a fun, challenging romp that put our rhythm skills to the test.
The soundtrack is amazing; remixing classic Legend of Zelda tracks that match your steps while you attack to the beat. The bosses are very challenging and test your puzzle-solving skills. In true Roguelike fashion, there's also so much replayability that you can play this game over and over and have a different experience each time.
Read our Cadence of Hyrule review.
Super Mario Maker 2
The first Super Mario Maker was fun, but it wasn't our cup of tea. The building aspects seemed daunting for most, and, while playing through created courses was fun, there didn't seem to be much to do if creative construction wasn't your thing.
Super Mario Maker 2 rectifies this shortcoming by adding a single-player campaign and local multiplayer options.
Even its building aspects have been made easier and more fun to the point where we actually enjoy creating courses for others to try. There's a unique sense of joy in seeing someone play through your course and have a good time with it.
Read our Super Mario Maker 2 review.
Fire Emblem: Three Houses
We were admittedly late to the Fire Emblem hype train. Our love for the franchise was ignited with Fates and never stopped there, so having another installment on the Switch seemed ideal. Needless to say, Three Houses was a dream come true.
Offering a lengthy, engaging story with memorable characters was great enough, but its challenging battle tactics gameplay has also been fine tuned with new mechanics interwoven seamlessly for players of all skill levels to enjoy.
With so many branching storylines and characters to befriend and romance, if you're looking for a game with maximum replayability you'll likely find it here.
Read our Fire Emblem: Three Houses review.
Pokémon Sword and Shield
Despite the controversy leading up to the release of Sword and Shield, the Gen 8 games are possibly the best in the franchise's storied history.
The jump to the Switch gave fans a more realistic look at a Pokémon world. The new Pokémon are hit and miss, but many are quickly becoming favorites of new and lifelong trainers alike. The more open-ended Wild Area is also a noteworthy addition that greatly expands upon the series' established formula.
With these new features, Sword and Shield are Pokémon games that fans will have no problem returning to every single day.
Read our Pokémon Sword and Shield review.
Which Nintendo Switch games were your favorites? Let us know in the comments section.
Top 5 Best Nintendo Switch Games of 2019 - 'Pokémon,' 'Fire Emblem' & More | Newsgeek