Top 50 NFL Players' Merchandise Sales in Pictures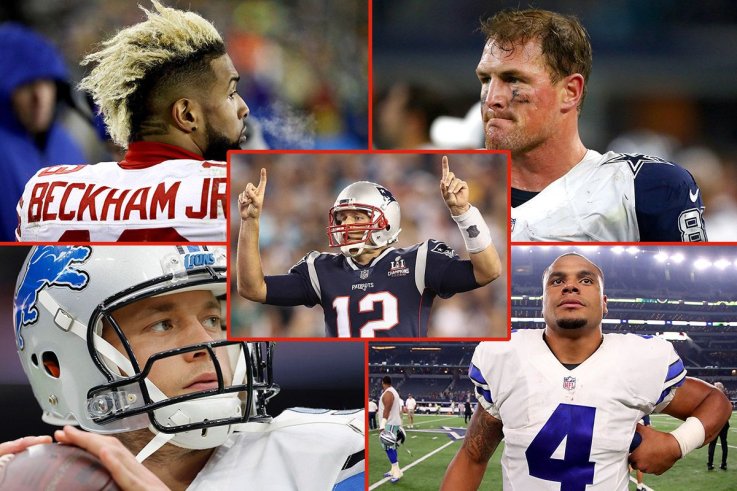 The Philadelphia Eagles clinched their first Super Bowl title in February, and have even more to celebrate as the most represented team in the top 50 of NFL merchandise sales.
Figures released by the NFL Players Association (NFLPA) show five Eagles' made the list, while the Dallas Cowboys were the second most represented team.
Based on total sales of officially licensed, NFL player-identified merchandise, the list tracks sales between the beginning of March last year and the end of February this year.
The NFLPA, which is ranked as the 34th largest licensor in the world, added licensees that generated record retail sales for a fourth consecutive year, exceeding $1.65 billion during the period
The ranking makes for interesting reading, highlighting how success on the pitch and commercial clout are not necessarily related. The Jacksonville Jaguars and the Minnesota Vikings both reached their respective conferences' championship game, but only have one player featuring in the top 25 between them.
Conversely, the Dallas Cowboys finished with a 9-7 record last season without making the playoffs, but have four players in the top 15, including last year's top seller Ezekiel Elliott.
Tom Brady was number one the list in the 2015-16 season, while Seattle Seahawks quarterback Russell Wilson had topped the rankings in the previous 12 months and quarterbacks once again led sales among offensive positions. There were six of them in the top 10 and 18 in the top 50, while wide-receivers accounted for 14 players on the list and running backs and tight ends have six and four respectively.
Meanwhile, two brothers made the top 50 list for the first time since Peyton and Eli Manning achieved the feat in 2016.
Click through this Newsweek gallery to see the top players, starting with number 50 and working up to number one.