'Top Boy' on Netflix: How Drake Took a British Crime Drama and Turned It Into a Global Event
Two very distinctly British series are being resurrected Friday. But while most people around the globe more commonly associate Downton Abbey, which returns in movie form, with its ball gowns and sharp accents as the standard fare on British television, Netflix's Top Boy represents a vastly different Britain.
If you haven't heard of Top Boy before, just like superstar rapper Drake, you'll soon be hooked.
Top Boy, which premieres all 10 episodes on Netflix Friday, is a continuation of a cult hit series which aired on the U.K.'s Channel 4 between 2011 and 2013. The crime drama, set in modern-day east London, charts the ins and outs of the street-level drug trade and with it the dangers that come with being top boy, or top dog.
Here's what you need to know about Top Boy and Drake's influential role in its return.
What is Top Boy?
The U.K. crime drama is set in Hackney, east London, and follows members of street gangs who are involved in drug dealing. When it premiered, the timely drama resonated with viewers with its depictions of gang violence and knife crime, issues that have plagued U.K. streets, particularly in inner-city areas such as east London.
The series stars actors-and-rappers Ashley Walters (who you may recognize as Asher D of So Solid Crew, the band behind hit song "21 Seconds") and Kane Robinson, also known as Kano.
Netflix is billing its Top Boy revival as the show's first season, but it is in fact the third overall. The original series is also on Netflix under the title Top Boy: Summerhouse, so called for the fictional Summerhouse estate in Hackney where the show is set.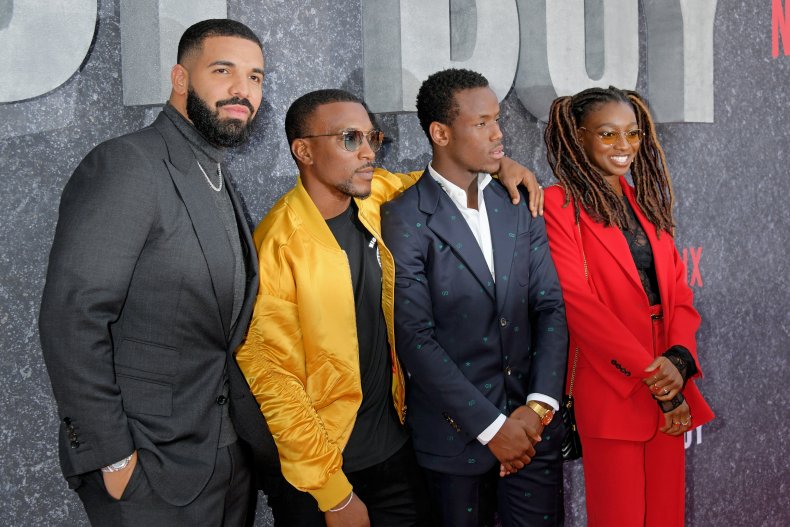 How did Drake get involved with Top Boy?
If you're a fan of Drake, you'll know the Canadian star is something of an Anglophile—he's notoriously a big fan of U.K. grime collective Boy Better Know, he follows soccer, and is also evidently a fan of the original Top Boy.
Drake first shared his love of the show on Instagram and Twitter in 2014.
In an exchange with actor Walters, he said: "That show is just too good."
So the legend goes, Drake was devastated to learn that there was no more Top Boy after the two seasons that aired between 2011 and 2013. So what to do? Revive it, of course.
In 2017, Drake struck a deal with Netflix to serve as executive producer on a 10-part third season of Top Boy. He told The Hollywood Reporter that he discovered the show on YouTube and was immediately drawn in.
"And that human element drew me in," he said at the time. "I started just looking them up. Like, who are these people? Are these actors I should know? Are they just famous over there? I remember I hit [Drake's manager] Future, and I was just like, 'This show is incredible.'"
Netflix's vice president of original content Cindy Holland said it was Drake that pursued the revival. "Drake's passion for Top Boy was clear from the first conversation, and he really drove its resurrection," said Holland.
At the recent London premiere of the new Top Boy, Drake said that "at first it was kind of, just for me, I was like, 'I need this back.' But then I realised how much it meant to so many people."
Top Boy is streaming now on Netflix.