Top Capitol Police Official Resigns as Department Shifts Away From Policing
Chad Thomas, the Capitol Police's assistant chief of police for uniformed operations, has resigned for undisclosed reasons as the department plans to shift away from policing to becoming an intelligence-gathering and protective agency.
In a memo obtained by Politico, Capitol Police Chief of Staff Salley Wood announced Thomas would be "separating from the Department" and thanked the veteran officer for his service. Wood said in the interim, the department would "bring in additional resources to assist with the enhancement of its Uniformed Operations in the coming weeks."
Thomas first joined Capitol Police in 1996 and was appointed to his top role in an acting capacity in 2019. He played a significant role in planning ahead for Jan. 6, when a pro-Trump mob stormed the Capitol in an effort to stop the certification of electoral votes. Thomas was involved in staffing, schedules, SWAT team instructions and security perimeter matters.
Capitol Police declined Newsweek's request for comment, citing that the department does not comment on personnel matters.
His departure comes less than two months after Capitol Police Inspector General Michael Bolton testified in front of Congress and called for "cultural change" after the failures of the Jan. 6 Capitol riot.
"A police department is geared to be a reactive force, for the most part," Bolton told the House Administration Committee. "Whereas a protective agency is postured, in their training and planning, to be proactive to prevent events such as Jan. 6th."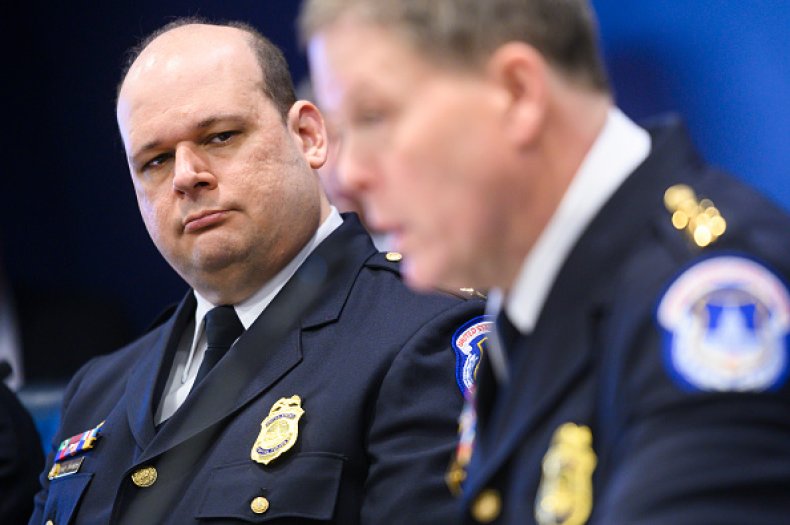 Following the attack, Capitol Police Chief Steven Sund resigned and Yogananda Pittman was selected to serve in an acting capacity as Sund's replacement. The House and Senate sergeants-at-arms also resigned in the immediate aftermath of the riot.
The Capitol Police Board announced it would begin searching for a new chief at the end of April and said it expected to make a selection by "early summer."
Rank-and-file Capitol Police officers have continued to express their dissatisfaction with top leadership, including Thomas and Pittman. During a February union ballot, 96 percent of voting officers gave Thomas a vote of no confidence and 92 percent said the same of Pittman. Capitol Police Capt. Ben Smith received the highest rebuke, with 97 percent of voting officers voting no confidence.
In a 104-page report obtained by The Associated Press, Bolton cast serious doubt about the force's ability to respond to future threats or another large-scale attack, citing inadequate training and poor operational planning.
Bolton's report found that there was a lack of direction at the Civil Disturbance Unit, which Thomas oversaw and which exists specifically to ensure that legislative functions of Congress go undisrupted by civil unrest.
A congressional report is also expected to come out this week on the Jan. 6 insurrection and is likely to further highlight missteps by the department's leadership during the riot.