Top Democrats Celebrate Departure of 'Toxic' Interior Secretary Ryan Zinke After 'Staggering Ethical Abuses'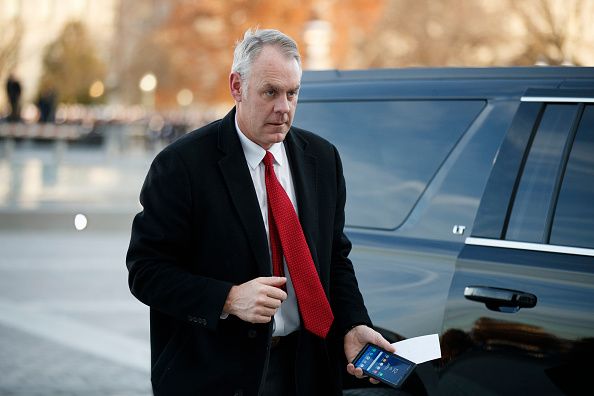 Donald Trump's Interior Secretary Ryan Zinke will be leaving his post at the end of the year and top Democrat Chuck Schumer says "the swamp cabinet will be a little less foul without him."
"Ryan Zinke was one of the most toxic members of the cabinet in the way he treated our environment, our precious public lands, and the way he treated the [government] like it was his personal honey pot," the Senate Minority Leader tweeted.
Trump announced Zinke's departure in a tweet on Saturday morning, writing: "Secretary of the Interior @RyanZinke will be leaving the Administration at the end of the year after having served for a period of almost two years. Ryan has accomplished much during his tenure and I want to thank him for his service to our Nation." He added that his administration will announce Zinke's replacement next week.
Zinke's departure from the White House comes after growing controversy over allegations that he violated ethics rules while serving in the Trump administration. He's been investigated over his travel expenses and business deals. In a statement on Saturday, Zinke called the allegations "false."
"I love working for the President and am incredibly proud of all the good work we've accomplished together," Zinke wrote on Twitter. "However, after 30 years of public service, I cannot justify spending thousands of dollars defending myself and my family against false allegations."
His removal from the White House also comes just before Democrats take over the House of Representatives in January. With control of the chamber Democrats would have had the power to investigate Zinke and issue subpoenas.
Democrats are cheering Zinke's departure, as he has carried out a pro-industry agenda. He has overseen the increased production of oil, natural gas and coal while rolling back many Obama-era environmental protections.
"Ryan Zinke's tenure at Interior was a never-ending stream of terrible management decisions, increased exploitation of public lands, reduced protections for wildlife, total disregard for the work of scientists, and an alarming number of ethical lapses," Rep. Don Beyer tweeted.
Nancy Pelosi, soon to be the next House Speaker, also slammed Zinke in a statement released on Saturday.
"Secretary Zinke has been a shameless handmaiden for the special interests. His staggering ethical abuses have delivered a serious and lasting blow to America's public lands, environment, clean air and clean water," she wrote.
"When Democrats take the gavel in January, we will clean up corruption to make Washington work For The People," Pelosi added.