Top Democrats Urge Joe Biden to Cancel $50,000 in Student Loans Per Person
The charge for an easing on student loans gained further momentum as Senate Majority Leader Chuck Schumer made a renewed call for the $50,000 loan forgiveness, in an op-ed published in USA Today on Tuesday.
The call follows the publishing of a letter released last Friday where party leaders, headed by Sena Elizabeth Warren, Representative Ayanna Pressley, and Representative Joe Courtney called on President Joe Biden to extend the pause on student loan payments, originally implemented at the start of the pandemic, until next spring.
With a recent survey by Student Debt Crisis finding that 75 percent of borrowers report the payment pause as being "critical to their financial wellbeing," Democrats remain focused on the issue, which impacts roughly 43 million Americans who owe nearly $1.7 trillion in debt.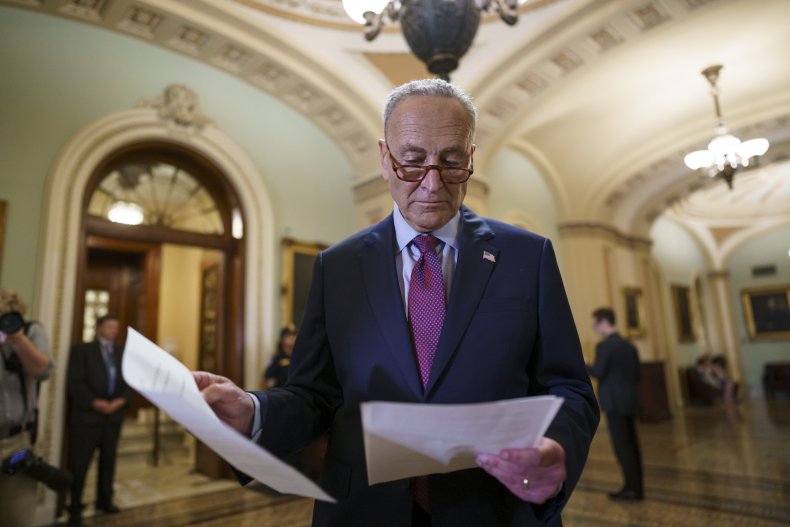 "We strongly believe the president should take these two steps," Schumer, a Democrat from New York, wrote. "With the stroke of a pen, he can follow through on his promise and bring life-changing relief for tens of millions of Americans struggling with student loan debt."
Racial inequality within the student loan crisis stood out as a focus of Schumer's article. In it, he drew on data from the Brookings Institution that found Black graduates can often owe nearly double what their white counterparts owe. He also cited a study from the Education Department study that found the typical Black student might owe more on their federal loans than they initially borrowed—as much as 12 years after starting their school.
As America nears the 2022 election season, Democrats face significant challenges to their slim majorities in both the House and Senate. A poll from Vox and Data for Progress found more than half of voters support canceling $50,000 of student debt.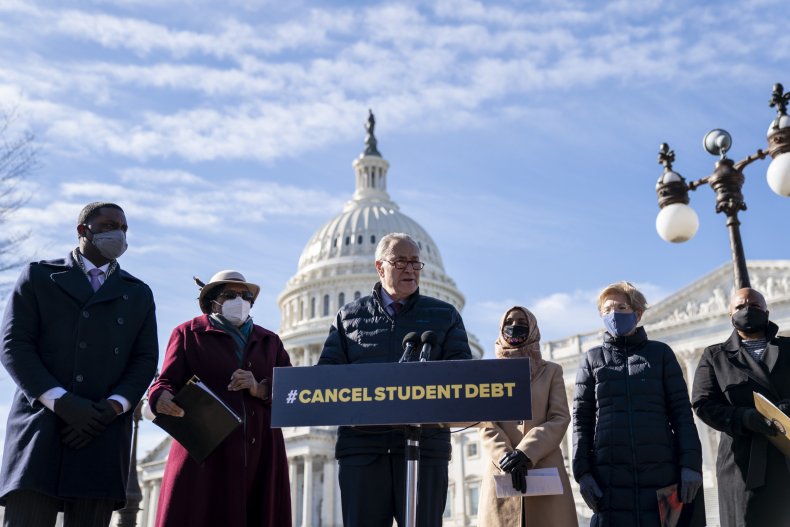 Through a 1965 provision within the Higher Education Act called "compromise and settlement" authority, the president has the power to cancel portions of student debt. Nonetheless, in a CNN town hall, Biden said: "I will not make that happen," adding "I am prepared to write off the $10,000 debt but not $50 [thousand], because I don't think I have the authority to do it."
While cancelling the debt may take more work, the pausing of the payments will continue to be a priority. Warren made this sentiment clear in the recent letter:
"President Biden should cancel student debt, but in the meantime he should extend the payment pause so that borrowers aren't hurt," she said.