Top General Says Military Doesn't Take Oath to Any Individual amid Pentagon Shakeup
The Joint Chiefs of Staff Chairman Mark Milley said the U.S. military did not take an oath to "an individual," but the Constitution, as President Donald Trump continued his reshuffle of the Pentagon in the wake of sacking Defense Secretary Mark Esper.
Speaking at Fort Belvoir in Virginia on Veterans Day, the top general reiterated that servicemembers did not take an oath to any individual person, religion, country or tribe as he opened the new National Museum of the United States Army.
Delivering his remarks on Wednesday, Milley said: "We are unique among armies, we are unique among militaries. We do not take an oath to a king or queen, or tyrant or dictator, we do not take an oath to an individual. No, we do not take an oath to a country, a tribe or a religion.
"We take an oath to the Constitution, and every soldier that is represented in this museum—every sailor, airman, marine, coastguard—each of us protects and defends that document, regardless of personal price."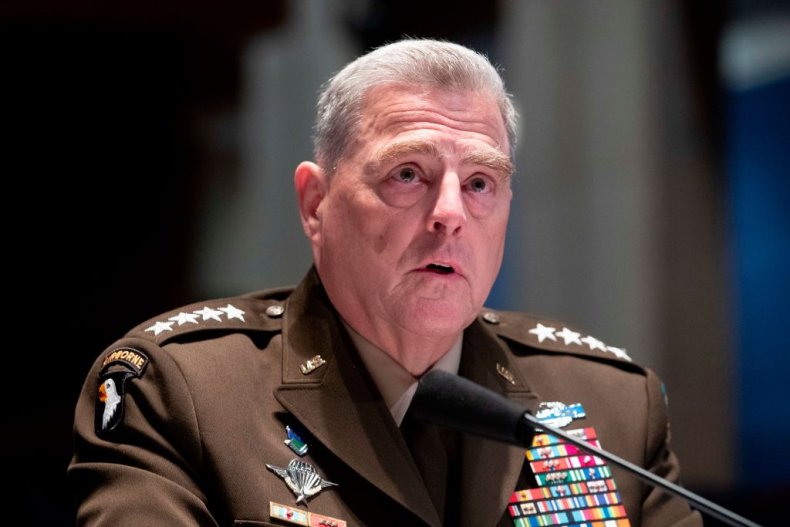 Milley has long respected and spoken about the military's oath to the Constitution over any one individual or entity, but repeated his position as the Pentagon saw several members of its leadership team depart this week.
Defense Secretary Mark Esper was the first to be fired by Trump on Monday after it was reported that he had prepared a resignation letter in the wake of the commander-in-chief's election defeat.
National Counterterrorism Center Director Christopher Miller was appointed as acting defense secretary in Esper's stead, with Trump announcing the shakeup on Twitter and promising that Miller would do a "GREAT job" at the helm of the Pentagon.
A further three Defense Department exits were announced by the Pentagon in a Tuesday press release. Dr. James Anderson, acting under secretary of defense for policy, the Under Secretary of Defense for Intelligence and Security Mr. Joseph Kernan, and Esper's Chief of Staff Jen Stewart were all said to have handed in their resignations in the wake of Esper's sacking.
"I want to thank Dr. Anderson, Admiral Kernan and Jen Stewart for their service to the nation and the Department," Acting Defense Secretary Miller said in a statement. "Over their careers each has contributed greatly to the national defense and the future of the Department of Defense. We wish them the best in their next endeavors."
The Intercept also reported on Wednesday that Mark Tomb, the deputy chief of staff to the undersecretary of defense, had also been removed from the department as part of the administration's shakeup.
It is unclear why President Trump has chosen to reshuffle the top of the Pentagon with weeks left in his presidency, but there have been speculative reports that the appointment of loyalists could be part of an attempt to bring more U.S. troops home from service in the Middle East.