Top GOP Senator Vows 'Strong Response' With Trump to Russia Bounty Claim
Chairman of the Senate Armed Services Committee Sen. James Inhofe (R-OK) has pledged a "strong response" to Russia if reports are true that one of its intelligence branches offered bounties to Taliban-linked militias to kill U.S. troops in Afghanistan.
President Donald Trump has faced questions over what he knew about the alleged bounties after reports suggested he was made aware by U.S. intelligence officials. But Trump denied he was aware of the claims before they became public.
The New York Times reported that the United States concluded months ago a Russian military intelligence unit offered bounties for killings of coalition forces, amid the peace talks to end the war in Afghanistan.
Director of National Intelligence John Ratcliffe and White House Press Secretary Kayleigh McEnany also said neither Trump nor Vice President Mike Pence was aware of the reported bounties. Trump later said he was not informed because the intelligence was not deemed credible.
Several Republican lawmakers have called for clarity over the situation and Russia to be held accountable if the accusations are true. There have also been calls for the Committee on Armed Services to investigate the matter further.
Inhofe, chair of the committee, said in a statement to Newsweek: "We've known for a long time that Putin is a thug and a murderer, and if these allegations are true, I will work with President Trump on a strong response.
"My number-one priority is the safety of our troops. Right now, though, we need answers. I have asked the administration to share what it knows, and I expect to know more in the coming days."
Sen. Kirsten Gillibrand (D-NY) was among those to call for a congressional investigation into the reports.
In a letter sent to Inhofe, Gillibrand wrote: "I am deeply distressed that President Trump appears to have willfully failed to protest service members and failed them and their families. We do not have to follow in his footsteps."
Sen. Tammy Duckworth (D-IL) also called for a Committee on Armed Services hearing into the situation. They have both been contacted for comment following Inhofe's latest remarks.
The alleged bounties are said to involve Russia's 29155 Unit, part of its intelligence agency known as the GRU.
Trump has suggested the reported claims may be "another fabricated Russia Hoax," while insisting he was not briefed on the allegations.
"Intel just reported to me that they did not find this info credible, and therefore did not report it to me or @VP," he wrote on Twitter.
The president also said: "Everybody is denying it & there have not been many attacks on us."
He has defended his position on Russia, previously writing: "Nobody's been tougher on Russia than the Trump Administration."
Newsweek has contacted the White House and the Russian government for comment.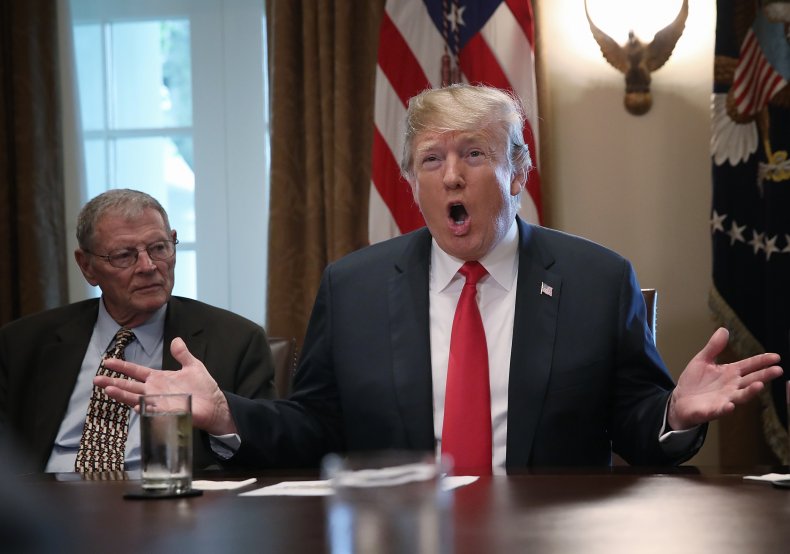 Top GOP Senator Vows 'Strong Response' With Trump to Russia Bounty Claim | Politics