'Top Gun' Star Glen Powell Talks Returning to the Skies for 'Devotion'
Glen Powell believes that flying is poetry.
On and off camera, the Top Gun: Maverick star has a heart for the skies. He's a pilot in real life and has portrayed pilots and astronauts in several films, including his recent role as naval aviator Tom Hudner in the coming film Devotion.
The new movie, based on a true story and directed by J.D. Dillard, takes place in 1950 during the Korean War and showcases the allyship and brotherhood of a group of pilots—which included Ensign Jesse Brown (played by Jonathan Majors), the first Black man to complete Navy flight training.
Though Powell plays the smug golden boy Hangman in the Top Gun sequel, which dominated the box office this year, his portrayal of Hudner was a more heartfelt endeavor.
"I reached out to the author and said, I'd really like to make this into a movie, and he said, 'Do you want to meet the real Tom Hudner?' And I said, 'Absolutely,'" Powell told Newsweek.
After reading the 2014 book Devotion, written by Adam Makos, Powell began to inquire about turning it into a film.
"I actually drove out to Concord, Massachusetts, and met Tom Hudner and his family and came there like I was basically asking permission to marry their daughter. I mean, that's what it kind of felt like, making promises I hoped I could keep," said Powell.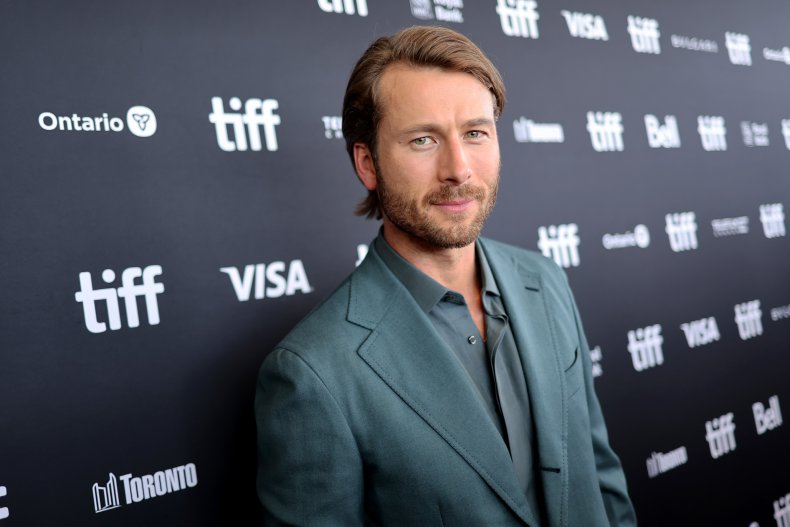 After a weekend spent with the Hudner family, Powell said they gave him the rights to the film, under the agreement that he told the story right. "I got to meet the Brown family and made the same promise to them," he said. "And then, once you make those promises and people say, 'We're in it, we trust you,' then you're like, I hope I have what it takes to get this movie made. And I really had to work very, very hard to convince people that this was a movie that could be made at this scale."
Having starred in, as well as executive-produced the film, Powell put much of himself into the making of this movie, which is set to release Wednesday.
However, he also acknowledged that the story is much bigger than simply a valiant group of men in the Korean War.
"This is not an obvious movie, but I think that's why this movie is really connecting with people," Powell said. "The Korean War is forgotten more than a lot of people know about, and I think the racial dynamics between Tom Hudner and Jesse Brown are very modern, in terms of its complicated nature and nuance that we approach it with."
More than that, the show of companionship and sacrifice is a tale that could resonate with many today.
"I think that's how a lot of people are kind of feeling now, especially post-pandemic and things like that, where you're really assessing, who are your people, you know?" Powell shared. "Who are the people that you're really in the trenches with, who are the people that are your ride-or-dies? And I feel like this is a story about really putting skin in the game for the people you love."
"This war happened 70 years ago but I feel like it's more modern than ever [regarding] what humans are feeling right now and what we're all striving for," he added.
One of the more surreal moments Powell had on set was during production while becoming acquainted with the planes used in the film. Unlike Top Gun, which featured iconic fighter jets like the Boeing F/A 18F Super Hornet and Maverick's trusty F-14 Tomcat, Devotion called for more classic aircraft that the production had to borrow from collectors across the world, painting them to make them look like they did in their glory days.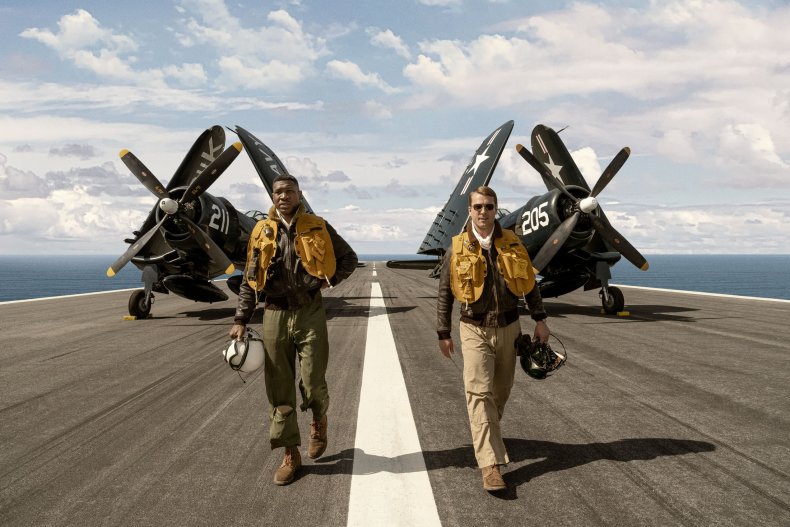 "All of a sudden, I remember sitting there and there's a full, to-scale carrier built on a flight line in Savannah, Georgia, and there's real Corsairs buzzing right over my head, and I was like, 'Oh my gosh,'" Powell recalled. "I read this book a few years ago and now there's a real carrier built with all these planes that have never flown together in 70 years. It was a pretty surreal thing, to see an imagined dream become a real one."
But the dream did not come without some risk involved, as Powell shared that flying some of these planes was no small feat.
"We're flying these planes super-aggressively low to the ground like they were in the actual Korean War. Very dangerous," he said. "There's a helicopter we fly in the movie that's literally the oldest helicopter in existence, and we had to get a part from the Smithsonian to make it fly, you know, and I'm flying that."
"There's a danger to these old warbirds that is a little concerning, but the fact is, there was such TLC in every bit of that to make sure that this wasn't a war movie, this was a movie about these two men," he added.
The intention, Powell said, was to "make sure that there was poetry" in the flight scenes, where the intense battle also emotionally showcases the friendship and bravery of men who risked their lives for their country.
The movie, Powell said, has been "really special start to finish, but the fact that the Hudner family and the Brown family both love the movie is why you do it, you know?"
For now, though, Powell might be taking a short break from playing aviators. In production, however, is a film called Hitman directed by Richard Linklater, based on a 2001 Texas Monthly article about a Houston cop who went undercover as a hitman. Powell revealed that he's also teaming up with Bridgerton star Regé Jean-Page for a remake of one of his favorite films, Butch Cassidy and the Sundance Kid.
But he might return to the cockpit eventually. When asked about a potential Top Gun 3, he replied with a grin, "There's always a chance."
Devotion will be released in the U.S. on Wednesday.