'Top Gun' Star Miles Teller's Wife Says They May 'Duet' With Fans' Videos
Top Gun: Maverick star Miles Teller's wife shared that she, along with Teller, may be dueting some fan videos in a new social media post that has gone viral.
The internet has fallen in love with Miles Teller after a shirtless scene from the new Tom Cruise film, Top Gun: Maverick, has gone viral on TikTok. Since the actor has risen to fame on the video-sharing platform, Teller's wife, Keleigh Sperry, has been sharing clips of the couple.
In a recent video, Sperry shared a video of the actor serenading her at dinner with a man playing the guitar. The viral post has over 100,000 likes and 2 million views.
Sperry writes in her caption, "That's all for the rooster today tellertok, can't wait to see videos of you guys at the theatres this weekend miles and I May duet them."
Many TikTok users applaud Sperry for sharing videos of her husband.
"you're an icon for giving us this backstage access," one TikTok user said, receiving over 17,000 likes for their comment.
"the fact you just get to see the beach dance whenever you want," wrote one user.
Another exclaimed, "You're doing this for the girlies and I'm loving it."
"She really doing gods work for us," a user admitted.
One said, "Keleigh you're on a roll I tell you."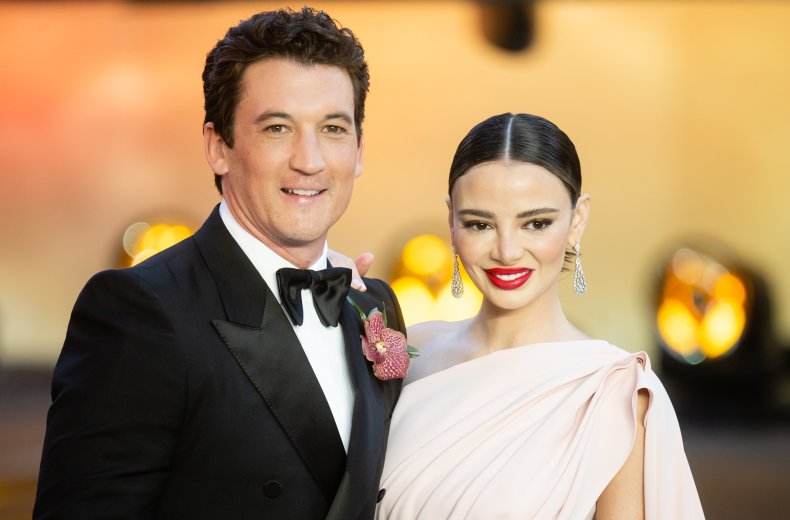 "I'm living for the content," stated one user.
"Keleigh, you're an absolute icon," another praised.
One user exclaimed, "ur the luckiest human."
"tell your husband i love him, with love," admitted a TikTok user.
Since the release of the film and the way the internet has been swooning over Teller, Sperry has been sharing multiple videos on TikTok giving fans never-before-seen videos of Teller. Some of the content includes behind-the-scenes of Top Gun: Maverick, funny videos, Teller singing and playing the guitar, a video featuring Chace Crawford and a look at their wedding.
Sperry and Teller got engaged in 2017 on an African safari and married in September of 2019 in Hawaii.
"She keeps me calm. It's pretty great," Teller told Men's Health about his relationship and life during the pandemic, "I'm with her now from when I wake up to the moment I go to bed. We have a lot of friends whose relationships got put under a magnifying glass during these times, but we are really great. Once you get married and you make that ultimate commitment, life is just a lot less stressful. You just know that person is always going to be there."
The couple also starred in Taylor Swift's music video for "I Bet You Think About Me," directed by Blake Lively. The unreleased "from the vault" song comes from Swift's re-released album, Red (Taylor's Version).
"Blake is an absolute legend and mastermind," Sperry wrote in an Instagram post.