James Comer Says Ukraine an 'Adversary' as GOP Plans Investigation
James Comer, the chair of the House Committee on Oversight and Accountability, appears to list Ukraine as one of the U.S.'s "adversaries across the world" as House Republicans vote to set in motion several investigations into Joe Biden's administration.
The Kentucky Representative, speaking with host Sean Hannity on Fox News about "influence pedalling," described a "pattern here with communist China, with Ukraine, with Russia, with our adversaries across the world" as they discussed planned investigations into the Biden family's business dealings and federal agencies.
He then linked these countries with "bad decisions that Joe Biden makes, and this White House makes every day that has a detrimental effect on every American, you wonder, is this president compromised?"
Washington has been one of Kyiv's most strident backers, with President Biden welcoming Ukrainian leader Volodymyr Zelensky to the White House on December 21.
It was the Ukrainian president's first trip outside the country's borders since the outbreak of the war on February 24.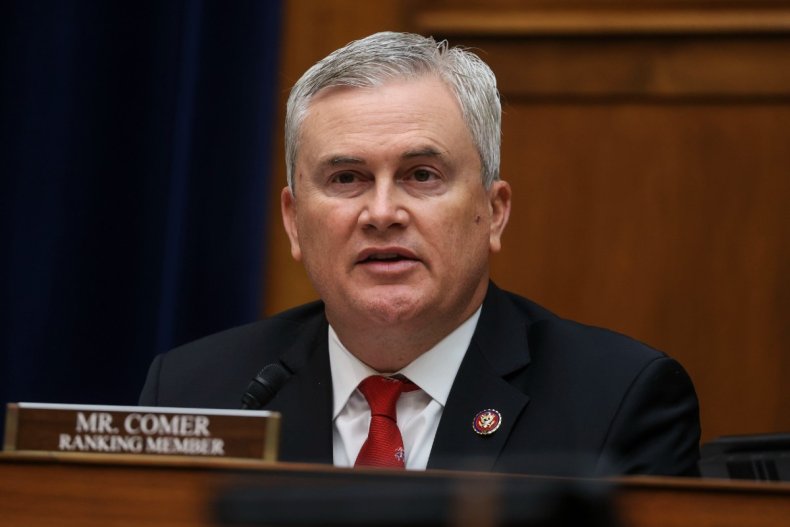 Addressing Zelensky ahead of Christmas, Biden reinforced the country's "unequivocal and unbending support for Ukraine."
But the Kentucky congressman previously told Newsmax's John Bachman Now show that there had been "no transparency" in how aid had been used in the war-torn country.
He stressed the need for accountability to the U.S. taxpayer, but added he was "concerned" about the tide of the war, and should the U.S. pull its significant military aid support to Kyiv.
Although "Putin is not good," Comer continued, "we have a lot of concerns about Ukraine, too."
"I have a lot of questions about what is going on in Ukraine with respect to foreign aid."
He went on to argue that he did not believe the Ukrainian government "can honestly think that Republicans are going to continue to give them a blank check like the Biden administration is."
On October 18, 2022, now-House Speaker Kevin McCarthy told Punchbowl News that there would be far less appetite to write a "blank check" to Kyiv if Republicans won a House majority.
The Department of Defense announced more than $3 billion in additional aid to Ukraine on January 6, which would include around 50 Bradley Fighting Vehicles, 100 M113 Armored Personnel Carriers and additional ammunition for HIMARS, or high mobility artillery rocket systems.
Laura Cooper, deputy assistant secretary of defense for Russia, Ukraine and Eurasia, said in a Defense Department press release that the war in Ukraine "is at a critical point right now, and we have to do everything we can to help the Ukrainians continue to resist Russian aggression."
The White House has committed more than $24 billion in military aid to Ukraine since Moscow launched its February invasion.
Rep. Comer has been contacted for comment.