Top House Republicans Aren't Pushing Other Members to Oppose Impeachment Amid Party Divide
House Republicans' chief vote-counter, Minority Whip Steve Scalise, is not actively whipping the vote for his members to oppose two Democratic-led efforts to remove President Donald Trump from office in the wake of the fallout from the U.S. Capitol riot.
The revelation, confirmed on the record to Newsweek by the Louisiana Republican's office, is a remarkable one: there is no official directive or coordinated effort by GOP leadership in the House to urge members against impeaching the leader of their own party, a stark departure from the approach taken during the 2019 House impeachment process.
The lack of pressure from leadership is evidence of waning support for Trump, deep intraparty division and an escape route for Republican lawmakers to more easily use the votes as a way to distance themselves from the outgoing president.
The move, which comes as No. 3 House Republican Liz Cheney of Wyoming reportedly told GOP colleagues on a conference call that impeachment this time around is "a vote of conscience," signified the Grand Old Party's split from Trump in the aftermath of their own lives being put in peril by hundreds of his supporters who carried out an insurrection against the Capitol last week.
The House will vote Tuesday night on a resolution that calls upon Vice President Mike Pence to invoke the 25th Amendment to immediately remove Trump from office. On Wednesday, another vote will be held on impeaching the commander-in-chief for a second time for the "incitement of insurrection." The latter will make history, marking the first time in America's existence that a president will be impeached twice.
But while their own leadership may not be whipping them to vote one way or another, moderate Republicans are facing intense pressure from Democrats.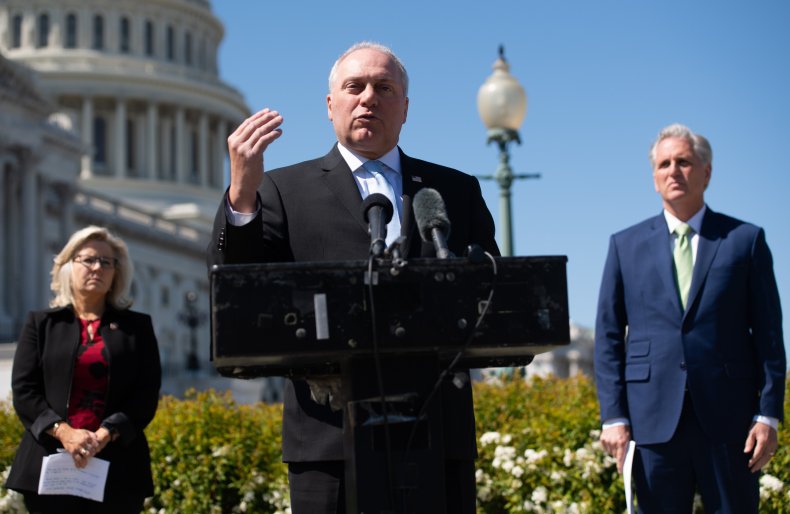 Democratic leadership expects upwards of a dozen Republicans to ultimately vote for impeaching Trump. Several Republicans in both chambers have called for either Trump's removal via the 25th Amendment, his resignation or his impeachment.
"This was so egregious that I hope we'll get at least a dozen," a senior House Democratic aide told Newsweek ahead of Wednesday's impeachment vote.
As his final days dwindle without the ability to rant on any of the major social media platforms, Trump will be departing the White House with guns blazing after torching the Republican Party. His rhetoric—not only just minutes before the riot, but days, weeks and months leading up to the violence—about a fraudulent and "stolen" election based entirely on debunked conspiracy theories only fanned the flames of division and ultimately promoted violence, lawmakers from both sides of the aisle have said.
However, there remains deep division in the GOP over what response from Congress is most appropriate as ardent allies refuse to depart from Trump's side. Furthering the divide is the fact that just hours after they hid for their lives from pro-Trump rioters, more than half of House Republicans—including Minority Leader Kevin McCarthy (R-Calif.) and Scalise—along with several GOP senators still cast votes to overturn the election.
McCarthy has spoken out against impeachment, and the vast majority of the House Republican Conference is expected to take his same position.
Trump emerged from the White House on Tuesday for the first time since the insurrection and briefly spoke to reporters before departing for Texas to examine the southern border wall. He continued his refusal to accept any responsibility for his words and actions that many rioters said themselves was the sole reason they sought to "stop the steal" of the election and flock to the nation's capital.
"They've analyzed by speech in my words and my final paragraph, my final sentence and everybody just a thought it was totally appropriate," Trump claimed. "We want no violence, never violence. We want absolutely no violence."
On impeachment, Trump described it as "a continuation of the greatest witch hunt in the history of politics."
"It's ridiculous. It's absolutely ridiculous," he continued. "This impeachment is causing tremendous anger, and you're doing it and it's really a terrible thing that they're doing."