Top Iran Terrorist Under CIA Protection in U.S., Book Says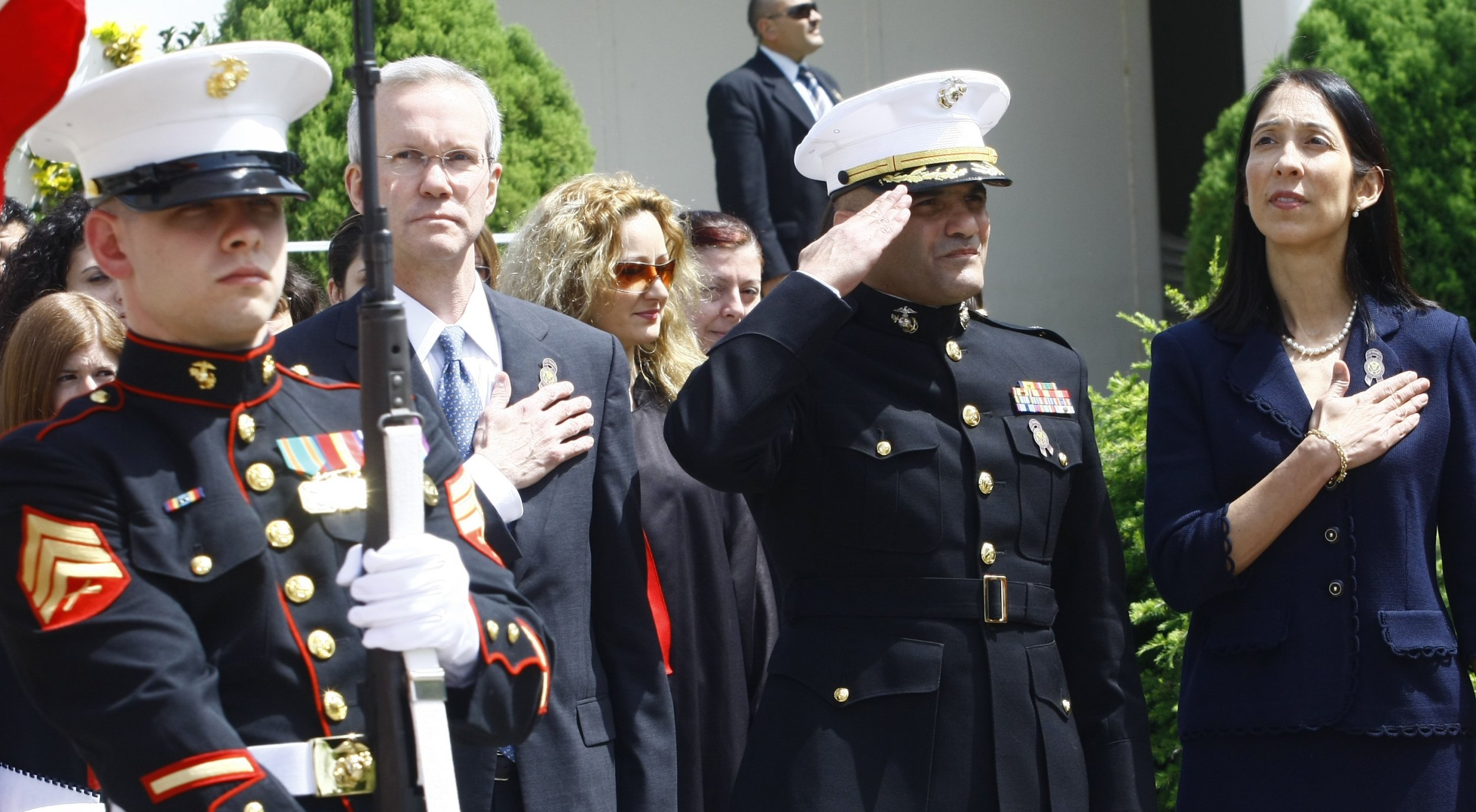 The senior former Iranian intelligence officer who quarterbacked the 1983 bombing of the U.S. embassy in Beirut and killed scores of Americans was recently living under CIA protection in the United States, a book being published Tuesday says.
Ali Reza Asgari was given asylum by the George W. Bush administration in 2007 after he defected in Turkey, according to The Good Spy, a biography of Robert Ames, a legendary CIA officer who was among those killed in the embassy bombing. In all, 63 people died, 17 of them Americans, including seven other CIA officers. Ames, who had been the agency's Beirut station chief, was visiting the embassy as the CIA's top Middle East analyst.
Asgari, a top commander of Iran's shadowy Revolutionary Guards force in Lebanon, "remains in the United States, probably living under a CIA agent-protection program," according to the book's author, Kai Bird, who a shared Pulitzer Prize for biography in 2006 for his book American Prometheus: The Triumph and Tragedy of J. Robert Oppenheimer.
The CIA did not respond to Newsweek's request for comment over the weekend, but on Monday evening flatly denied it had aided and abetted Asgari's defection and resettlement.
"As a general matter, the CIA does not comment on who may or may not have been a source for the Agency," a CIA spokesman said, "but we can categorically state that the assertion that CIA arranged the defection of Ali Reza Asgari to the United States or resettled him in the United States – as alleged in Kai Bird's book on Robert Ames – is false."
Bird could not immediately be reached for comment.
Bird, who says he interviewed 40 former and current CIA operatives, writes that Asgari made two phone calls to an Iranian friend who had defected four years earlier and was living in Germany, "once from Washington, D.C., and again from 'somewhere in Texas,'" a source said. "Asgari reportedly wanted [his friend] to assure his second wife that he was in good health. He has since disappeared."
The claim that Asgari is in the United States will likely provoke consternation, if not outrage from some members of Congress, which last month rushed to pass a bill designed to deny a visa to Iran's United Nations envoy, a veteran diplomat who, when he was 22, served as a translator for the Iranian students who seized the American embassy after the 1979 revolution in that country.
Asgari, in contrast, was a key actor in the formation of the Iran-backed Lebanese Hezbollah movement, which in the 1980s carried out scores of bombings and kidnappings against Westerners in Lebanon. In 1997, he reached the rank of brigadier general in the Iranian Revolutionary Guard and deputy minister of defense, but in 2004 fell out of favor and was jailed for 18 months. In February 2007, he traveled through Damascus to Istanbul, where he disappeared. There has been speculation that he started spying for the U.S. as far back as 2003.
"The decision to give Asgari political asylum under the CIA's Public Law 110 program was probably opposed by veteran CIA officers who have some knowledge of Asgari's alleged responsibility for Roberts Ames's murder," Bird writes. "But they and the agency were reportedly overruled by the George W. Bush administration's National Security Council (NSC).
"Granting asylum to a man with Asgari's résumé was a political call that could only have been made in the White House," adds Bird, who spent some of his youth in the Middle East as the son of an American diplomat. "Some of President Bush's NSC advisers evidently believed that the intelligence Asgari brought to the table on the Iranian nuclear program was essential to the national defense."
Former Bush officials aren't talking—so far—but this news may force someone to step forward with an explanation.
If anyone could have understood the irony of granting someone like Asgari protection, it would have been Ames, an Arabist who had skillfully penetrated the Palestine Liberation Organization, gaining the trust of one its top officials, while serving as the CIA's station chief in Beirut. To some, he was the closest thing the spy agency had to Lawrence of Arabia.
"Dealing with bad guys is part of spy craft. If you are seeking information about bad things, you necessarily seek out bad guys," Bird writes. And in the spy world, people change sides all the time.
Asked over the weekend about the irony of protecting Asgari, a man responsible for killing some of the CIA's very best operatives, a top former agency operations official hunched his shoulders and shrugged. "Oleg Kalugin lives here, doesn't he?" he said, referring to the Russian KGB's onetime chief of operations against the United States. Kalugin can often be found giving a talk at the Spy Museum in downtown Washington.
Jeff Stein, who writes SpyTalk for Newsweek from Washington, can be reached confidentially via spytalk@hushmail.com.