Top Moments of the CNN 'Undercard' Republican Debate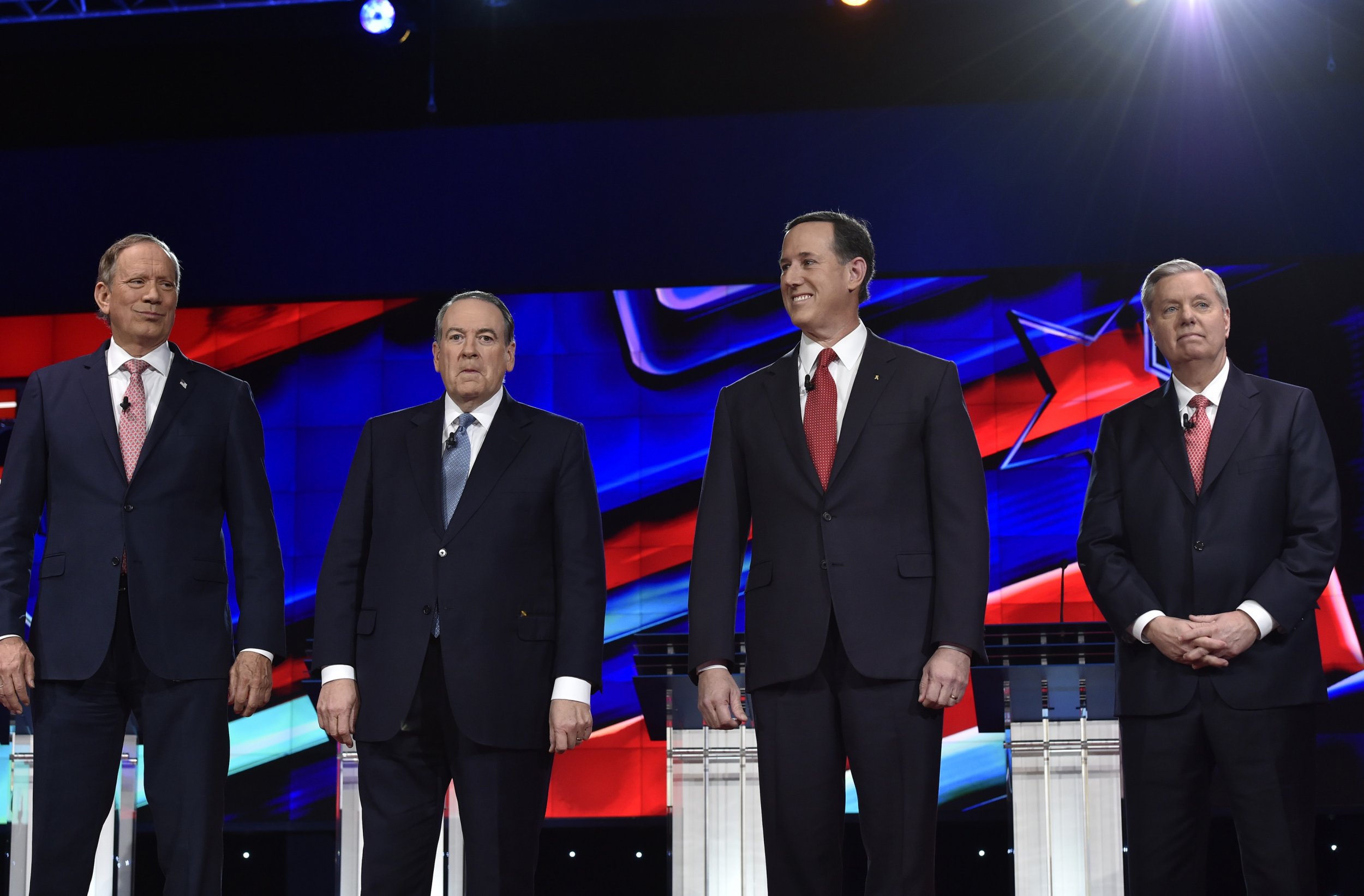 The Republican presidential hopefuls have gathered together Tuesday for the final debate before February's nominating caucuses in Iowa. For candidates lagging behind in the polls, Tuesday night's contest presented one final opportunity to present clear contrasts for voters faced with a crowded field.
Related: How to Watch the Republican Debate
Each of the four previous GOP debates has been divided into two events: an "undercard" debate for low-polling candidates, and a main event for the higher-polling candidates. On Tuesday night, four candidates failed to qualify for the main stage: former Arkansas Governor Mike Huckabee, former Pennsylvania Senator Rick Santorum, former New York Governor George Pataki and South Carolina Senator Lindsey Graham.
Candidates needed to meet one of three polling criteria to be invited to the main stage, CNN said : an average of at least four percent nationally or an average of three-and-a-half percent in New Hampshire or Iowa, the two earliest nominating states.
As expected, the debate moderators opened on national security. The moderator, CNN's Wolf Blitzer, asked the candidates to take a stance of the Republican front-runner Donald Trump's proposed plan to restrict all Muslims from entering the United States temporarily.
Graham was adamant that such a move would be a mistake: "Donald Trump has done the one single thing you cannot do: declare war on Islam itself. ISIL [the Islamic State militant group] would be dancing in the streets, they just don't believe in dancing," he said.
Santorum took a harder line. "Not all Muslims are jihadists," Santorum said, but "all jihadists are Muslims. That's a reality." Santorum added that, " Islam is different. Islam is not just a religion, it is a political governing structure...the idea that that is protected under the first amendment is wrong."
"That's exactly right," Huckabee agreed.
Even Pataki took a rightward stance of Graham, linking Tuesday's closure of schools in Los Angeles after a terror threat was received, regarded by the FBI and NYPD as having been a hoax, to Islamic terrorism. Pataki also argued that police surveillance of New York Muslims had prevented "dozens and dozens of attacks in New York." That claim is disputed by the NYPD.
But Graham shot back that the U.S. needs to be more open to Muslims, not less. "The only way we're going to win the war against radical Islam is for the world to unite," he said. "Muslims have died by the thousands fighting this hateful ideology."
"Leave the faith alone. Go after the radicals that kill us all," he added. "The bottom line is, we're at war."
On the question of whether they would support Donald Trump if he becomes the nominee, the candidates were diffident.
"I'd rather him be president than Hillary [Clinton] be president any day," Huckabee said. Graham said he would support whoever the eventual nominee is, but might "sleep in on that day" if it's Trump.
On the topic of what to do about Russian President Vladimir Putin, the candidates were in agreement: he is not to be trusted. "Russia is not our friend," Pataki said.
"I'm not afraid of a guy riding around on a horse without a shirt," Graham said in reference to an oft-shared photograph of Putin. "The guy's got a pair of twos and we've got a full house, and he's walking all over us."
Santorum argued the U.S. should establish a no-fly zone in Syria to limit Russian influence there. Asked by moderators if he was prepared to enter a war with Russia over such a policy, Santorum said, "I don't think it's a war with Russia any more than Turkey went to war with Russia when Turkey shot down a plane," a reference to Turkey's downing of a Russian warplane in November.
All of the candidates took the opportunity to criticize the Obama administration. "The biggest mistake Obama made was drawing a red line," Graham said. "Assad crossed it, he's still standing."
Speaking on the Syrian refugee crisis, Santorum said leaders shouldn't take people out of the region and move them to the U.S. Instead, he said, there needs to be refugee camps within the region and the installation of a no-fly zone. "The last thing we need to do is relocate moderate Muslims," he added.
Pataki, who reminded viewers he was the governor of New York City during the attacks on September 11, 2001, said allowing Syrian refugees into the U.S. would put "terrorists living amongst us, looking to carry out attacks." And Huckabee said leaders should send the refugees to Chappaquiddick on Martha's Vineyard in Massachusetts, the Upper West Side in Manhattan and the South Lawn of the White House.
Continuing with the conversation that focused heavily on terror and national security, Graham in his closing remarks said the next commander-in-chief is going to be a "wartime president." He said he previously called for American troops on the ground, but no one came forward: "We've spent a lot of carnage to get 'em to where I've always been."