'Keeping Up With the Kardashians' Finale: The 14 Wildest Moments From the Show's History
Keeping Up With the Kardashians (KUWTK) landed on screens back in 2007 and unexpectedly took the world by storm. Now, after 14 years of the Kardashian-Jenner clan sharing the most intimate details of their lives from on-screen births to two divorces, several weddings and fallouts the much-loved (and much-hated) reality series is coming to an end.
KUWTK followed the personal and professional lives of the Kardashian-Jenner family, headed by Kris Jenner and Caitlyn Jenner.
The series focused mainly on the lives of sisters Kim, Kourtney, Khloé Kardashian and their half-sisters Kendall and Kylie. As the series continued to gain more attraction over the years, the show began to feature the Kardashian sisters' brother Rob Kardashian and the Jenner side of the family–Caitlyn and her sons Brody and Brandon Jenner.
The Kardashian sisters' significant others also played a huge role in the reality series.
Most memorably Kourtney Kardashian and Scott Disick's rollercoaster of a relationship anchored early seasons of the show, not to mention Kim Kardashian's marriage and subsequent divorce to Kris Humphries and later her marriage and separation from rapper Kayne West.
Khloé Kardashian's ex-husband Lamar Odom also featured heavily in the series and the couple even had their own spin-off show, Khloé & Lamar,
Khloé Kardashian and Odom were not the only Kardashians to have spin-off series. KUWTK has numerous spin-offs over the years including: Kourtney and Kim Take Miami, Kourtney and Kim Take New York, Kourtney and Khloé Take The Hamptons, Dash Dolls, Rob & Chyna, Life of Kylie, and Flip It Like Disick.
On September 8, 2020 the Kardashian family announced via Instagram the show will come to an end after 20 seasons.
In the announcement, Kim Kardashian wrote: "It is with heavy hearts that we've made the difficult decision as a family to say goodbye to Keeping Up with the Kardashians."
Love or hate it, KUWTK will go down as one of the most successful reality series in television history. Here are its most insane moments.
The 14 wildest moments in KUWTK History
1. Scott Disick and the $100 incident
In season four of KUWTK, an intoxicated Scott Disick took his erratic behavior to another level on a family trip to Las Vegas.
When Kris Jenner asked the waiter to stop serving Disick alcohol, an enraged Scott took matters into his own hands.
He approached the innocent waiter and shoved a $100 bill down his throat.
2. Kim Kardashian losing her earring in the ocean
In 2011, the Kardashians embarked on a family vacation to Bora Bora.
Kim Kardashian's then-fiancé, Kris Humphries, went along for the ride and in a playfight with his wife-to-be, he pushed her into the shallow ocean.
However, the flirtatious game did not down well with Kim Kardashian, who lost a $75,000 diamond earring.
Screaming and crying about losing her diamond earring in the ocean repeatedly at her family, her oldest sister Kourtney Kardashian was quick to bring her back down to Earth.
In a scathing set of words that will go down in Kardashian history, Kourtney Kardashian simply said: "Kim there's people that are dying."
Thankfully, Kim Kardashian's earrings were found by Kylie Jenner and the Kardashian family could sleep easy at night.
3. Kourtney Kardashian's live birth
You really did see everything that happens in the Kardashian-Jenner family life on KUWTK.
The series marked several milestones, including the birth of Kourtney Kardashian's first child, Mason.
Audiences at home watched as Mason's birth played out on screen. Mouths hit the floor as they watched Kourtney Kardashian pull Mason literally out of her.
She also did the same thing when she gave birth to her daughter Penelope, which also featured in a KUWTK episode.
4. 'Kim, would you stop taking pictures of yourself? Your sister's going to jail'
On March 4, 2007, Kim Kardashian's younger sister Khloe Kardashian was arrested for driving under the influence.
On July 18, 2008, she reported to jail to serve time for violation of probation, facing a sentence of up to 30 days alongside an enrollment in an alcohol treatment program.
Whilst a calm and collected Khloe Kardashian headed for the station with Kim Kardashian, Kourtney Kardashian and Malika Haqq in the car, a panicked Kris sat between her eldest and youngest daughter.
The entire drive Kim Kardashian was casually taking selfies leading Kris to shout the iconic line: "Kim, would you stop taking pictures of yourself? Your sister's going to jail"
In true Kim K style, eight years after Khloé Kardashian's run-in with the law, she posted the selfies she took on Instagram.
5. Scott Disick became a lord
Scott Disick is no stranger to extravagant trips but his 2013 vacation in London was one of his most extreme to date.
Disick decided to purchase a royal title and was duly named Knight Lord of the Manor.
Ever since then, he has been referred to as Lord of the Manor and even changed his Instagram handle to @letthelordbewithyou
Along the way, his newfound lordship has led to some of the funniest moments in the show, particularly when he declared to Rob Kardashian: "I don't need to walk around like some peasant, I need to walk around like royalty" before purchasing the title.
6. When Rob Kardashian took Viagra meant for Caitlyn Jenner
One day in 2009, Kris Jenner decided to spice up her sex life with her then-husband, Caitlyn Jenner.
She put a little Viagra in her husband's coffee but instead of Caitlyn drinking the coffee, her son Rob drank the Viagra laced cup.
Long story short, Rob ended up having an erection that would not go away and he ended up being rushed to the Doctors, forcing Kris to come clean about her Viagra plan.
7. When Kim and Kourtney Kardashian Placenta Pranked Their Family
In 2013 Kim and Kourtney Kardashian decided to play one of the craziest pranks on their family and fed them placenta.
The sisters decided to cook food for their family and waited for them to finish the meal, before telling them they had eaten placenta.
As expected, the entire family went into meltdown, with several members wanting to throw up.
Thankfully Kourtney and Kim Kardashian put their family out of their misery and eventually confessed it was beef brisket they ate.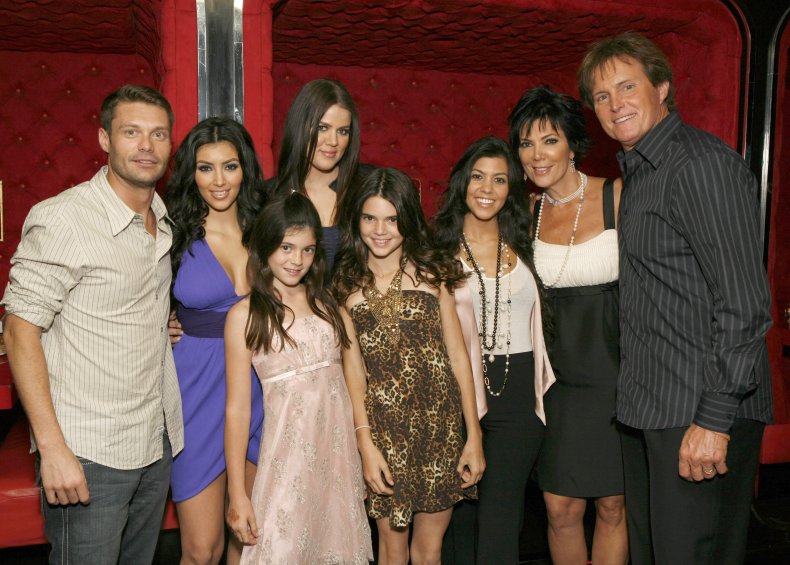 8. When Kourtney Kardashian's underage nudes almost leaked
In the final episode of season one of KUWTK in 2007 and when digital images were not a thing, Kim Kardashian stole physical copies of her sister Kourtney Kardashian's nudes.
Kim Kardashian left the revealing pictures in her bag, which was then stolen, causing the family to contact the FBI to help make sure they were not leaked.
9. When Kim Kardashian took Kris Jenner to her Playboy shoot
In the first season of KUWTK, Kim Kardashian surprisingly posed for Playboy for the first time, hot on the heels of her leaked sex tape.
However, of all the photoshoots you would not want your mother to be present at, Kim Kardashian took along Kris Jenner for support.
And supportive she was. Kris watched the shoot take place as a proud mother and even took behind-the-scenes snaps.
10. Khloé Kardashian married Lamar Odom after one month of dating
In September, Khloé Kardashian married Lamar Odom after one month of dating. They also planned the entire wedding in just 10 days.
Much to people's surprise, the couple stayed together for five years until Khloé Kardashian filed for divorce in 2014.
11. When Kris Humphries and Kim Kardashian divorced after 72 days
Keeping Up With the Kardashians fans were surprised to see basketballer Kris Humphries propose to Kim Kardashian after just 10 months of dating.
The same could not be said for when Kim Kardashian announced the couple was getting a divorce but fans did not expect the news to come just 72 days after they said: "I do."
12. Kim Kardashian's ecstasy confession
In a 2018 episode of KUWTK, Kim Kardashian admitted to having a pretty wild past.
She admitted to her sisters she was high on ecstasy when she married music producer Damon Thomas in 2000.
Kim Kardashian also revealed she had taken ecstasy when she made her famous sex tape with ex-boyfriend Ray J in 2003.
13. When Kim Kardashian was robbed at gunpoint in Paris
In October 2017, Kim Kardashian was robbed at gunpoint in her hotel room.
She had been visiting the European city for Paris Fashion Week when things took a very dark turn.
In 2018 when season 15 of KUWTK aired, Kim Kardashian explained to the cameras exactly what happened and how she was feeling.
She said: "They had the gun up to me and I just knew that was the moment they are just totally going to shoot me in the head.
"I just prayed Kourtney was going to have a normal life after she sees my dead body on the bed."
14. Kim and Kourtney Kardashian's physical fight
During season 18 of KUWTK, Kim and Kourtney Kardashian's relationship reached boiling point.
After weeks of small arguments, things finally came to a head with Kim Kardashian implied Kourtney Kardashian had a poor work ethic.
Kourtney Kardashian then pushed Kim Kardashian to the ground, which led Kim to threaten to punch her sister in the face.
The pair then began pushing and hitting each other, with Khloe Kardashian separating them both.
After the fight, filming was paused for one week and Kourtney Kardashian later announced she was stepping back from KUWTK.
Keeping Up With the Kardashians ends tonight on E! at 8 p.m. E.T.