Top Rabbi Renews Call to Arm European Jews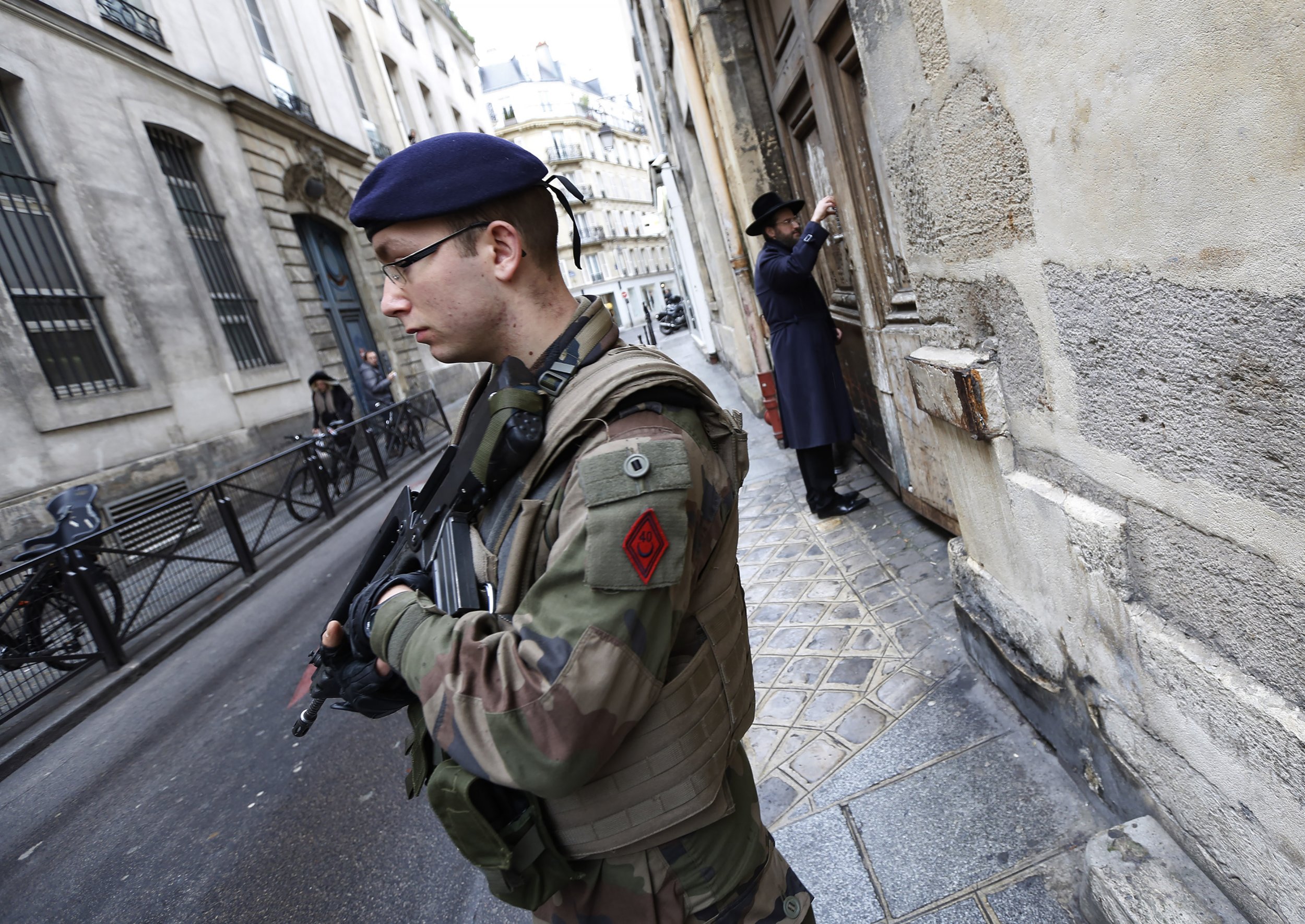 A prominent rabbi has reiterated his calls for new legislation that would allow Jewish people in Europe to carry guns, following the attacks in Denmark this weekend in which two people were shot dead - one outside a synagogue - and accused European governments of not taking the threat of antisemitism seriously enough.
Rabbi Menachem Margolin, director general of the Rabbinical Centre of Europe (RCE) and the European Jewish Association (EJA) - the largest federation of Jewish organisations and communities in Europe - has called the shootings in Copenhagen a "very clear confirmation" that gun laws need to change.
Following the Paris attacks in mid-January, Rabbi Margolin wrote a letter, seen by Newsweek, that called on all European governments to alter gun licensing laws so that Jews could carry weapons.
"We hereby ask that gun licensing laws are reviewed with immediate effect to allow designated people in the Jewish communities and institutions to own weapons for the essential protection of their communities, as well as receiving the necessary training to protect their members from potential terror attacks," the letter read.
However, the rabbi says that his letter did not draw "a real response" from any of the governments he contacted, and instead he simply received an automatic refusal of his request, a sign, he says, that European governments are not taking the threat of antisemitism seriously enough.
"The government is unable to protect its citizens," he says. "Jewish institutions are a main target, and we need them to monitor and fight against antisemitism, but governments do not understand the situation."
"The serious demand is that every Jewish institution is protected 24/7. When I pick up my son at the synagogue I want to make sure that he is there and he is alive. It is a very basic request."
Jewish organisations in the UK, including schools, have been advised to increase their security measures in light of the shootings according to the Times newspaper. However Rabbi Margolin says that without arming those who work in these institutions, they cannot properly protect their communities.
"We can see that security guards who were in charge of the community were not armed. What are security guards supposed to do if they are not armed?" he asks, adding that he is trying to "wake the media and politicians up to make them understand that the situation needs more attention".
Rabbi Margolin also indicates that all Europeans - not just Jews - are at risk if action is not taken to protect Jewish communities from attacks. "It begins with Jews but it will not end with Jews," he warns.
In light of the shootings in Copenhagen he said: "Nothing has changed. It's nothing new and it's not surprising. I will not be surprised if something happens again, which is sad. It is very clear that the government has a responsibility to its citizens to make sure that they have security."
Next week, Rabbi Margolin will lead a three-day security seminar for European rabbis organized by the Rabbinical Centre of Europe in Prague, Czech Republic. The seminar will focus on community protection, with one of the sessions focusing on "protection in the case of sudden attack" as well as first aid. "People understand that they do not have much choice because the government cannot protect its citizens," Rabbi Margolin explains. Approximately 100 rabbis from across Europe are expected to attend.
Finn Nørgaard, a 55-year-old documentary filmmaker, was killed at a freedom of speech debate at a cafe on Saturday. Other attendees included the controversial Swedish artist Lars Vilks, who has received death threats in the past for his cartoon depictions of the Prophet Muhammad.
The second victim, 37-year-old Dan Uzan, was killed while guarding a bat mitzvah celebration which was taking place in the city's main synagogue in central Copenhagen early Sunday morning.
Prime minister Helle Thorning-Schmidt said that the motive for the killings is unknown, however, a Danish spy chief told reporters that the gunman may have been inspired by last month's Paris attacks in which 17 were killed.
British prime minister David Cameron has condemned the shootings, calling them an "appalling attack on free speech and religious freedom".
"Two innocent people have been murdered simply for their beliefs," he said. "Denmark and Britain are both successful multi-ethnic, multi-faith democracies and we must never allow those values to be damaged by acts of violence like this," Cameron added.
Meanwhile, Israeli prime minister Benjamin Netanyahu has called on European Jews to return 'home' to Israel as he did after the Paris attacks.
"Again, Jews were murdered on European soil just because they were Jews," Netanyahu said at his weekly cabinet meeting in Jerusalem on Sunday. "This wave of attacks is expected to continue, as well as murderous anti-Semitic attacks. Jews deserve security in every country, but we say to our Jewish brothers and sisters, Israel is your home," he said.
However, Rabbi Margolin denounces this request, seeing it as a further example that: "Netanyahu is basically saying 'We have no way to protect you where you are'."