Top Ranking New York Democrat Confident Senate Has Votes to Curtail Cuomo Emergency Powers
New York legislators are looking to rein in Governor Andrew Cuomo's control over the state's response to the pandemic and the No. 2 ranking Democrat in the Senate is confident they have the votes they need.
Cuomo has taken heavy criticism for withholding information related to nursing home deaths and members of his own party are moving to shift power away from the governor. With the pandemic on the horizon, legislators expanded Cuomo's executive powers to give him unilateral authority over the response, but a year later, legislators want to curtail that power with a vote happening as soon as next week.
"The Senate has the support to pass it," New York State Senate Deputy Leader Mike Gianaris told Newsweek.
This isn't the first time legislators have sought to limit Cuomo's power and Republicans tried on multiple occasions. Over the summer, Senate Republicans raised concerns about the lack of checks and balances, and Senate Republican Leader Rob Ortt called it lawmakers' jobs to "tackle all of the issues confronting New York." However, Republicans are the minority in New York's legislature and for a measure to pass, they needed Democrat support.
While Gianaris was confident the current measure will pass the State Senate, it's unclear if the movement has enough support in the Assembly. On Monday, nine legislators urged their colleagues to put aside their feelings about the governor and join the effort to rescind Cuomo's expanded authority.
Their letter accused Cuomo of "obstruction of justice" and called pulling back on his authority a "necessary first step" in righting the "criminal wrongs of the governor and his administration."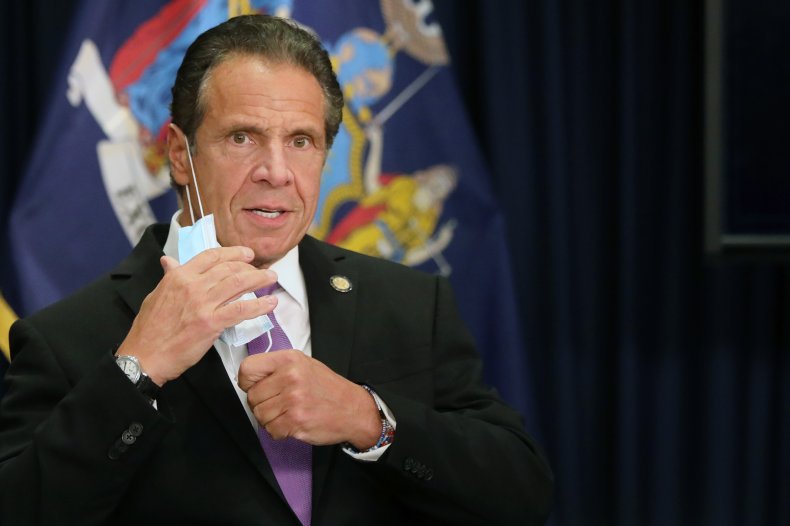 On a call with Democratic lawmakers, Melissa DeRosa, Cuomo's top aide, told them they put a pause on providing them information about nursing home death because of the potential for it to come back to bite the administration. She said the Senate's letter requesting certain information arrived as former President Donald Trump was using the pandemic as a "giant political football" and targeting democratic governors.
"Basically, we froze, because then we were in a position where we weren't sure if what we were going to give to the Department of Justice or what we give to you guys, what we start saying was going to be used against us while we weren't sure if there was going to be an investigation," DeRosa said.
Cuomo denied there was any sort of "cover-up" but took responsibility for the slow response, saying it created a "void" of misinformation that gave people room to question as to whether their loved one had to die.
Gianaris said there were "a lot" of things that could have been done better during the pandemic, but in an unprecedented emergency, the issue wasn't the missteps—it was the concealment and lack of oversight. He said the issue with transparency regarding nursing home deaths isn't an "isolated" issue and pulled the curtain back for the rest of the country.
"The governor got a lot of praise for having daily briefings at a time when [President] Donald Trump was lighting the nation on fire, so by contrast it was refreshing to see someone speak to the issues of the day in a clear manner," Gianaris said. "[But] There was a difference between the rosy picture a lot of folks outside New York were getting versus what we were experiencing on the ground."
Legislators supporting the effort to curtail Cuomo's power often point to the intention that it was always temporary and the power that the governor needed to have last March, isn't necessary a year later. Cuomo disagrees.
While he has "no problem consulting with the Legislature," he said the decisions about public health, including to close schools and restaurants, are "difficult politically." If they were made by taking a poll, he said "none of them would happen and more people would die."
Cuomo's argument that the legislature isn't in a position to make these decisions is a "dangerous" one that "leads to the diminishment of an entire branch of government," Gianaris said. New York, he said, has multiple branches of government for a reason and suggesting branches can't perform the function of making policy decisions is a "dangerous road to go down."
If the Assembly and the Senate both pass a resolution taking away Cuomo's extended power, the governor could still veto it. However, Gianaris said he believed they'd pass it by a large enough margin to override the veto.