Top Republican Defends Vindman Testifying in Impeachment Probe Amid Flurry of Criticism From Trump Allies
Amid a sudden wave of criticism and questions about Lieutenant Colonel Alexander Vindman's loyalty to the United States, the No. 3 House Republican, Representative Liz Cheney of Wyoming, came to the defense of the top Ukraine expert on President Donald Trump's National Security Council, who is testifying Tuesday before Congress.
In the hours leading up to his closed-door testimony, Vindman faced a barrage of insinuations about his motives and loyalty from Trump allies, as well as friendly cable news hosts. It was revealed Monday night Vindman would testify that he believed Trump's infamous July 25 phone call with his Ukrainian counterpart—a conversation that Vindman heard in real time—tried to undermine America's national security.
Cheney, the House Republican conference chair, labeled the attacks against the Iraq War veteran and Purple Heart recipient as "shameful" and said the questioning of his patriotism needed to immediately cease.
"I think that we need to show we are better than that as a nation," Cheney told reporters at a press conference. "Their patriotism, their love of country—we're talking about dedicated veterans who have put their lives on the line, and it is shameful to question their patriotism, their love of this nation, and we should not be involved in that process."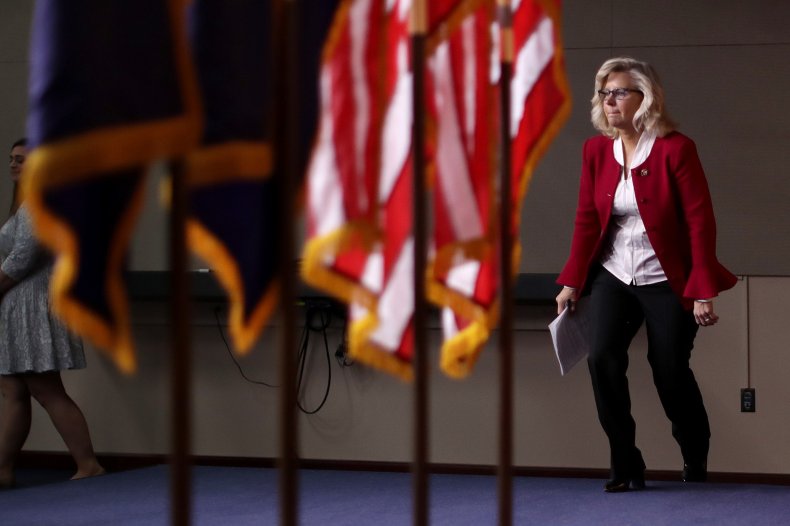 Vindman is a Ukrainian refugee who fled his country at a young age to come to the United States. Pundits, a former Republican congressman, and even a former Justice Department official have questioned whether Vindman's loyalties lie elsewhere than America.
A White House official, Vindman is fluent in Ukrainian and Russian and has advised Ukrainian officials at times on how to handle Trump's personal attorney Rudy Giuliani. That point, based on a New York Times report, was highlighted by Fox News' Laura Ingraham on her Monday night show. Ingraham suggested Vindman's background and his talks with Ukraine were suspicious.
In addition, one of her guests—John Yoo, a former Justice Department official and a law professor at the University of California, Berkeley—accused Vindman of "espionage."
Fox & Friends' Brian Kilmeade said Tuesday morning that Vindman "tends to feel simpatico with the Ukraine" because of his past. And former Representative Sean Duffy (R-Wis.) went on CNN the same morning to question where the Army officer is "concerned about American policy."
"We all have an affinity to our homeland where we came from," said Duffy, a CNN commentator. "He has an affinity for the Ukraine."
Trump also took direct aim at Vindman, characterizing him as a "Never Trumper witness" in a tweet. "Was he on the same call that I was? Can't be possible!" he wrote. "Please ask him to read the Transcript of the call. Witch Hunt!"
As part of his opening statement to impeachment investigators behind closed doors, Vindman said that he was so concerned with Trump asking a foreign leader to investigate a political foe that he raised the matter with a superior.
Several current and former lawmakers and high-level officials—including Senator Ted Cruz (R-Texas), Representative Mark Meadows (R-N.C.), Senator John McCain (R-Ariz.), Transportation Secretary Elaine Chao, former Secretary of State Henry Kissinger and former Republican governor of California Arnold Schwarzenegger—were not born in the U.S. and have not been accused of disloyalty.
Democrats have also come to the defense of Vindman, citing his decorated service record and willingness to comply with impeachment investigators. His testimony is of special interest to them because it will mark the first time lawmakers will hear from someone who was on the July phone call with Trump and Ukrainian President Volodymyr Zelensky. Vindman was also expected to contradict testimony by U.S. Ambassador to the European Union Gordon Sondland.
Vindman told lawmakers that Sondland's request during a July 10 meeting in Washington, D.C., that Ukrainian officials investigate Joe and Hunter Biden, among other things, was "inappropriate, that the request to investigate Biden and his son had nothing to do with national security, and that such investigations were not something the [National Security Council] was going to get involved in."
Sondland previously told impeachment investigators that other U.S. officials at the meeting, including former national security adviser John Bolton, showed no misgivings about the requests he made to the Ukrainians. Vindman's opening remarks stated otherwise.
Top Republican Defends Vindman Testifying in Impeachment Probe Amid Flurry of Criticism From Trump Allies | Politics