Top Republicans Attack Kamala Harris' Prosecutor Record, Electability and Liberal Policy Stances
Several top Republicans spoke out Tuesday to share their criticism of California Senator Kamala Harris, whom presumptive Democratic presidential nominee Joe Biden announced is his pick to join him on the ticket in November.
The criticisms that many within the Republican Party levied against Harris mostly revolve around her background in criminal justice, her low polling numbers as she ran for the Democratic presidential nomination last year and her alignment with some of her party's more liberal agenda items.
President Donald Trump said during a press briefing on Tuesday that Harris was his "number-one pick" to be Biden's running mate. The president said her support for socialized medicine, stance against fracking, treatment of Supreme Court Justice Brett Kavanaugh during his nomination hearings and polling numbers during the primaries were all reasons he was glad she would be the one debating Vice President Mike Pence. Trump also said Harris "lied" when asked about an anecdote the senator shared last year while addressing her stance on marijuana.
"She is a person that's told many, many stories that weren't true," Trump said.
Ronna McDaniel, the chairwoman of the Republican National Committee, suggested on Twitter that Biden's decision to choose Harris was evidence that the former vice president is not in control of his own campaign.
"Kamala Harris' extreme positions, from raising taxes to abolishing private health insurance to comparing law enforcement officials to the KKK, show that the left-wing mob is controlling Joe Biden's candidacy, just like they would control him as president," McDaniel's tweet said. She warned her Twitter followers that Harris is the person "who will actually be in charge" if the Democratic ticket wins in November and added, "Harris' radical policies may be popular among liberals, but they are well outside the mainstream for most Americans."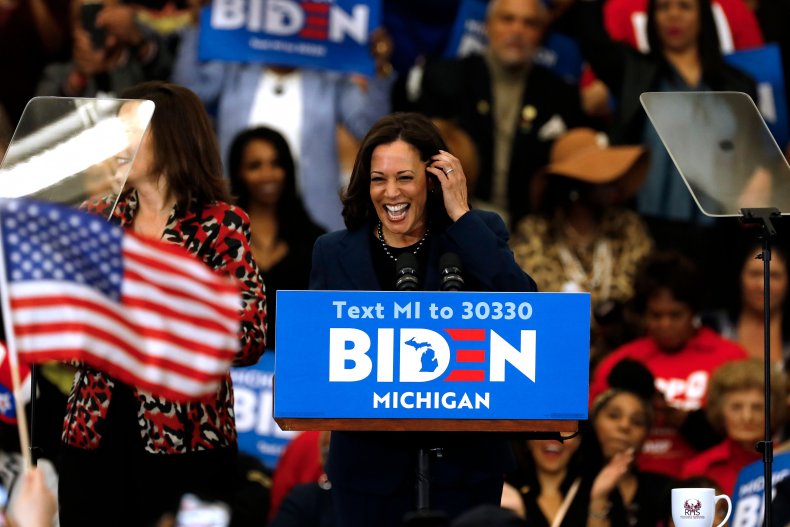 Congressional leaders also jumped in to share their opinions on Biden's announcement Tuesday.
"Kamala Harris wants to turn the entire United States into San Francisco," House Minority Leader Kevin McCarthy of California said on Facebook of Harris, who began her career in the Alameda County District Attorney's Office and became the district attorney of San Francisco before rising to lead the California attorney general's office.
In a statement shared with the Bakersfield, California-based TV Station KERO, McCarthy said Harris used the power she had while working as a prosecutor for both San Francisco and the state as a whole for "political purposes."
"She led assaults against conservative non-profits, energy companies, and parents, but not violent gang members or criminal illegal aliens," McCarthy's statement said, adding that he thought Harris' public service background would "immediately disqualify her" for consideration to fill the vice president role if a Democrat more moderate than Biden were still running.
House Minority Whip Rep. Steve Scalise of Louisiana said on Twitter, "Kamala Harris will say and do anything to please the radical left" and added in a statement obtained by The Hill that Biden "failed his first major test as a Presidential candidate" by choosing Harris. Rep. Liz Cheney of Wyoming, who chairs the House Republican Conference, also said on Twitter that Harris' "radical leftist views-raising taxes, banning gun sales, taxpayer $ for abortion & illegal immigrant health care, eliminating private health insurance-would be devastating for America."
In Harris' home state, California GOP Chairwoman Jessica Patterson issued a statement that said Harris "epitomizes the extremist far left."
"She has compared law enforcement to the KKK, wants to eliminate the private health insurance millions of families rely on and failed to keep California streets safe when it was her job to do so," Patterson said.
Harris' past work within the criminal justice system has been widely debated since she announced her intent to run for president. While Harris touted a program she started in San Francisco that aimed to help young, first-time drug offenders from reoffending, she also spoke of the rising conviction rates her office reported while serving as the city's district attorney, according to The New York Times. That example of Harris trying to strike a balance between two sides was a larger problem within her campaign as a "progressive prosecutor," the paper reported, and some of her campaign advisers later told the Times that she often avoided picking sides on key issues.
Despite past and current criticism of Harris' criminal justice record, Sandra Susan Smith, a professor and chair of the criminal justice program at Harvard University's Radcliffe Institute Kennedy School of Government, said she didn't believe Harris' background would pose a "major problem" to Biden's campaign.
"I imagine that individuals who protested against police brutality and for defunding the police (one way or another) will not be happy to hear that KH is Biden's running mate (nor with Biden, for that matter), given problematic aspects of her record as CA AG," Smith told Newsweek. "My sense is that for most, the top priority is getting Trump out of office," Smith added.
Jonathan Simon, the Lance Robbins Professor of Criminal Justice Law at University of California, Berkeley, suggested Biden's own record on criminal justice could pose a problem in light of the Black Lives Matter protests that swept the nation following the death of George Floyd.
"Biden must address the lessons he draws from the failed 'tough on crime' policies of aggressive policing and mass imprisonment that he championed during the 1990s," Simon told Newsweek. He said a targeted speech addressing a shift in the policies Biden supported then versus the strategies he supports now could help illustrate how his approach differs from Trump's.
"Ironically, despite her failure to push significant change in criminal justice as attorney general, Senator Harris' experience as AG and SF prosecutor could help Biden make this case, especially if she also did some apologizing," Simon added.
Newsweek reached out to Biden's campaign for comment but did not receive a response in time for publication.