Top Republicans Bash Pro-Trump Lawyers Ahead of Georgia Runoffs: 'Looney Tunes'
A number of top Republicans have denounced pro-Trump lawyers Lin Wood and Sidney Powell after they told voters to not participate in the two Georgia runoff elections that will determine control of the Senate.
On Wednesday, Wood and Powell held a press conference in which they alleged widespread voter fraud in the presidential election and urged President Donald Trump's supporters to not vote in the "rigged" Senate runoffs set for January 5, prompting some Republicans to call the plea "insanity," "destructive" and "Looney Tunes."
The top Republicans were outraged by the lawyers' statements, reiterating to the public how crucial it is to vote in the Georgia runoff races that will determine whether Republicans maintain their majority in the Senate. If Democratic candidates Jon Ossoff and Raphael Warnock win the seats held by Republicans David Perdue and Kelly Loeffler, the Democrats with gain control of an evenly divided Senate because Vice President-elect Kamala Harris will cast any tie-breaking votes.
"Lin Wood and Sidney Powell are totally destructive. Every Georgia conservative who cares about America MUST vote in the runoff. Their dont vote strategy will cripple America," former Republican House Speaker Newt Gingrich tweeted on Thursday.
Gabriel Sterling, an election official in Georgia, joined Gingrich in bashing the two lawyers, calling their statements "Looney Tunes," "crazy" and "insanity."
"It's just so baseless from any sense of reality. It's detached from reality," said Sterling, Georgia's voting system implementation manager. "And yes, I'm a Republican. I'm going to stay a Republican. I'm going to fight for the sanctity and sanity of a party that has been a big part of America and that I've been fighting for since I was 15 years old."
The Trump campaign has recently distanced itself from both lawyers. Last week, Powell, who has advanced unsubstantiated conspiracy theories about election fraud and rigged voting machines, was fired from the campaign's legal team. And Wood, a prominent Georgia attorney, has recently come under fire from conservative media after Breitbart News reported on his previous support for Democrats.
On Wednesday, over a dozen former Georgia GOP leaders wrote a letter urging elected officials to shift their focus from voter fraud conspiracies, noting that the current rhetoric will make voters think their vote doesn't matter, the Atlanta Journal-Constitution reported.
"We have watched with increasing concern as the debate surrounding the state's electoral system has made some within our Party consider whether voting in the coming run-off election matters," the letter said. It was signed by former Georgia Governor Nathan Deal and former Senator Johnny Isakson, among others.
"Without every vote cast for President Trump and all our Republican candidates on November 3 also being cast in the U.S. Senate runoffs, the trajectory of our State and Nation will be irreparably altered on January 5th," the letter continued.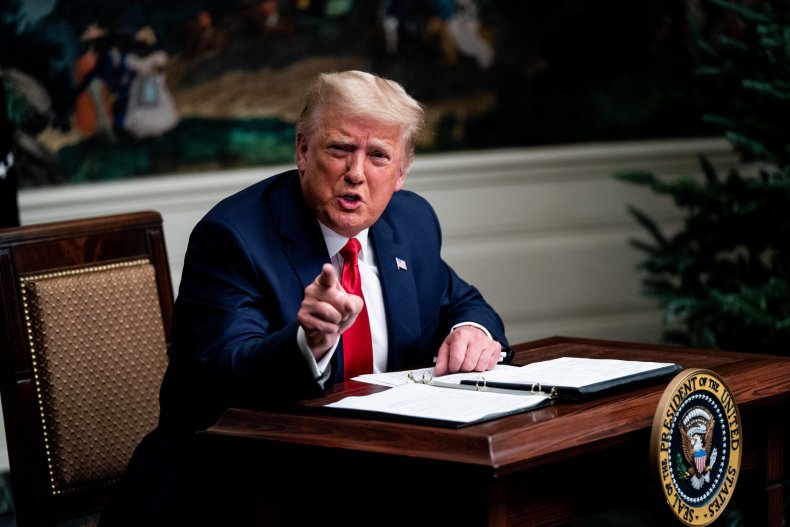 The criticisms from former GOP officials comes after Trump called on Georgia Governor Brian Kemp to "use emergency powers" to "overrule" the state's voting system, which first declared Joe Biden the winner on November 20.
On Thursday, the president again called on Kemp and Georgia's secretary of state to allow a signature verification match to count votes, a process he believes will prove he won the state.
"The 'Republican' Governor of Georgia, @BrianKempGA, and the Secretary of State, MUST immediately allow a signature verification match on the Presidential Election. If that happens, we quickly and easily win the State and importantly, pave the way for a big David and Kelly WIN!" Trump tweeted.
But the former GOP leaders fear the rhetoric surrounding voter fraud will harm the party ahead of the runoffs.
"Indeed, we have an obligation to assure every Georgia citizen — regardless of ideology — that free and fair elections are what distinguish our Republic from all others," their letter said. "However, we cannot let this ongoing work detract from a mission that only Georgia Republicans can accomplish: maintaining control of the U.S. Senate."
Earlier this week, Trump announced that he will attend a rally to support the two Republican candidates in Georgia on Saturday.
"They are fantastic people who love their Country and love their State. We must work hard and be sure they win," the president tweeted.
Newsweek reached out to the Trump campaign for further comment but did not hear back in time for publication.