This article first appeared on the Atlantic Council site.
Russian corruption will cast its shadow over South Korea's Winter Olympics that will be held between February 9 and 25.
For decades, the Games, notably the winter ones, have handed Russia its greatest public relations coups. Unable to deliver decent living standards or democracy to its people, the Kremlin has concentrated instead on gold medals in hockey or gymnastics to garner respect at home and abroad.
But now an incredible documentary has lifted the curtain on Russia's dirtiest little secret: Corruption at the top has metastasized throughout its society and onto its ice rinks, ski slopes, and gymnasia. Through a state-sponsored program, the Russians cheat and they have been caught.
Now Russia is banned by the Olympic Committee indefinitely, beginning with these Winter Games.
" Icarus," the documentary that brought this scandal to light, has been nominated for the Academy Awards' Best Documentary. The documentary and its filmmaker Bryan Fogel deserve that and more.
The film opens with Fogel's cheeky goal to expose the use of steroids by athletes by showing how he, a cyclist, can cheat easily as did Lance Armstrong for decades.
Fogel tries to find advisers who could help him pass the urine tests at upcoming meets. By chance, he was referred by an American doping expert to Dr. Grigory Rodchenkov, head of the Russian Anti-Doping Agency in Moscow. What follows are a series of shocking Skype phone calls, then a trip to Moscow, where he is taught the dark arts of cheating.
Rodchenkov is strangely forthcoming and gives Fogel explicit directions on what to take, how to inject himself, how frequently, and what side effects to watch for.
Their relationship blossoms into friendship and Fogel goes to Moscow where he interviews and films Rodchenkov, his family, and colleagues in his state-of-the-art laboratory and offices.
The Russian explains that doping is a culture across the country and that almost every athlete, in every sport, indulges in constant, ongoing chemical enhancements.
What's so compelling about the documentary, is that a gonzo-like project by an obscure Los Angeles filmmaker and actor gradually becomes a geopolitical thriller that has resulted in the world's greatest sports scandal.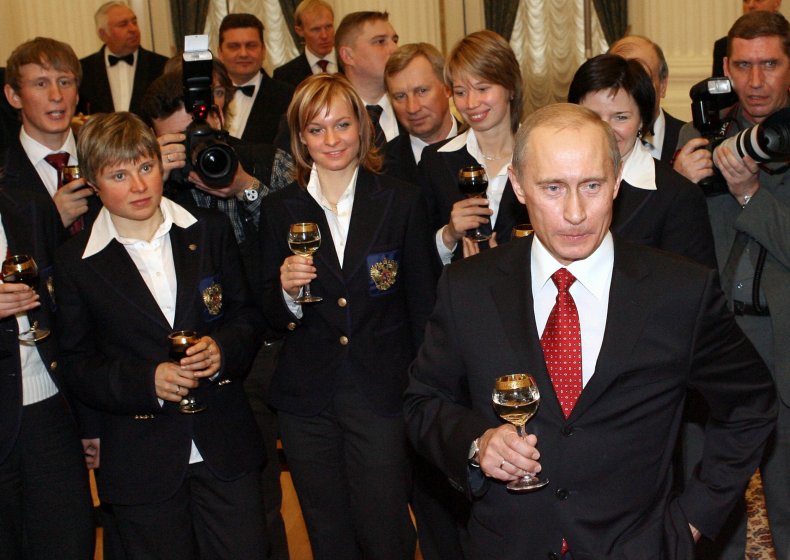 Both men are scoundrels, in a sense, with Rodchenkov bragging about cheating and Fogel willing to film himself cheating to make a point.
But their talks reveal that Rodchenkov was the mastermind for a state-sanctioned doping scheme at the 2014 Sochi Winter Olympics that earned the Russians thirteen gold medals.
On film, Fogel is as shocked as the audience is at these revelations and the audience remains bewildered as to why the Russian is so honest.
Not surprisingly, during filming Russian investigators begin to close in on him and he resigns from the lab. He fears for his life.
Fogel helps him flee to the United States, with his evidence, and "Icarus" turns into a fast-paced series of hiding places then meetings between teams at the New York Times to expose the skullduggery to the world, and at the FBI in order to enter the witness protection program.
Footage includes illustrations as to how the scam at Sochi was accomplished. Compartments with double doors allowed clean urine samples obtained weeks before to be swapped for tainted ones during the Games. There are also photos and footage of officials all the way up to Putin's inner circle who are involved directly, according to Rodchenkov.
Putin claims that Russia never had a doping program but testimony, emails, and Rodchenkov's meticulous records of each Russian athlete show otherwise.
The Russian remains in hiding and the rest, as they say, is history. The Russians have had gold medals stripped from them and the Olympic Committee has banned Russia from the Winter and future games.
Individual Russians can compete, but only if they pass drug tests. They cannot represent Russia and the Russian flag and anthem cannot be played even if a Russian athlete wins a medal.
"Icarus" deserves the Academy Award. It took guts and grit to make and even though its discoveries are accidental, it's a masterpiece of investigative journalism and represents the comeuppance that the Kremlin deserves.
Diane Francis is a Senior Fellow at the Atlantic Council's Eurasia Center, Editor at Large with the National Post in Canada, and a Distinguished Professor at Ryerson University's Ted Rogers School of Management.