Top Russian Lawmaker Says 'No Grounds' to Think Either Biden or Trump Would Improve Ties With Russia
A top Russian lawmaker expressed pessimism that ties between her country and the U.S. will improve, regardless of the results of the upcoming presidential election between incumbent Republican President Donald Trump and Democratic presidential nominee Joe Biden.
Valentina Matviyenko, speaker of the Russian Federation Council—the country's upper chamber of parliament, was interviewed by Russia's Tass news agency on Thursday. In the interview, Matviyenko was asked whether poor relations between Russia and the U.S. would improve under either of the current U.S. presidential candidates.
"We would very much like to see such a person among the candidates for U.S. president, but there are no grounds to say that, to be honest," Matviyenko told the agency.
"We would like to hope that when the U.S. presidential elections pass…the U.S. leader will realize the importance of restoring and improving ties with Russia in the sphere where we have mutual interests," she said.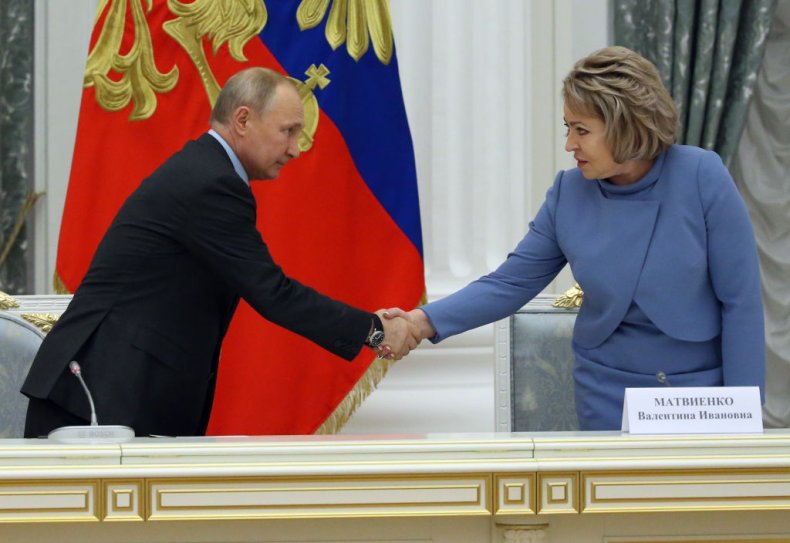 Newsweek reached out to the Trump and Biden campaigns for comment in regard to the Russian lawmaker's remarks, but they did not respond by the time of publication.
Since the contentious 2016 election, Democrats as well as conservative Trump critics have raised concerns about the president's deference to Russia's President Vladimir Putin. Trump has repeatedly spoken favorably of Putin and expressed an interest in improving ties with Russia.
"I do get along with President Putin," Trump asserted in September.
Trump's 2016 presidential campaign was the subject of special counsel Robert Mueller's nearly two-year long investigation. U.S. intelligence agencies have unanimously determined that Russia interfered in the 2016 election, with Mueller's report explaining that this effort was largely to disparage former Democratic presidential candidate Hillary Clinton while promoting Trump.
Mueller's probe did not conclude that Trump or any of his campaign associates conspired with Moscow in this effort. However, multiple Trump associates and campaign officials were criminally charged as a result of the investigation. The president has maintained that the probe was a "witch hunt" and politically motivated.
Despite Trump's positive remarks about Putin and the shadow of the Mueller investigation, the president's administration has taken some hard line stances against Russia. Sanctions targeting Russian officials have been increased under Trump's leadership. The Trump administration also provided lethal military aid to Ukraine—which is currently involved in a civil war with Russian-backed separatists. The Obama administration had provided Ukraine with support, but not weapons.
In an interview with Rossiya 1 TV this month, Putin said that his government "certainly" appreciates that Trump has "repeatedly expressed interest in the improvement of Russian-American relations." In regards to Biden, he said Russia has been hearing "rather sharp anti-Russian rhetoric." But he said that the Democratic Party is "traditionally closer to the so-called liberal values, closer to Social Democratic ideas, if compared to Europe."
Top Russian Lawmaker Says 'No Grounds' to Think Either Biden or Trump Would Improve Ties With Russia | U.S.