Top Senate Democrats Warn Trump Against Inviting Russia Back Into G7: 'Under No Circumstances'
Top Senate Democrats on Tuesday warned President Donald Trump that "under no circumstances" should the Russian government, including President Vladimir Putin, be allowed to attend next year's G-7 Summit due to its continued military occupation of Crimea, a peninsula in the Black Sea in Eastern Europe that belongs to Ukraine.
"Under no circumstances should President Putin be invited to participate in the G7 until the Russian government undertakes demonstrable actions to show its willingness to behave responsibly both domestically and abroad," four of the chamber's leading Democrats wrote in a letter to Trump.
Senate Minority Leader Chuck Schumer and the top Democrats on the Armed Services, Foreign Relations and Intelligence Committees—Jack Reed, Bob Menendez and Mark Warner, respectively—penned the note.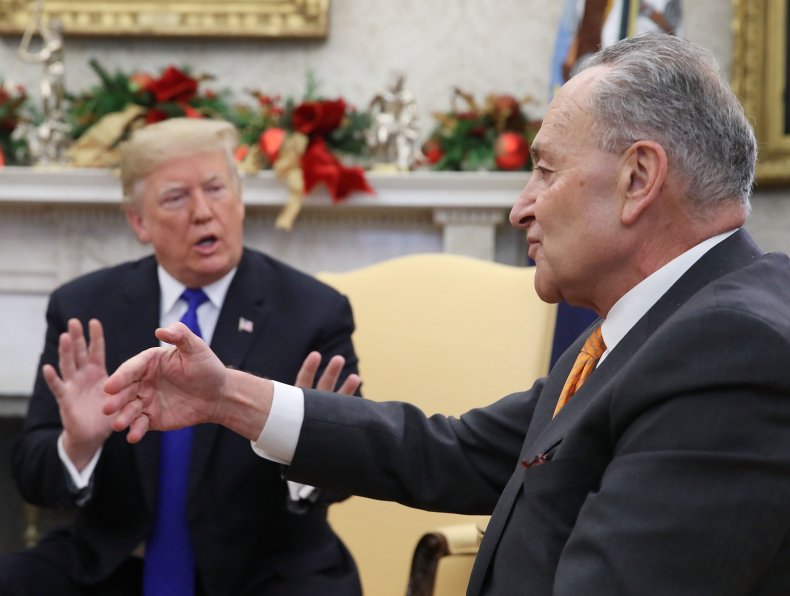 The opposition to readmitting Russia, a country that was booted from what was then known as the G-8 for annexing Crimea and taking control of the Ukrainian territory by military force in 2014, comes after Trump again floated the idea to reporters on Monday at the G-7 Summit in France.
It also comes after two other senators on the Foreign Relations Committee—Republican Ron Johnson and Democrat Chris Murphy—said this week their visas to enter the country as part of a congressional delegation were denied by the Russian government, further escalating tensions between the two nations.
Trump argued that reinstating Russia as a member could help smooth over global tensions with the country and improve the globe's security and economics. But the Democratic quartet who wrote to Trump disagreed, saying the country lacked the "democratic institutions" and the "economic capacity to rejoin."
"The G7 nations are unified by both economic status and a shared commitment to democratic values, human rights, and the rule of law," they wrote. "Readmitting Putin's Russia to the G7 would be contrary to our values and a clear abdication of the United States' responsibilities as the world's leading democracy."
The Democrats further referenced Russia's past attempts to subvert U.S. elections, their reported involvement in chemical poisonings last year in England, continued occupation of Georgia, support for authoritarian regimes, such as in Syria and Venezuela, and persecution of minority groups and political opponents as disqualifying factors.
"Since its expulsion from the G8, the Russian government has consistently demonstrated a persistent flouting of international norms and the rule of law," the senators added.
On Monday, Trump said he was not concerned that the timing of Russian officials or Putin attending next year's summit, which he wants to host at his Doral golf resort in Miami, Florida, would hurt him politically. The annual event would come just months before the 2020 presidential election. And since the U.S. will be the host country, Trump will be allowed to invite world leaders, such as Putin, who are not officially part of the coalition.
"I would certainly invite him. Whether or not he could come—psychologically, I think that's a tough thing for him to do," Trump said. "Is it good? Probably not. Maybe it is. A lot of people say having Russia—which is a power—having them inside the room is better than having them outside the room."
Trump further accused former President Barack Obama of allowing Putin to annex Crimea, saying the territory was "not taken away from President Trump; taken away from President Obama."
"If it was annexed during my term, I'd say, 'Sorry, folks, I made a mistake.' Or, 'Sorry, folks,'" he continued. "It could have been stopped with the right—whatever. It could have been stopped. But President Obama was unable to stop it, and it's too bad."