Top Senators Urge Trump to Sell F-35 Jets to Taiwan to Fight Off Chinese Invasion
Two senior Republican senators urged President Donald Trump to sell Lockheed Martin Corp. F-35 fighter jets to Taiwan, so they are better equipped to ward off invasion threats from China.
Senator John Cornyn, the assistant majority leader, and Senator James Inhofe, Senate Armed Services Committee member, asked Trump to "help Taiwan remain a democracy," in a letter on Monday (26 March).
"These fighters will have a positive impact on Taiwan's self-defense and would act as a necessary deterrent to China's aggressive military posture across the Asia-Pacific region," they wrote. "After years of military modernization, China shows the ability to wage war against Taiwan for the first time since the 1950s.
"However, with your leadership, it is possible to help Taiwan remain a democracy, free to establish a relationship with China that is not driven by military coercion."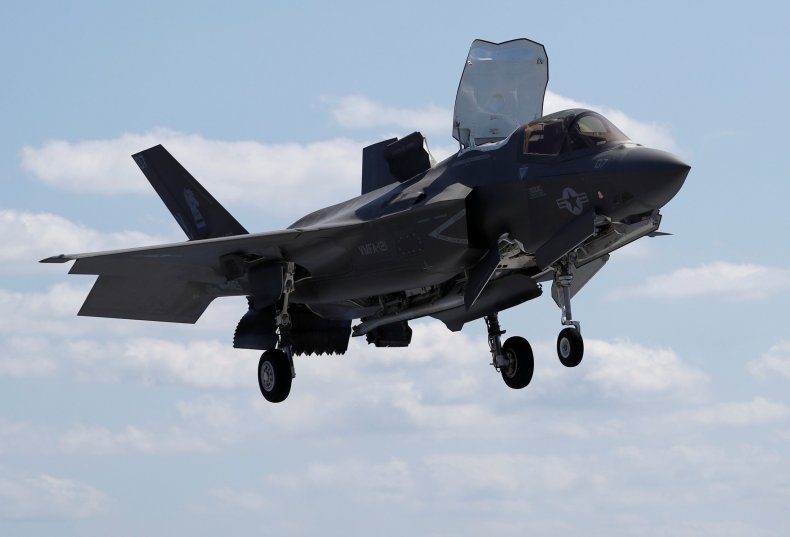 Taiwan defense officials expressed interest in purchasing the F-35s earlier this month. By acquiring the fighter jets, Taiwan will be better quipped to ward off any attacks from the mainland. Taipei's aging fleet currently consists of F-16 Fighting Falcons, but the senators believe they won't be "enough to maintain a credible defense."
"The survivability of the F-35B and modern long-range sensors could help Taiwan intercept Chinese missiles, promoting deterrence well into the next decade," they wrote.
Professor Steve Tsang, political scientist and director of the SOAS China Institute, believes it is "highly unlikely" that the Trump Administration will allow the F-35B to be sold to Taiwan anytime soon.
"America's priority will be replacing the Harriers for the U.S. Marines. Until they have replaced them, it's highly unlikely they will export the F-35B to allies," Tsang told Newsweek.
China has been increasing its military exercises around Taiwan and making markedly stronger public comments about the need to prevent Taiwan independence.
President Xi Jinping warned Taiwan that any effort to split China is "doomed to fail" and will invite "the punishment of history" at the closing session of the National People's Congress last week.
On Tuesday, retired Chinese general Wang Hongguang explained how easy it would be for China to attack Taiwan in an opinion piece in widely read state-run newspaper the Global Times, including a mass bombardment which would render Taiwan's military inoperable within 48 hours.
The sale of the jets could increase tensions with Beijing, where officials were infuriated when Trump signed legislation this month that encourages the United States to send senior officials to Taiwan to meet Taiwanese counterparts and vice versa.
"Beijing will be extremely unhappy about [the letter]. They will want the rest of the world to know that the individual American senators have no business trying to interfere with Taiwan," Tsang said.