Top Sprinter Sha'Carri Richardson Could Miss Tokyo Olympics After Positive Cannabis Test
American sprinter Sha'Carri Richardson wowed the country last month when she hustled her way to the top spot at the U.S. Track & Field Olympic Team Trials. The golden-haired hopeful from South Dallas who turned into the purple and gold darling at LSU was set to become America's favorite in the 100 meters at this month's Tokyo Summer Olympics.
Now, after a test of cannabis reportedly came back positive on Thursday, Richardson could be shut out of the Tokyo Games after all.
Cannabis is a banned substance by the World Anti Doping Agency (WADA).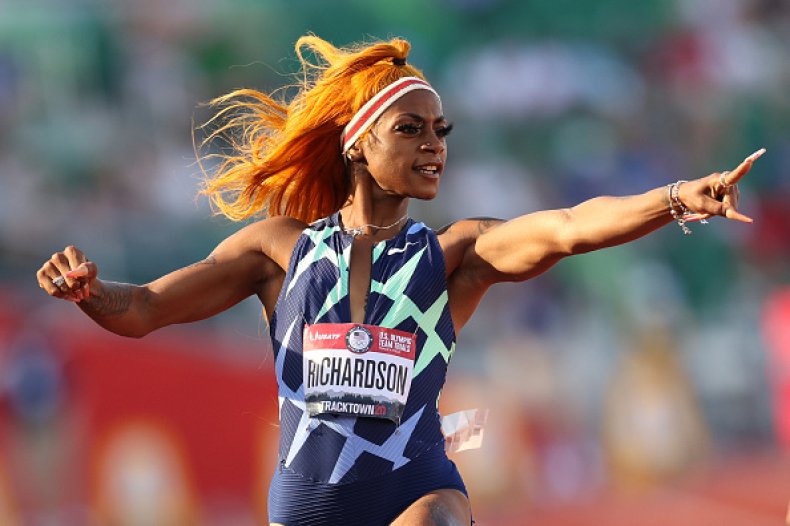 It was reported by Reuters on Thursday that Richardson tested positive for cannabis at the U.S. Trials, which would likely ban her from the Tokyo Games. She ran the 100-meter finals in 10.86 seconds last week, which placed her among the top sprinters in the world aiming for gold in Tokyo.
Reuters didn't name their sources who revealed the information to them. The news agency did reveal, however, that U.S. Trials' fourth-place finisher Jenna Prandini had already been asked about possibly filling America's third spot if the occasion arose.
Reuters attempted to reach Richardson on Thursday through her agent, Renaldo Nehemiah, which went unanswered. Richardson never responded, either, but she did send this rather nondescript tweet.
Richardson grew up in the Oak Cliff sector of South Dallas and went to the famed Carter High School. She went on to run at LSU, where she set collegiate sprinting records.
Last week at the U.S. Olympic Trials finals, after winning the 100 meters and hugging her family in the stands, she went back trackside for a TV interview, in which she made a startling revelation that her biological mother had just recently passed away.
"I am an Olympian. No matter what is said ... I am an Olympian. A dream since I've been young. I'm pretty sure everybody's dream as a track athlete," Richardson told NBC. "Being happy is an understatement. Being excited, nervous, all of those feelings. I'm highly blessed and grateful."
Then she told the story of losing her biological mom just a week earlier.
"My family has kept me grounded. This year has been crazy or me. Going from, just last week, losing my biological mother, and I'm still here. I'm still here. Last week finding out my biological mother passed way and still choosing to pursue my dreams, still coming out here and still making sure to make the family that I do still have on this earth proud," Richardson said. "Y'all see me on this track, and y'all see the poker face that I put on but nobody but them and my coach know what I go through on a day-to-day basis. I'm highly grateful for them. Without them, there would be no me. Without my grandmother, there would be no Sha'Carri Richardson. So my family is my everything. My everything until the day I'm done."
Richardson wouldn't elaborate on her mother's death, other than saying, "I want to thank her for bringing me into this world. I respect her and love her. I know she loves me."