The Top 12 Least Essential Neil Young Albums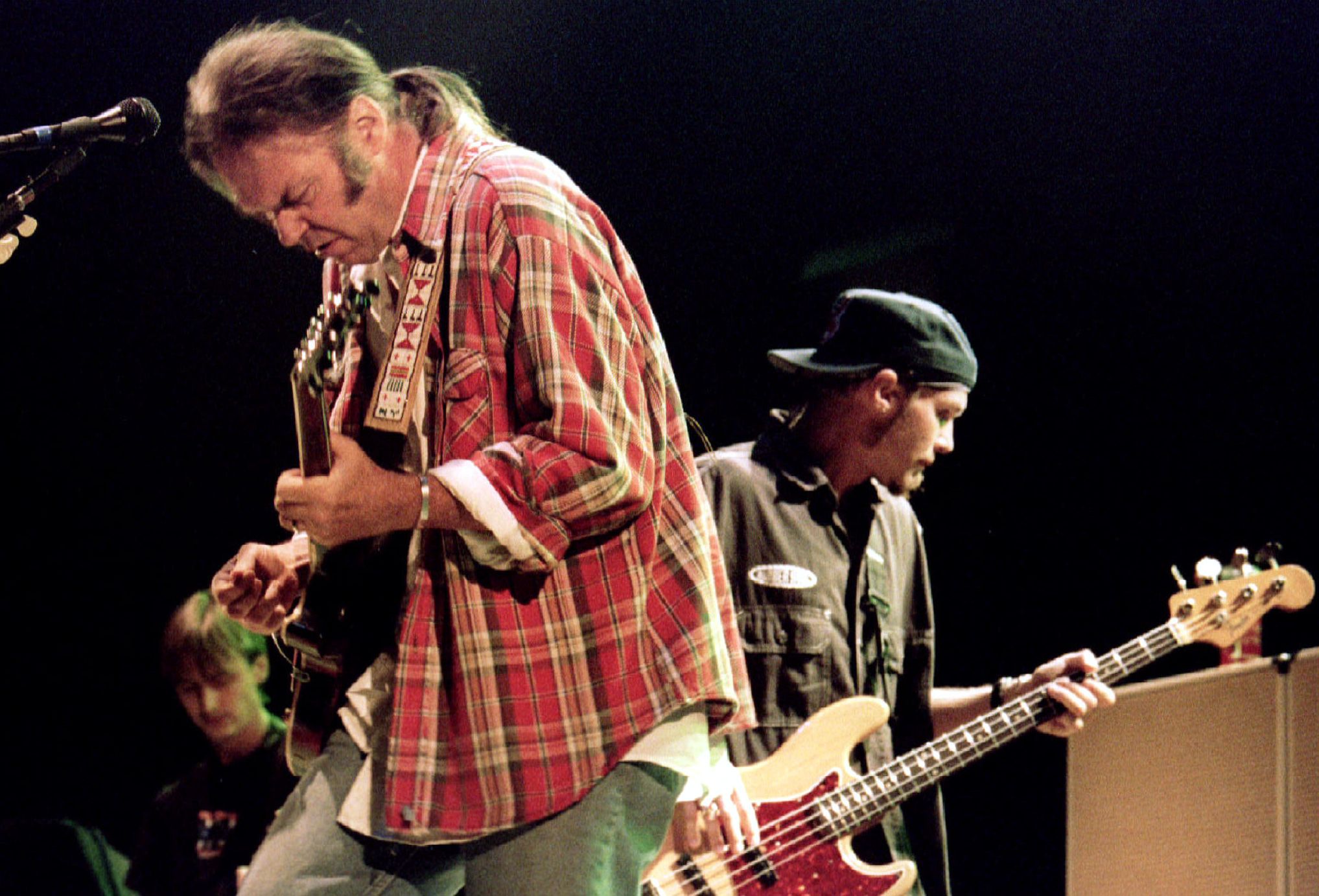 Liking Neil Young can be rewarding. You can snag Harvest, Rust Never Sleeps, Freedom, maybe a few others for your collection, and sit back and enjoy.
But loving Neil Young is an exhausting and frequently confounding endeavor. If you include live releases, the guy has more than 40 albums to his name. They can't all be gold (or After the Gold Rush). Lots of them are brilliant. Many others are impulsive at best. As Young's manager jokes in his biography, Shakey, "If [Neil Young] watches TV on the road and there's a CNN special on Bosnia, Neil wants to do a record and a benefit within two days."
The latest, The Monsanto Years, released this week, falls into that grand, baffle-your-audience tradition. It's a collection of country-rock songs inspired by the artist's distaste with agribusiness giant Monsanto, GMOs and food politics. It continues a late-career burst of activity: Neil Young released two studio albums in 2012, with two more in 2014.
In that spirit, we present a guide to Neil Young's 12 least essential albums—oddballs, failed experiments and duds. Add them to your collection next month... or, eh, whenever you get around to it.
12. EVERYBODY'S ROCKIN' (1983)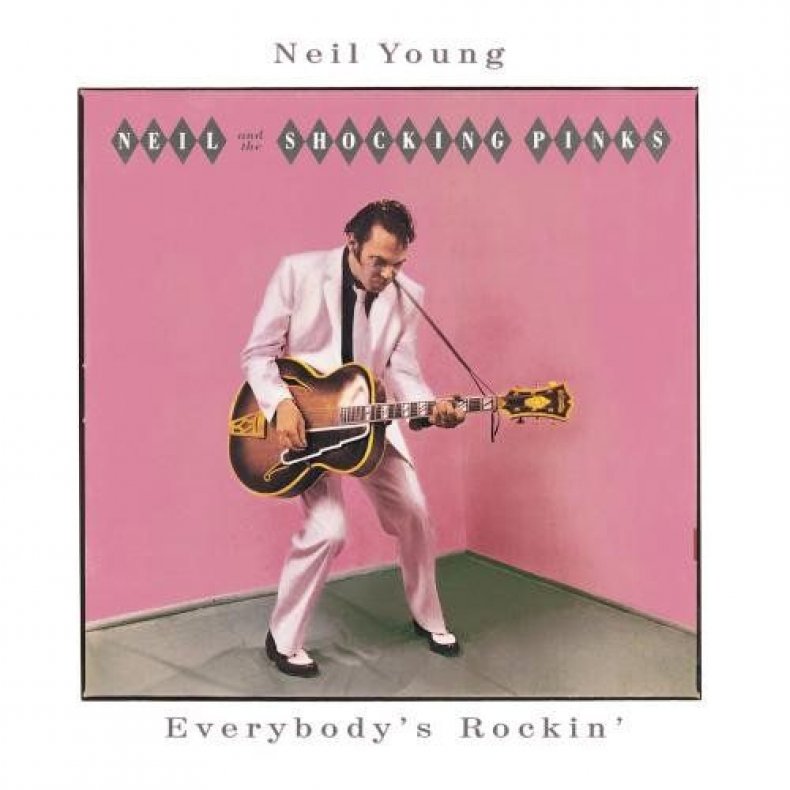 It's hard to be too critical of Everybody's Rockin'—it was a hilarious stunt. Infuriated by his ventures into electronica and straight country, Neil Young's record label, Geffen, demanded a "rock & roll album." So the artist donned a pink suit, started calling his band The Shocking Pinks and recorded an EP-length tribute to 1950s rockabilly. The sound of the album is hideous, with Buddy Holly-era clichés awash in early '80s reverb, while a very confused Young somehow found it in himself to write lyrics like, "Had a date with Donna / And Barbara Ann too / But I'm kinda fonda Wanda." Everybody's Rockin' today holds the honor of being the only Neil Young album that pissed Geffen off so much that the record company sued the artist for $3.3 million.
Redeeming quality: It's a joke! Of course it was. From Neil Young's own mouth: "What am I? Stupid? Did people really think I put that out thinking it was the greatest fuckin' thing I'd ever recorded?"
11. THIS NOTE'S FOR YOU (1988)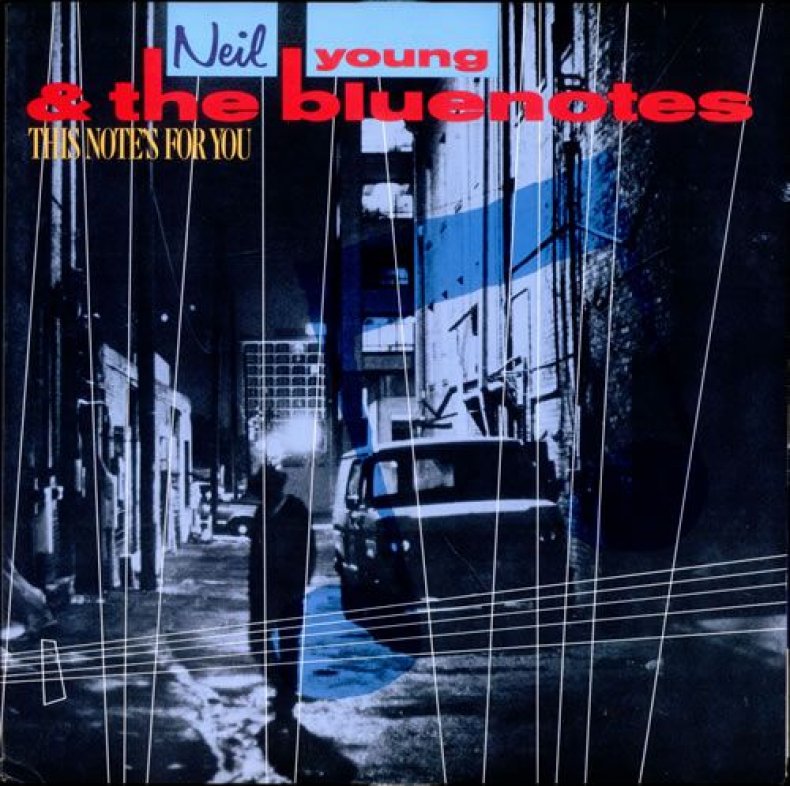 By 1988, Neil Young might have grown tired of genre-hopping/infuriating the audience he'd spent a decade cultivating. Instead, he christened his new band The Bluenotes and dove headfirst into uptempo, clear-eyed R&B, with a horn section brassing and blaring and squealing on nearly every track. The LP has two near-classics: "This Note's For You," a spirited jab at corporate-rock sellouts that made waves after its video was briefly banned on MTV, and "Twilight," a ballad that uses the horn section as a tool rather than a prop. Also on the album: five songs that sound a whole lot like "This Note's For You," and three that sound like "Twilight." The rock tracks feel like a dry run for Young's proper comeback, the following year's Freedom.
Redeeming quality: The video for "This Note's For You" contains a hilarious send-up of Michael Jackson's Pepsi-sponsored pyrotechnics disaster.
10. GREENDALE (2003)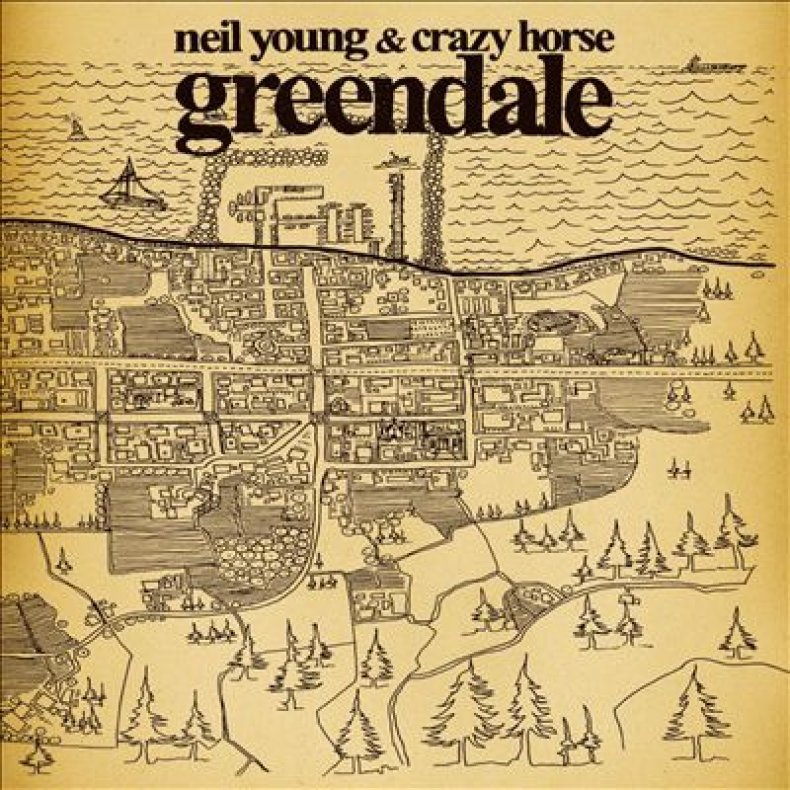 Neil Young's first and last rock opera, which also resulted in a film and an elaborate tour, was a polarizing beast. The story concept is a confoundingly complex yarn about a family tragedy in a fictional California town, complete with a grandpa dying and a teenager running away. It's so intricate that Neil Young barely seems to have had time to write, or produce, songs to go along with it. On Greendale, he and Crazy Horse mostly amble along on half-baked two- or three-chord grooves, with minimal changes and rhythm guitar parts that literally cut out when the solo cuts in. The melodies are anemic at best; many of the songs stretch past the 6- or even 10-minute mark. The music critic Mark Prindle has a theory that the unfinished nature of the songs might be some sort of meta-commentary on the creative process itself. Or perhaps it's a revolt against the tightly orchestrated rock operas of the Tommy/Quadrophenia era. But just as a parody of schmaltzy country-western still sounds like schmaltzy country-western (see: Old Ways), Greendale could have used either a lot more or a lot less work.
Redeeming quality: The megaphone parts in "Be the Rain."
9. LONG MAY YOU RUN (1976)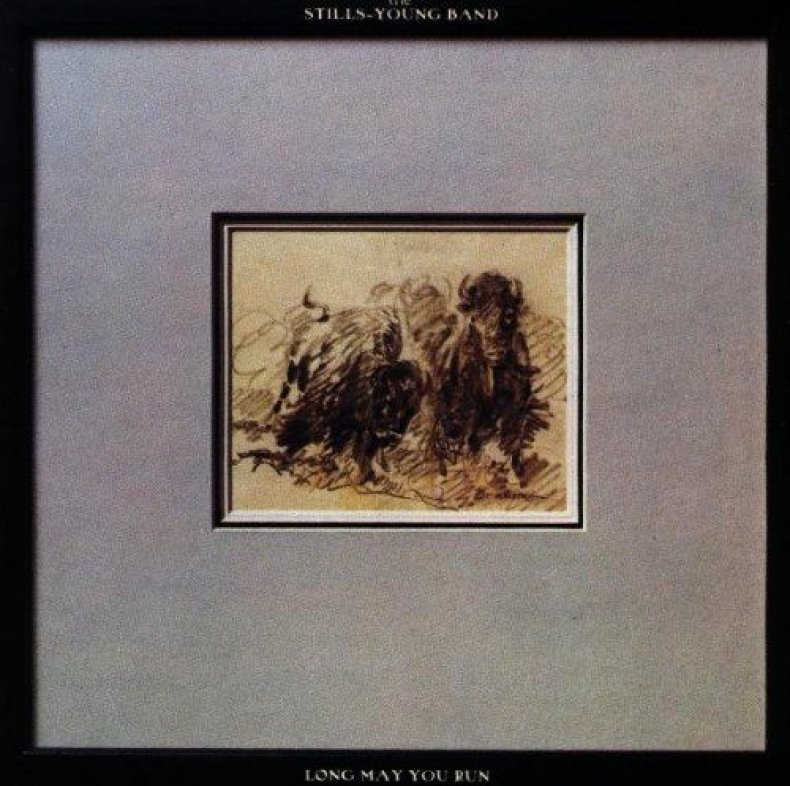 Should this list seem unfairly tilted toward Neil Young's more recent output, here's a reminder that there were some clunkers in his first solo decade. Except this album's sputtering mediocrity wasn't Young's fault—assuming Stephen Stills grabbed Young at gunpoint and demanded they put out a joint album. Shakey's tracks, from the car-obsessed title cut to the gorgeous "Fontainebleau," are just fine. The Stills-penned songs, though, traffic in filthy-smooth late-'70s jazz-rock. "Make Love To You" (chorus: "I want to make love to you / Yes, it will feel all right / I want to make love to you / Girl, it will take all night") would shame even Steely Dan.
Redeeming quality: Neil Young.
8. AMERICANA(2012)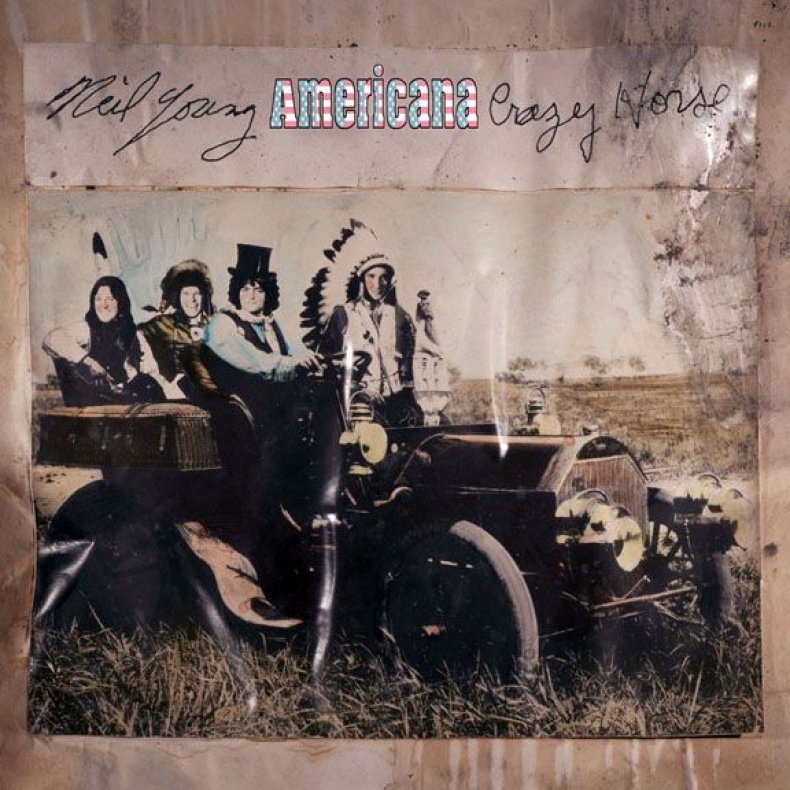 Neil Young got Crazy Horse back together for this? The songs are unambitiously arranged covers of American (and Canadian) schoolyard standards. Some of them drag on forever (as the album seems to, though it's not quite 60 minutes). Prolific though he is, Young rarely releases two studio albums in one calendar year. In this instance, though, the Horse-backed Psychedelic Pill came just five months later, and helped to wash away the taste of Americana.
Redeeming quality: The album art illustrations (booklet included) are impressively intricate.
7. THE MONSANTO YEARS (2015)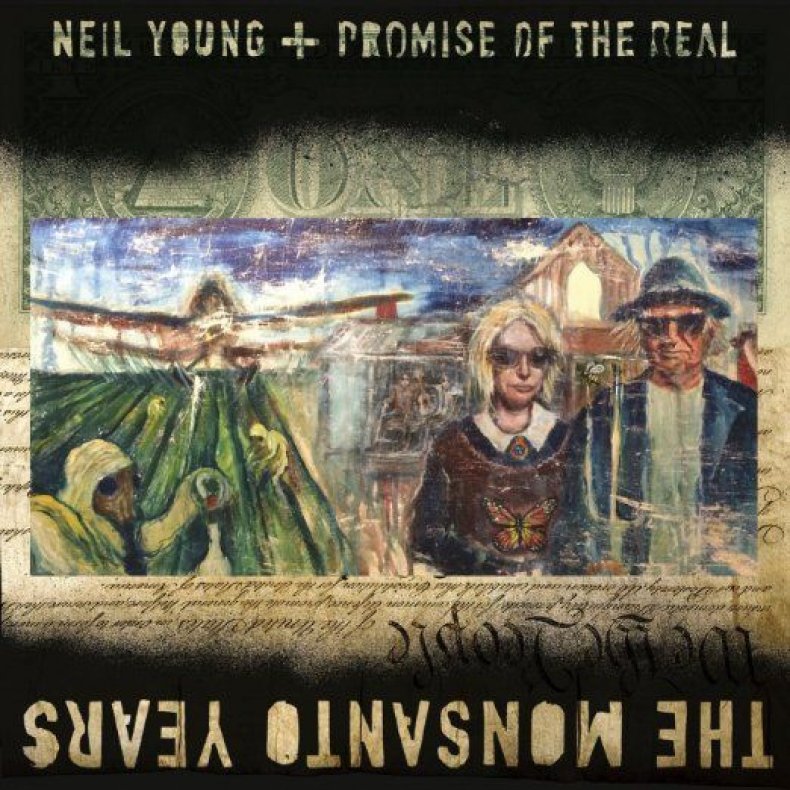 Young's agriculture-themed latest has the defining characteristics of his weirdest post-2000 albums: It's political, musically simplistic and above all aggravated. He reprises his Fork in the Road-era talk-singing, and doesn't beat around the topic at hand. With assistance from Willie Nelson's sons, there are some nice, fuzzy barn-stompers ("A New Day for Love," "If I Don't Know"). But the deeper the album digs into GMOs, Starbucks ("A Rock Star Bucks a Coffee Shop"—get it?) and the titular corporation, the more the music seems secondary to the politics. "Wolf Moon" is the sort of Harvest-lite ballad Neil Young could have written in his sleep. Which he might have.
Redeeming quality: The album probably pissed off some Monsanto/Walmart/Chevron bigwigs
6. ROAD ROCK VOL. 1: FRIENDS & RELATIVES (2000)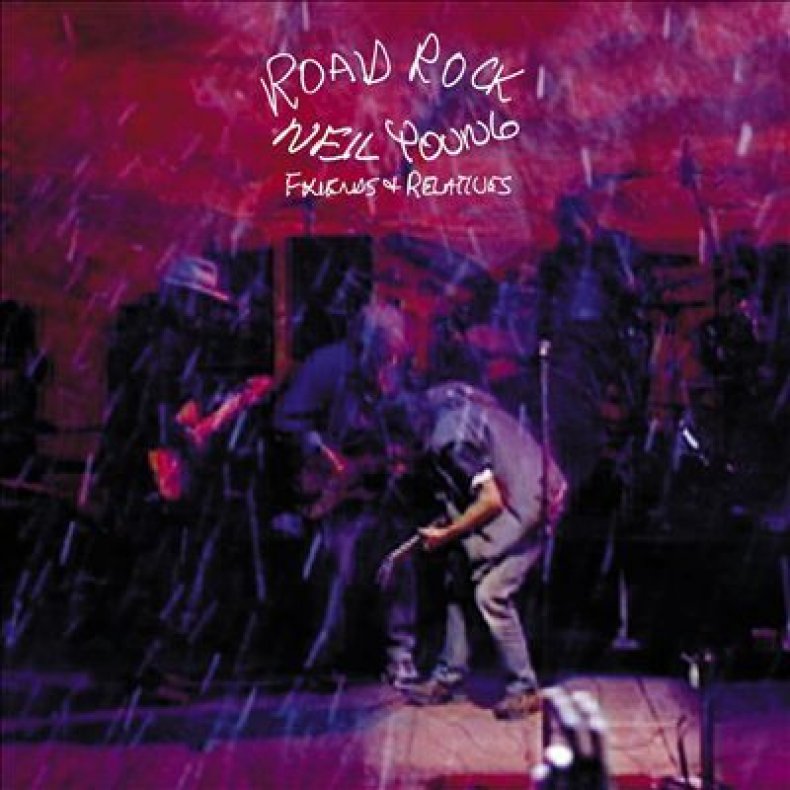 Twenty-one years after Live Rust, nine years after Weld and just three years after Year of the Horse, our hero issued yet another lengthy, jam-heavy live album. There's nothing particularly bad about this hour-plus disc—it's just inexplicably redundant. Various of Young's relatives join in on the vocals, and The Pretenders' Chrissie Hynde surfaces for a rousing "All Along the Watchtower" cover. But does anyone really need another 18-minute "Cowgirl in the Sand"?
Redeeming quality: Listen to Hynde dueting with those leathery guitar squalls on "All Along the Watchtower."
5. SILVER & GOLD (2000)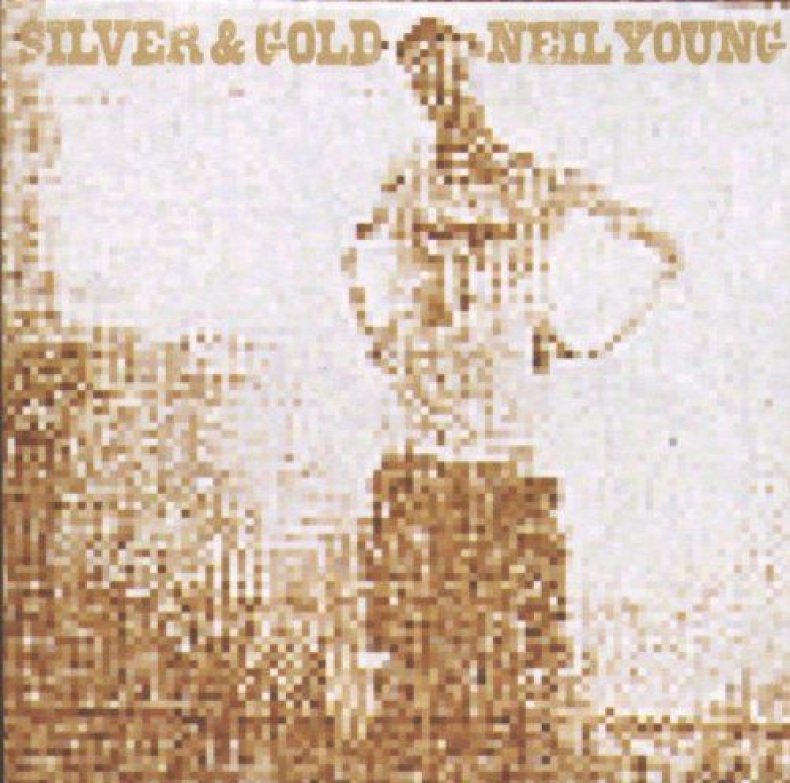 Speaking of redundant, Silver & Gold was billed as Neil Young's return to folkie rambles after the noisy '90s. Fans hoped for another Harvest Moon or Comes a Time, but the bulk of these tracks aren't worthy of Side 1 Hawks & Doves. They're just kind of... there. Gentle and nostalgic (see: "Buffalo Springfield Again"), but hardly stirring. "I feel like making up for lost time," Young sings on the breezy opener, but it seems more like he's just passing it. Speaking of passing the time, the album cover photo was taken with a Game Boy Camera.
Redeeming quality: The wistful title track, which had been floating around since the early 1980s.
4. OLD WAYS (1985)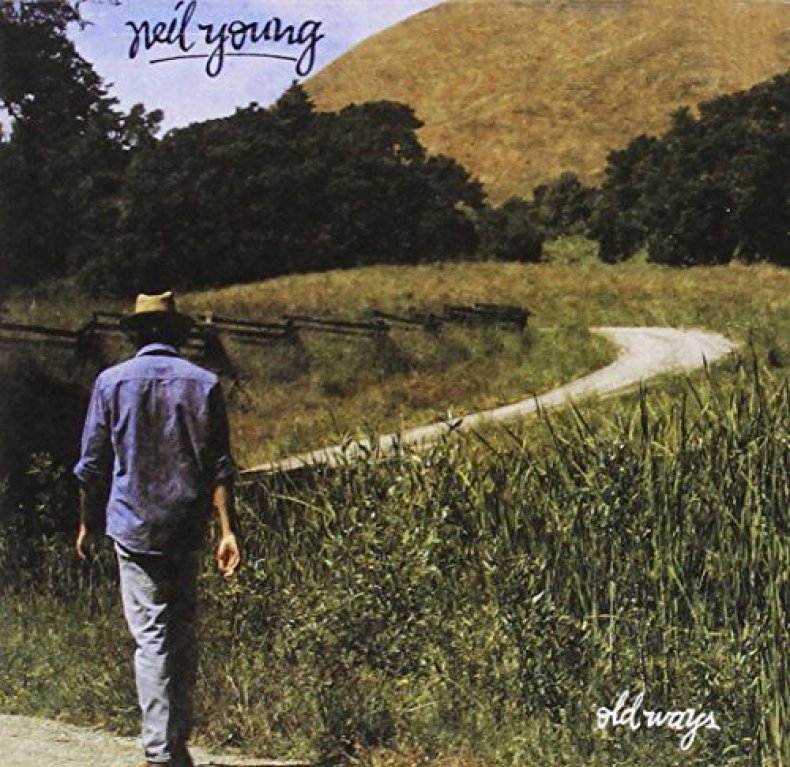 A disclaimer: I'm an apologist for Neil Young's '80s output—Trans is warped genius, Everybody's Rockin' is far too funny to hate and 1986's Landing on Water is underrated big-beat rock. But Old Ways, the good-ol' country record Neil Young wanted to put out in 1982 before Geffen said "Nah," is unbearably schmaltzy. For an artist who prefers live recordings, the album is strikingly overproduced, while its songs are steeped in tired Americana tropes about cowboys ("Are There Any More Real Cowboys?") and the farming lifestyle ("Old Ways"). Young always dabbled in country-western without diving into sentimentality or cliché, so what happened? "The Wayward Wind" drenches Gogi Grant's No. 1 hit in Hollywood strings, while the cringey I'm-a-dad track "My Boy" could have been written by Barry Manilow.
Redeeming quality: Farm Aid was for a good cause, we suppose.
3. FORK IN THE ROAD (2009)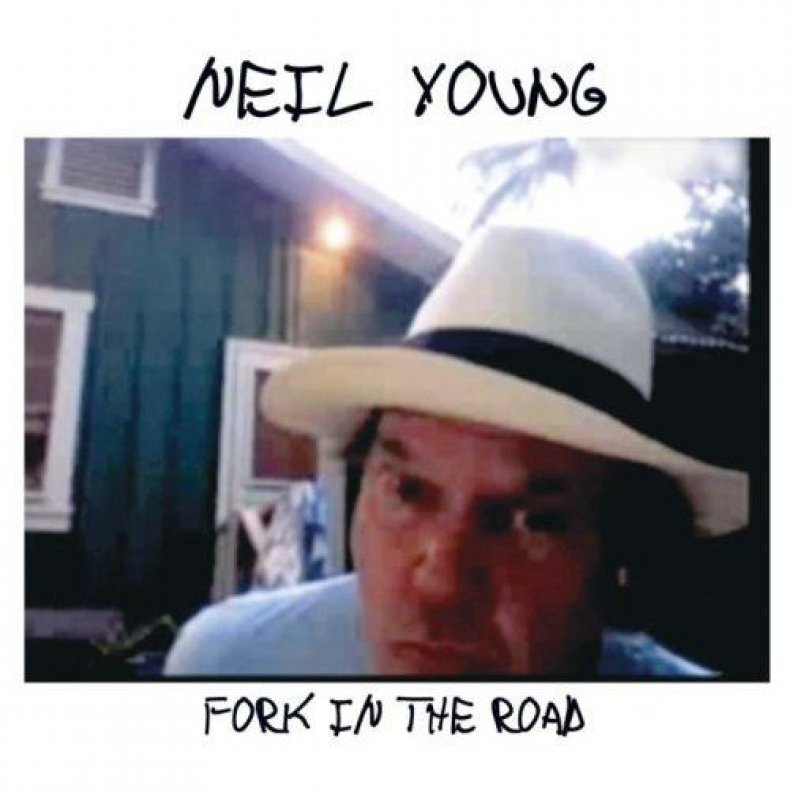 In 2008, I went to see Neil Young perform at Madison Square Garden. He was in a crowd-pleasing mood—"Hey Hey, My My," "Cortez the Killer," "Cinnamon Girl" all within the first half hour. Then he said something about auditioning new songs for his old record company and unapologetically launched into a flurry of unfamiliar songs about cars and bailouts. This wound up being Fork in the Road, a rootsy concept album about automobiles and politics and the artist's own Lincvolt project that feels particularly ornery and undercooked, even by Greendale standards. The cover art is a grainy cell phone image of Young scowling in a cowboy hat; the most memorable track finds the artist intoning "Cough up the bucks! Cough up the bucks!" over and over in time with a guitar-and-drums groove that seems to have taken 10 minutes to compose. (There's a hysterical video that consists of Young lip-synching while reading The Wall Street Journal in a limo. That's it—nothing else happens.) The title track rides along on a three-chord blues phrase for six minutes while Neil Young mumbles lyrics like, "I'm a big rock star / My sales have tanked / But I still got you / Thanks / Download this / It sounds like shit." Indeed. Naturally, it was nominated for a Grammy.
Redeeming quality: There's the aforementioned "Cough Up the Bucks." Plus, in characteristically unpredictable fashion, Young followed up this mess with his best album in years—2010's Le Noise.
2. ARC (1991)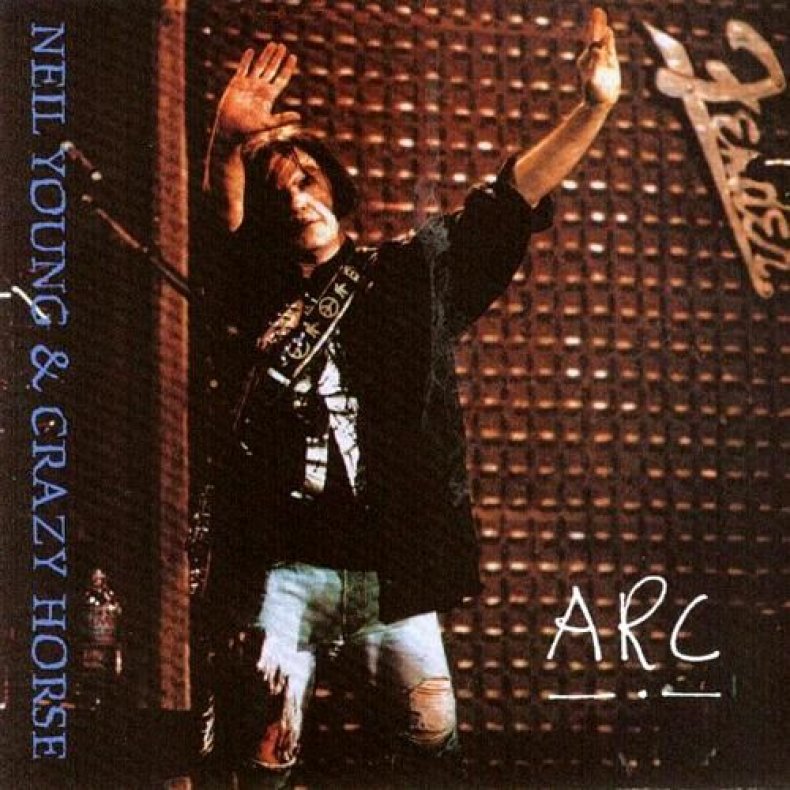 True, Arc is not so much an album as an experiment that was initially—and ought to have remained—a bonus disc sold in a package with 1991's fantastic live set Weld. But it's now available for individual purchase and listed on AllMusic as such, so we're including it. Some background: Weld is a two-disc collection of rock songs recorded on Neil Young & Crazy Horse's righteously noisy 1991 tour. Arc is a bizarre, 35-minute collection of intros, outros, feedback and spare sounds from that same tour. Young called it "the sound of the entire band being sucked into this little limiter, being compressed and fuckin' distorted to hell." In small doses, it's an intriguing sonic document of just how much unholy racket Neil Young can coax from that amplifier. But beyond one or two curiosity spins, listening to it will make you go mad. Reviewers often liken it to Lou Reed's Metal Machine Music, but it's also a little like a 45-minute compilation of Fugazi stage banter available on YouTube. Which would have been a nice strategy had Arc been released 15 years later; this collage feels more suited to a YouTube mastercut than a live album.
Redeeming quality: When Young tracks the "Like a Hurricane" vocals over the collapsing sludge, there's an eerie effect to behold.
1. PRAIRIE WIND (2005)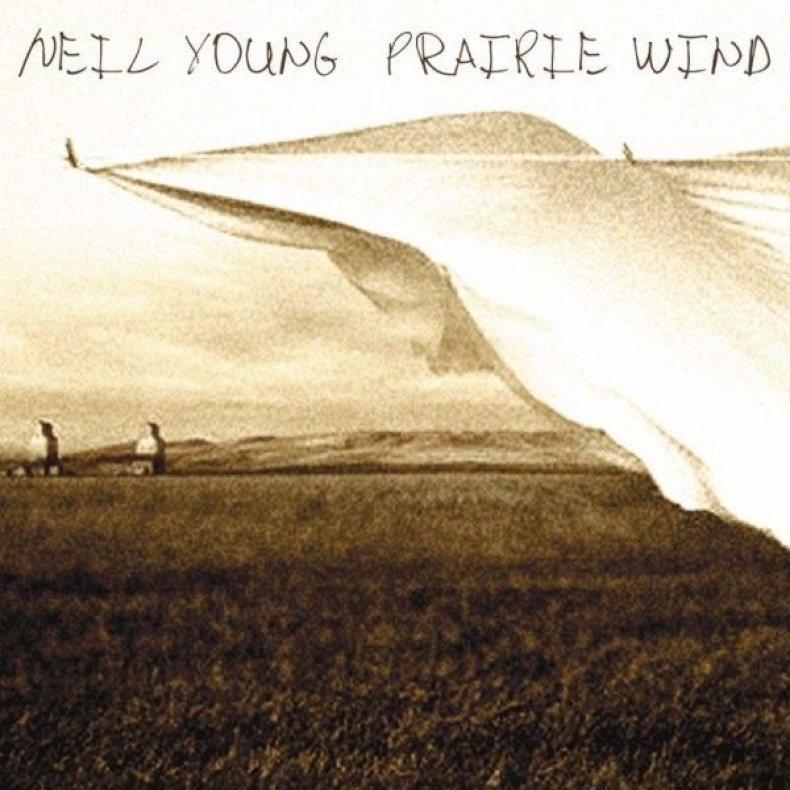 Silver & Gold showed that Neil Young's worst albums weren't necessarily his weirdest experiments—they could also simply be boring. Prairie Wind puts that theory to a test. Interrupted by a brain aneurysm and loosely themed around nostalgia, the album invokes that saddest of creatures, the "return to form." It's like a glimpse into an alternative universe where an aging Neil Young plays it safe, behaving himself like a Boomer favorite should and releasing a tepid, agreeable record like this one every 3–4 years. "No Wonder" is a timely but dull ode to mortality, "He Was the King" a spirited but dull tribute to Elvis, "This Old Guitar" a gentle but dull love song for an inanimate object that barely hides the fact that it's just rehashing the riff from "Harvest Moon." (Neil Young may be the only songwriter to have written a song about a guitar without bothering to come up with a new guitar part.) Living With War, the protest-rock quickie Young released eight months later, was criticized for sounding rushed. At least that one has a pulse.
Redeeming quality: Your dad loves it.
BONUS FEATURE: Five sorely underrated Neil Young records that deserve another listen: Re-ac-tor, Trans, Landing on Water, Sleeps with Angels, Living with War.