If you want to get promoted, it's not enough to be good at what you do. You also need to display behaviors that will convince your boss you can step up.
You need to show your manager you're a valued member of the organization, someone who stands out from the team and is capable and motivated. Here, company directors and recently promoted executives offer their advice on how to demonstrate that you're ready for the next rung of the ladder.
Build Trust
The first step is building trust. Employers want managers they can trust, who care about the company's future and work with purpose rather than simply waiting for the day to be over.
Whitney Keller, a director, advisory, at KPMG based in Atlanta, told Newsweek trust can be a "strategic enabler" that gives organizations a competitive advantage—and the same principle applies to advancing your career.
"Know your stakeholders and make sure you are aligned with their needs and expectations, while earning their trust to get things done. The more you can take off their plate and make their jobs easier, the more they'll see you successfully meeting the expectations at the next level."
Be a Team Player
Almost every job ad out there says the successful candidate has to be a team player. This can be tricky if you're working with difficult personalities, but it's all about communication.
"Build up the trust in your team and allow others to help you get the work done, allowing you to operate at the next level," Keller said. "I've never felt having high-performing team members was a deterrent. On the contrary, we are a team and everyone's success makes for a better outcome for all, including our clients."
Jenny Knighting, founder and CEO of marketing company Nutcracker Agency, also pointed out that teamwork makes tasks easier for everyone. "I value people that think about how everybody can shine rather than just themselves. They will also get better results," she told Newsweek.
Go the Extra Mile
In the workplace, going the extra mile will help you stand out from your competitors for a plum job. Keller defines this as demonstrating a passion for quality and pursuing innovative ideas and solutions.
"Be visible—even virtually—and be the one that goes the extra mile. Help with recruiting, participate in volunteer activities, join a diversity network, etc. You will meet people you might not otherwise have met in your day-to-day job, giving you more opportunities for networking and growth."
Alana Purvis, a recently promoted tax managing director at KPMG in Minneapolis, recommends you "do your due diligence" to find out how you can reach the next level.
"Does your company have a promotion readiness document that you can review and complete? If so, start there. If not, then try to find the official job posting for the level you're trying to get promoted to. Then start crossing off the skills that you already feel you're strong in, and the skills that are left over are the ones you'll need to focus on to be ready."
Failure to do this research "will likely leave you disappointed during year-end conversations," she added.
Leanna Devinney, vice president, branch leader at Fidelity Investments in Boston, told Newsweek that getting your promotion can be a lot of hard work. "As someone who was recently promoted, my best advice would be to take advantage of the opportunities and resources offered by your employer to network and grow your skillset."
Once you've achieved that goal, Devinney said, give yourself a rest. "While it can be easy to get swept up in day-to-day tasks, it's important to be intentional in your personal development to better prepare for the next opportunity."
Don't Wait for the Promotion—Perform at the Next Level Now
Stacy Poritzky, vice president, enterprise brand and marketing strategy at American Express in New York, told Newsweek that the best way to show your employer you're ready to rise is to start performing at the next level now.
She suggests finding out from a trusted mentor which skills are used to evaluate people on the next rung—and then looking for opportunities to demonstrate some of those skills in your job. "If at the next level strategy is a big component of success, work with your current leader to find an opportunity to demonstrate this skill in the work you are doing today. You will not only excel in your current role but have a stronger case for why you will be able to make an immediate impact" if promoted.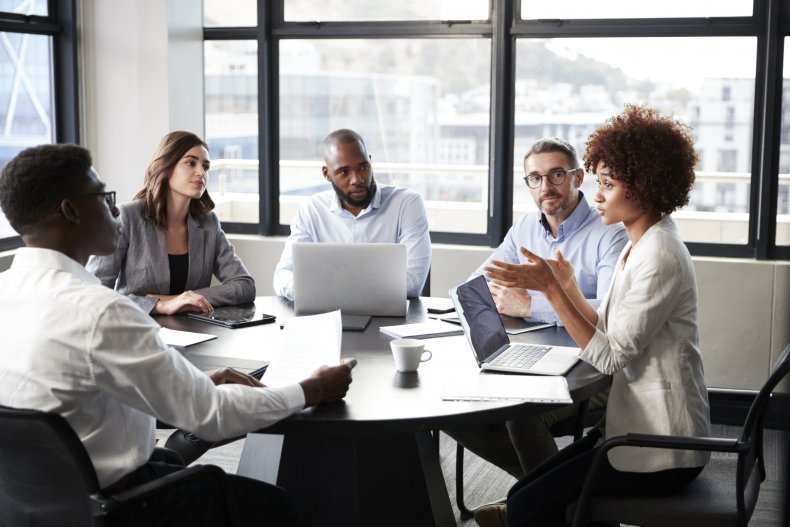 Don't Be Afraid of Making Mistakes
Many employees in a new job are scared to make mistakes, or even to ask questions. Asking for help is not a sign of weakness, however. It's fundamental when learning new skills.
"Don't be afraid to make mistakes or assume you're expected to know everything," said Keller "especially if it holds you back from asking the right questions or doing the things to get to the next level."
Speak Up and Take Ownership
If you want a promotion you have to let your manager know. "Discuss with them your promotion timeline and get their feedback. If the timelines differ, make sure to understand why," said Purvis.
You might have to wait because of a company policy about promotion timings, or because you need a particular professional designation or new skills. "Regardless of the reasons, make sure they're clear to you so you can begin working on bridging any gaps. Meet regularly with your mentors and sponsors and make sure they know what your goals are and get their input on the areas you need to work on."
You should also talk to your manager about taking ownership of your tasks, said Colin Gray, CEO of Alitu and The Podcast Host, "and particularly the team or company goals that they contribute to."
He suggests asking your boss which key performance indicators they must meet, how this is broken down for your team and which elements you can take ownership for. "It shows that you're interested in the bigger picture, not just your own work, and that you're happy to take responsibility for helping move the company forward," he told Newsweek.
Monitor Your Progress
Keep a close eye on your goal and your plan to achieve it.
"Continue to have conversations with your leaders, mentors and sponsors about your progress toward that promotion. If you're not getting the feedback you need, make sure to ask for it. Let them know specifically what you've been doing to reach your goal," Purvis said.
Take Feedback
Whether it's positive or negative, feedback helps you get better, so you must have the right attitude towards it.
It makes a big difference when people can take constructive feedback in the way it is intended, which is to help them develop, said Knighting. "The more approachable somebody is, the more you feel confident that even if they were placed in a role which is a stretch for their development, they will be able to step up and quickly get up to speed."
Keep talking to your leaders and teams, Purvis added. Don't assume—get the feedback.
Extra Tips
"Try to find people who have seen you in action and can speak to different parts of who you are," Poritzky said. "These also are the people you can do mock interviews with, talk through if a role is right for you and be a sounding board for all things career."
She also recommends having "a clear story to tell" about your strengths and background, and how you plan to develop. "This is a story you want to be able to tell in an interview, but equally important the story you will tell to your mentors and sponsors so they are able to tell your story on your behalf."