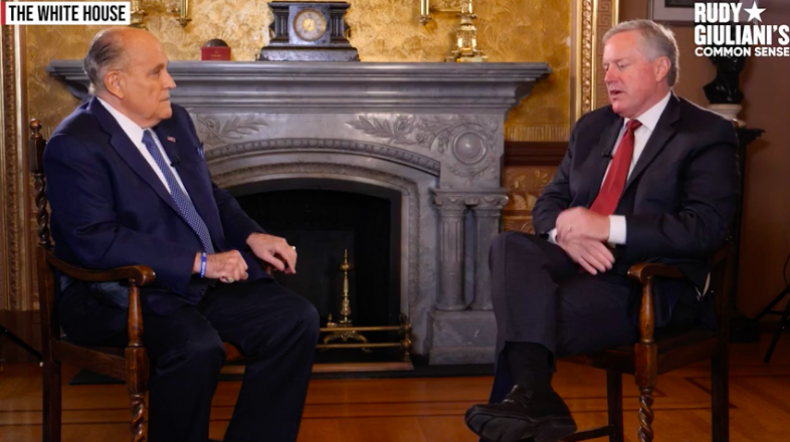 White House Chief of Staff Mark Meadows vowed that people would "go to jail" over reports that Russia offered the Taliban bounties for U.S. soldiers, during an interview with Trump supporter and former New York City Mayor Rudy Giuliani released Friday.
"We know a crime was perpetrated," Meadows told Giuliani of The New York Times' bombshell report. "Whoever leaked this — they didn't even leak the whole story."
Meadows, the top aide to the president and a close confidant, said he expects a criminal investigation and prosecution.
"We're determined to get to the bottom of it," he said. "They're serious about the investigation."
The White House has spent recent days pushing back on the report and whether Trump himself had been briefed on the classified intelligence behind it.
The Times reported that the information was in President Donald Trump's daily briefing as early as February this year, but White House Press Secretary Kayleigh McEnany has repeatedly told reporters that the information never rose to the level of Trump's attention.
"There really wasn't anything," Meadows told Giuliani during the interview. "We don't have any intelligence that would support the reporting."
Trump has made limited public statements since the Times' initial report.
During the nearly 35-minute conversation with Giuliani, Meadows, a former North Carolina congressman who became the president's fourth chief of staff in March, defended Trump's record as president.
"We had a global pandemic, economic meltdown—you name it, we had it," he said of his transition to the White House. "(Trump)'s a real fighter and he never gives up."
Meadows predicted "there will be more" stories like the Russia bounty story in the lead up to the November 3 election.
Giuliani told reporters outside the White House on Wednesday that he doubted the Russia bounty story and believed that the leak was criminal.
"It's some kind of felon in the federal government—a deep state criminal who committed a serious crime," he said. "I can't think of a worse crime. It's not quite treason but comes close."
Trump's Intelligence Director John Ratcliffe previously said in a statement that Trump and Vice President Mike Pence were never briefed "on any intelligence alleged by The New York Times in its reporting."
Giuliani, in his discussion with Meadows, chided Republicans who have split with the president over the latest Russia report and are seeking more information about what the president knew and the timeline.
"If there's one little thing that isn't resolved yet, we have a bunch of Republicans who run away," Giuliani said.
During the interview, Meadows also had harsh words for Dr. Anthony Fauci, a member of the coronavirus task force who has butted heads with the president. Meadows called him "Dr. Gloom" and said he's among doctors who are "paid to show a worst-case scenario to make sure everybody's alert."
"It's important we deal with the facts and not fear," Meadows said.