U.S. National Security Adviser Tells Iran, 'We Will Come After You' and Warns Europe Must Follow Sanctions
Two of President Donald Trump's top officials addressed a conference critical of the Iranian government on Tuesday, calling for a harder line against the revolutionary Shiite Muslim power.
Secretary of State Mike Pompeo and national security adviser John Bolton spoke at the 2018 United Against Nuclear Iran summit in New York City. Though most world powers and the U.N. itself have affirmed Iran's commitment to a 2015 nuclear deal, Trump left the deal in May, and his administration is struggling to gain international support for strict economic measures not supported by even traditional U.S. allies in Europe, as world leaders gather for this week's U.N. General Assembly.
The U.S. and Iran have long accused one another of destabilizing the Middle East, but both sides have hardened their positions in recent months. Bolton's and Pompeo's additions to Trump's circle after two back-to-back surprise shakeups earlier this year were widely seen as a pivot toward a more hawkish approach that was voiced during Tuesday's event.
"The days of impunity for Tehran and its enablers are over," Bolton said. The murderous regime and its supporters face significant consequences if they do not change their behavior. Let my message today be very clear: We are watching, and we will come after you."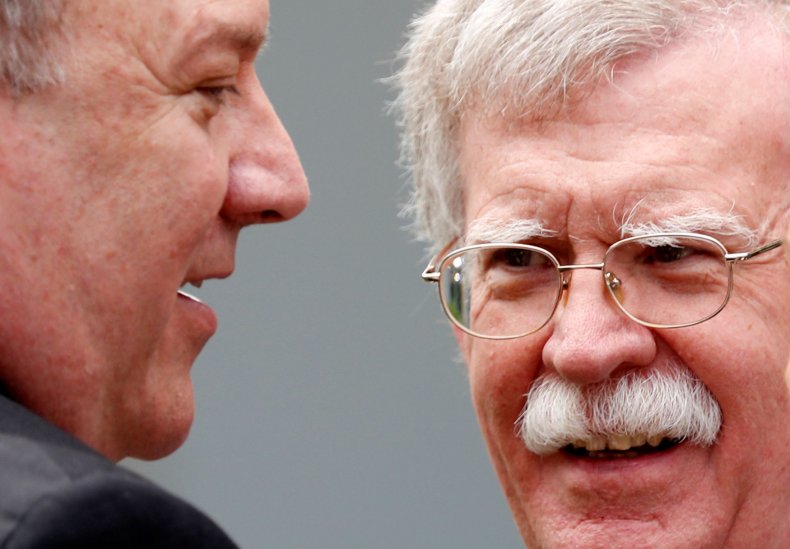 The decades-long feud, interrupted briefly by the now-abandoned nuclear accord, between the U.S. and Iran has escalated in recent months, as Trump moved to impose sanctions against Tehran's vital industries and lashes out against its growing influence across the Middle East. A year after his first speech to the U.N., Trump again targeted the Iran government, calling it a "corrupt dictatorship" whose leaders "sow chaos, death, and disruption."
"We ask all nations to isolate Iran's regime as long as its aggression continues, and we ask all nations to support Iran's people as they struggle to reclaim their religious and righteous destiny," Trump said during his address.
The 2015 nuclear agreement's other national signatories–China, France, Germany, Russia and the U.K.–and the European Union continue to support it, however, and have met with their Iranian counterparts to discuss avoiding U.S. restrictions. On Monday, the foreign ministers of the six remaining parties to the Iran nuclear deal met on the sidelines of the U.N. and announced they would establish an alternative payment system to avoid being subject to U.S. sanctions while continuing to do business with Iran.
Pompeo said at the summit he was "disturbed and, indeed, deeply disappointed" with the move, calling it "one of the most counterproductive measures imaginable to regional global peace and security." He detailed reports of alleged Iranian actions across the world, including instances in Africa, Asia, and Europe, as well as the attempted assassination of Saudi Foreign Minister Adel bin Ahmed al-Jubeir, who was also present at the event, in Washington in 2011.
He also said the U.S. "would never stand" for Iranian attacks in the Strait of Hormuz, the world's busiest oil choke point and the subject of tensions as officials in Tehran warned they would not allow the export of oil if the U.S. succeeded in bringing Iranian oil exports to zero. Pompeo said the U.S. "will respond swiftly and decisively" to attacks against U.S. personnel around the world, and called for the release of U.S. prisoners in Iran.
Bolton also attacked Iran's regional activities, military buildup and imprisonment of U.S. citizens. He called Iran deal the "worst diplomatic debacle in American history" and said the Trump administration would follow through with additional sanctions after oil-related restrictions kick in early November.
Referring to Iran's characterization of the U.S. as "the Great Satan" at pro-government rallies, Bolton said, "There will indeed be hell to pay" in response to any attacks on U.S. personnel. He also criticized the EU for being "weak on action" and warned that U.S. "enforcement of our sanctions is aggressive and unwavering."
Iranian President Hassan Rouhani also addressed the U.N. on Tuesday in a speech that accused the U.S. of committing "economic terrorism" by trying to force countries to violate a multinational treaty and abide by Washington's unilateral sanctions.
Rouhani also sent out a series of tweets Tuesday, in which he accused the U.S. of "menacing countries & intl organizations w/ punishment if they comply w/ SecCouncil Res 2231," the U.N. action surrounding the Iran nuclear deal.
"What Iran says is clear: no war, no sanctions, no threats, no bullying; just acting according to the law and fulfilling obligations. Our proposal is clear: commitment for commitment; violation for violation; threat for threat; and step for step, instead of talk for talk," Rouhani's official account tweeted.