Top U.S. General in Afghanistan Under Fire for Testy Magazine Profile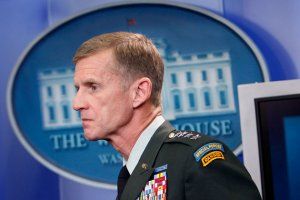 Gen. Stanley McChrystal, commander of U.S. and NATO forces in Afghanistan, has been summoned to the White House to explain comments made in a Rolling Stone magazine profile in whcih he airs insults against Vice President Joe Biden, Ambassador Karl Eikenberry, Special Envoy Richard Holbrooke and the president himself. National security adviser James L. Jones is referred to as a "clown."
The profile, out this Friday, headlined "The Runaway General," shows a bravado-filled, towel-flicking culture in the general's inner circle—an aide describes French ministers as "f--king gay," and McChrystal, whose favorite movie is Talladega Nights, flips an aide the bird.
Michael Hastings, a freelance writer who previously worked at NEWSWEEK, captured McChrystal and his team deriding many of the Obama administration who are planning the war. Gen. Jim Jones is a "clown," and "stuck in 1985." Trips to Afghanistan by John McCain and John Kerry, one aide implies, are just so they can talk about it on the Sunday talk shows. Richard Holbrooke, the special envoy to the region, is "a brilliant guy" but "he just comes in, pulls on a lever, whatever he can grasp onto." At one stage McChrystal looks at his BlackBerry. "Oh not another e-mail from Holbrooke," he says. "I don't even want to open it."
Ambassador Eikenberry meanwhile "covers his flank for the history books. Now if we fail," says McChrystal, after a memo Eikenberry wrote repudiating his strategy was leaked to The New York Times, "they can say, 'I told you so.' " The general and an aide imagine dismissing Vice President Joe Biden, if asked about him during a speech. "Are you asking about Vice President Biden?" McChrystal says. "Who's that?" An aide chimes in "Biden? Did you say Bite Me?" And the president himself is depicted as intimidated by military brass and not engaged with the war in Afghanistan.
General McChrystal has now been directed, according to The New York Times, to personally attend a meeting on Afghanistan at the White House, instead of by teleconference, "to explain to the Pentagon and the commander in chief his quotes in the piece."
In a statement this morning, McChrystal said he extended his "sincerest apology for this profile. It was a mistake reflecting poor judgment and should never have happened. Throughout my career, I have lived by the principles of personal honor and professional integrity. What is reflected in this article falls far short of that standard."
He added: "I have enormous respect and admiration for President Obama and his national security team, and for the civilian leaders and troops fighting this war and I remain committed to ensuring its successful outcome."
McChrystal, a former Special Forces commander famous for eating one meal a day and sleeping for only four hours, has been caught between Washington and the press before—he was accused of lobbying publicly for his strategy in Afghanistan late last year. At that time General Jones—the "clown"—issued a public rebuke, saying that "it is better for military advice to come up through the chain of command."
McChrystal, something of a troublemaker at West Point, has built his career, writes Hastings, on "knowing precisely how far he could go in a rigid military hierarchy without getting tossed out." He's certainly testing those skills this week.
Top U.S. General in Afghanistan Under Fire for Testy Magazine Profile | U.S.