Top U.S. General Kenneth McKenzie Warns of Russia's and China's Influence in Iran
General Kenneth McKenzie, head of the U.S. Central Command, gave a briefing in Saudi Arabia on Monday where he warned Iran's activities could lead to instability in the Middle East as U.S. troops withdraw from Afghanistan, The Jerusalem Post reported. The general also cited Russia and China as key players whose influence could affect Iran's actions.
McKenzie said that those two nations have noticed a decline in U.S. "engagement" in the Middle East as troops have withdrawn from Afghanistan and that both are aiming for more influence in the region. China in particular has engaged with the Middle East through a global infrastructure plan known as the Belt and Road Initiative, which was adopted by its government in 2013.
"China engaged with nearly every country in the region in 2020, using exploitative debt traps, the Belt and Road Initiative and medical diplomacy with their vaccine, which has dubious efficacy, to try to expand its influence," McKenzie said.
Russia's influence in the Middle East has increased since it first intervened in Syria in 2015, sending a limited number of ground troops and its air force to aid in the civil war, the Carnegie Endowment for International Peace reported.
"Russia is equally disruptive in the region, and their engagements are largely opportunistic and transactional," McKenzie said. "Russia seeks ways to position itself as an alternative to the West by offering to mediate regional conflicts, selling arms, offering military expertise and participating in regional and multilateral organizations to advance their interests."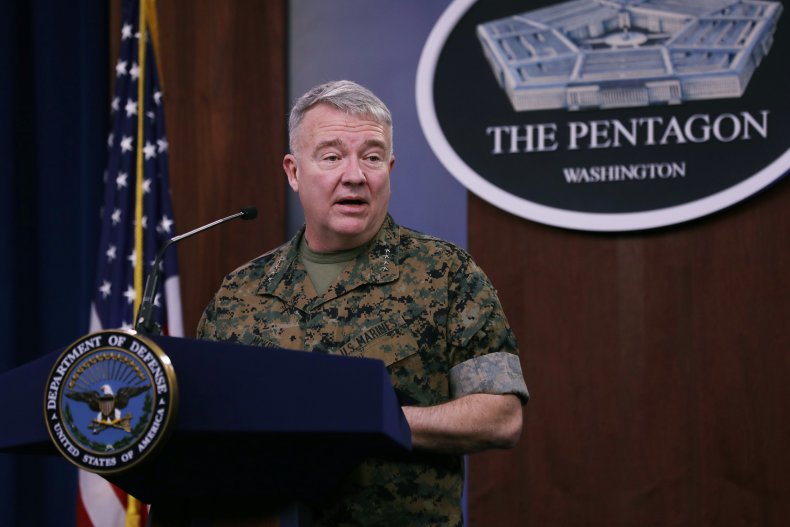 While McKenzie cited concerns about Chinese and Russian influence on the Middle East, he also noted that Iran's actions are a large threat to maintaining stability, according to the Post.
"Another priority is deterring Iran's destabilizing activities, which remains the biggest threat to stability in the Middle East," he said. "I believe that our posture in the region has had a deterrent effect on Iran and made it more difficult for them to deny attribution for their malign activities."
McKenzie acknowledged that a reduction of U.S. troops could lead to further provocation from Iran. He said he believed a decrease in the American troop presence in 2019 played a part in allowing Iran's increasing attacks, which led to an Iranian rocket attack on Iraq's Ain al-Asad airbase in January 2020, according to ABC News.
To resist any attempts by Russia and China to exert greater influence, and to deter Iran from a state-on-state attack, McKenzie said the U.S. would maintain a presence in the Middle East.
"I think we're still going to have a presence here. It might not look exactly like the presence it was five or seven years ago where we get hundreds and thousands of forces here, but I think we're going to play very smart games to leverage what we have," he said.
A withdrawal of troops from Afghanistan has been ordered by President Joe Biden, who promised to see all troops removed by September 11, the 20-year anniversary of the 9/11 attacks. McKenzie did not give any details on the withdrawal but said it was "going very smoothly," Military.com reported. He confirmed that the U.S. and its coalition partners are on track to meet Biden's deadline.