Topless Activist Sets Candy Store Display On Fire In Paradise Papers Protest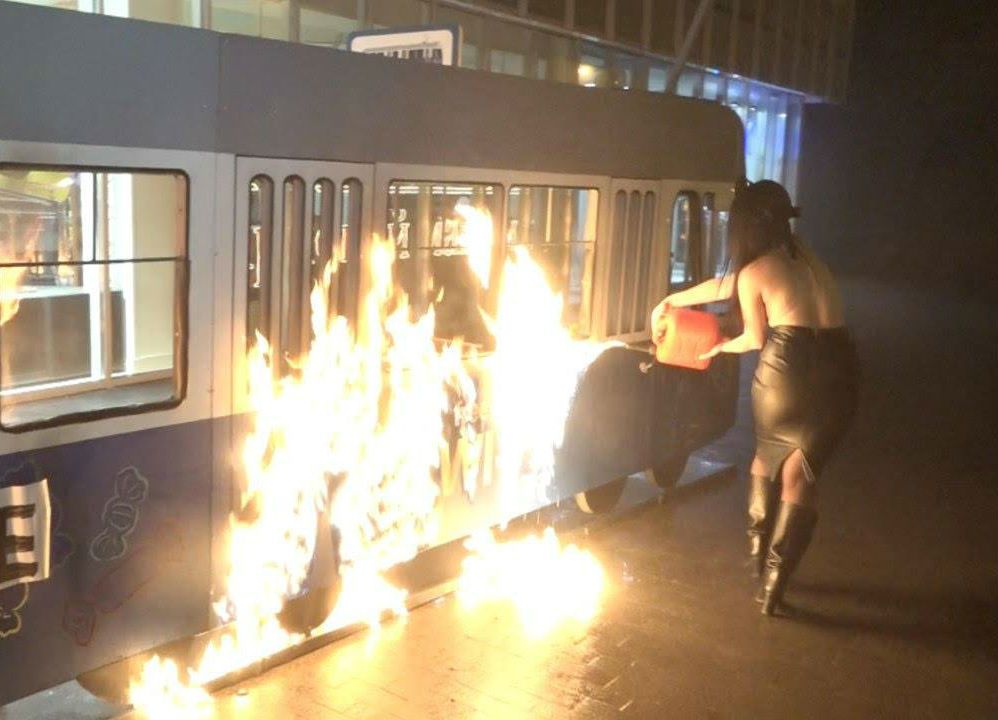 A woman who photographed herself setting fire to a display outside the flagship Roshen chocolate store of President Petro Poroshenko has been arrested by police in Ukraine.
In a statement on Facebook, authorities in the Vinnytsia region of the country said a 25-year-old woman who has been named by other activists as Alisa Vinogradova was arrested in Kiev for hooliganism. If convicted, she could face between three and seven years in prison.
The self-described "sextremist" protest group Femen posted images on Facebook of Vinogradova setting a decorative tram in front of the shop on fire.
Read More: Ukraine's new tank can match Russia's best but Kiev may be unable to afford it.
"In the lair of the beast—Vinnytsia city," a caption below the image, which showed Vinogradova pouring flammable liquid onto the blazing decorations, read.
As is typical of previous Femen's protests, Vinogradova was nude from the waist up. She had written "Tram to Offshore" on the side of the display, in reference to allegations revealed in the so-called Paradise Papers that Poroshenko was using ofshore companies in his business dealings.
"Let the burning tram take Poroshenko back to place there are no high taxes, no war, no poverty, no Ukrainians who are so hated by the chocolate baron," the Facebook post read.
This is the second time the group has targeted Roshen, having torched teddy bear decorations in front of its shop in Kiev on Halloween. The perpetrator, whose face was painted as a skeleton, fled the scene.
Police in Vinnytsia denied a report in Ukrainian news site Ukrainska Pravda on Tuesday that Alisa Vinogradova was kidnapped by unidentified men from a Kiev cafe before her arrest.
Poroshenko's relationship with Roshen is a longstanding controversy in Ukrainian politics, as the chocolate magnate vowed to separate himself from the company when he became president in 2014. The previous mass leak of global offshore account files, known as the Panama Papers, in 2016 suggested president not only had failed to do so but had also transferred assets overseas.
Last year he transferred his assets to a blind trust and his lawyers maintain that reported exchanges with companies named in the Panama or Paradise Papers did not seek to reduce the amount of tax he would pay in Ukraine.
Ukrainians launched mass street protests in 2013, to eventually topple controversial President Viktor Yanukovych amid allegations of corruption and an unrelenting preference for allying with Russia, rather than Europe. But as promised reforms by the pro-EU government have stalled tents of protesters are once again setting up in central Kiev.
The current government is also locked in a tense standoff with Russia, as Moscow annexed Crimea from Ukraine after Yanukovych's ousting in 2014 and backed armed insurgents in Ukraine's eastern Donetsk and Luhansk.