Topless Activists Make Hitler Salute at Le Pen's May Day Speech in Paris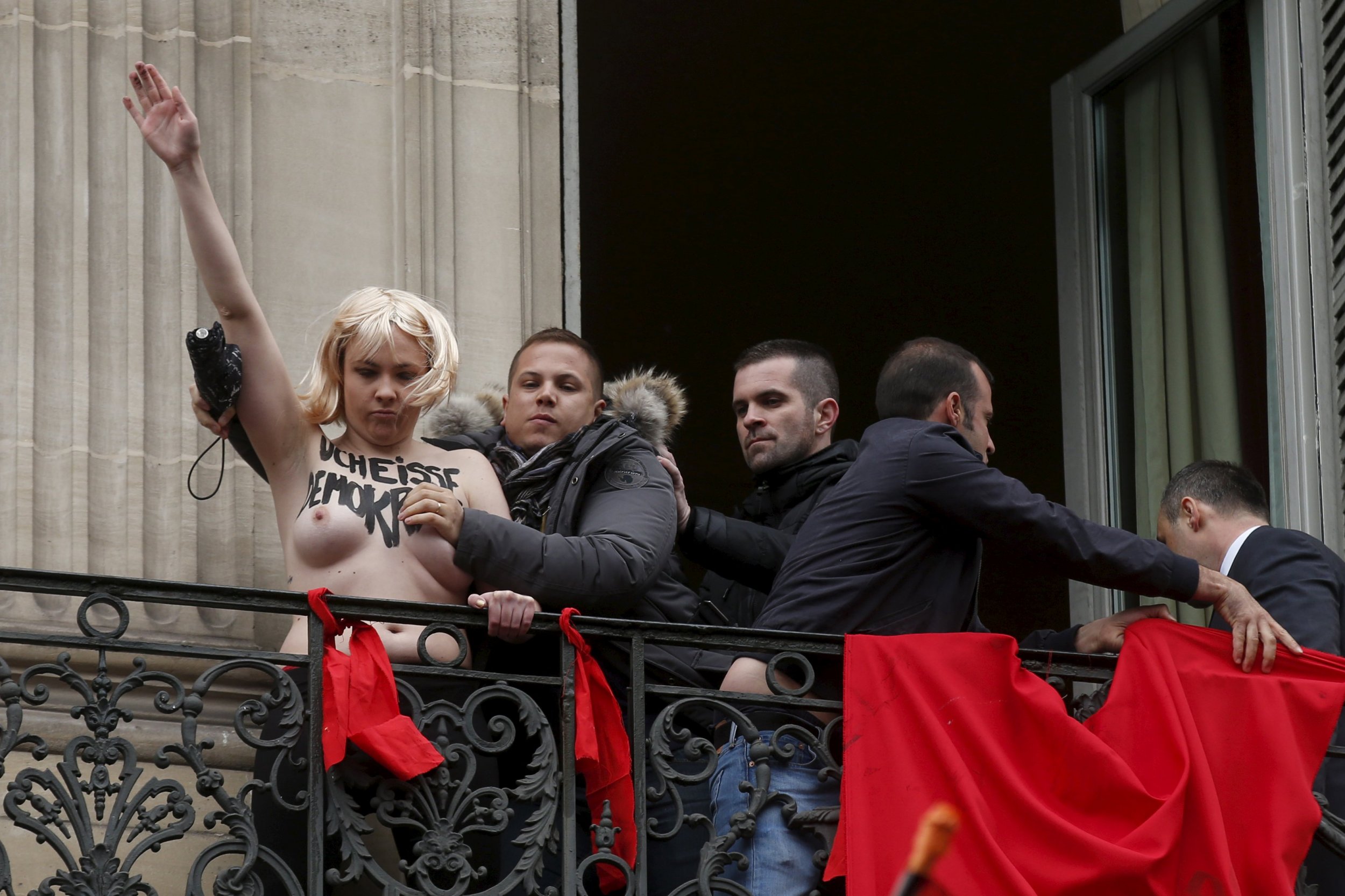 PARIS (Reuters) - Three bare-breasted women making Nazi salutes disrupted a May Day speech by French far-right leader Marine Le Pen as she accused her political rivals of failing to tackle immigration and radical Islam.
The women from the Femen activist group, with "Heil Le Pen" and "Stop Fascism" written on their breasts, chanted anti-National Front slogans from the balcony of a five-star hotel room overlooking the stage, to boos from the crowd.
It was the second interruption to Le Pen's attempt to address hundreds of National Front (FN) supporters in central Paris. Earlier her father Jean-Marie, the party's founder, unexpectedly took to the podium to cheers despite a party disciplinary procedure against him over controversial comments about World War Two.
The 86-year-old former paratrooper left the stage without uttering a word and did not wait to listen to his daughter's speech.
Since her anti-EU party gathered power in local and regional elections across France, Marine Le Pen has sought to capitalise on discontent over Socialist President Francois Hollande's handling of the economy and rising unemployment.
Her speech took aim at Hollande and former president Nicolas Sarkozy, who is trying to put his conservative UMP party back on track ahead of the 2017 presidential election.
"They have allowed massive immigration to become established in France. They have taken the pin out of the Islamic fundamentalist grenade," Le Pen said. "We are right on everything."
FN supporters had earlier laid a wreath at a statue of 15th-century heroine Joan of Arc, who has been claimed by the far-right as a nationalist symbol.
Visibly uneasy at the Femen protest, Le Pen said: "It's quite a paradox when you call yourself a feminist and try to disturb a tribute to Joan of Arc."
After about 10 minutes, four National Front security men seized the protesting women.
"They will be forced to get dressed," Le Pen said.
Police took the women and the National Front security men into custody but later released them.
The NF later said it would file a legal complaint against Femen.
Since succeeding her father as party chief in 2011, Marine has sought to rid the NF of its anti-Semitic image and position it as an anti-immigrant, Eurosceptic force proposing protectionist policies.
Femen spokeswoman Inna Shevchenko, who was granted political asylum in France in 2013, said the group would sue the National Front for excessive violence.
"The objective today was to ... show how Marine Le Pen really is and show her real face," Shevchenko told French media.