Topless Femen Activist Stages Mock Execution From Paris Bridge in Rouhani Protest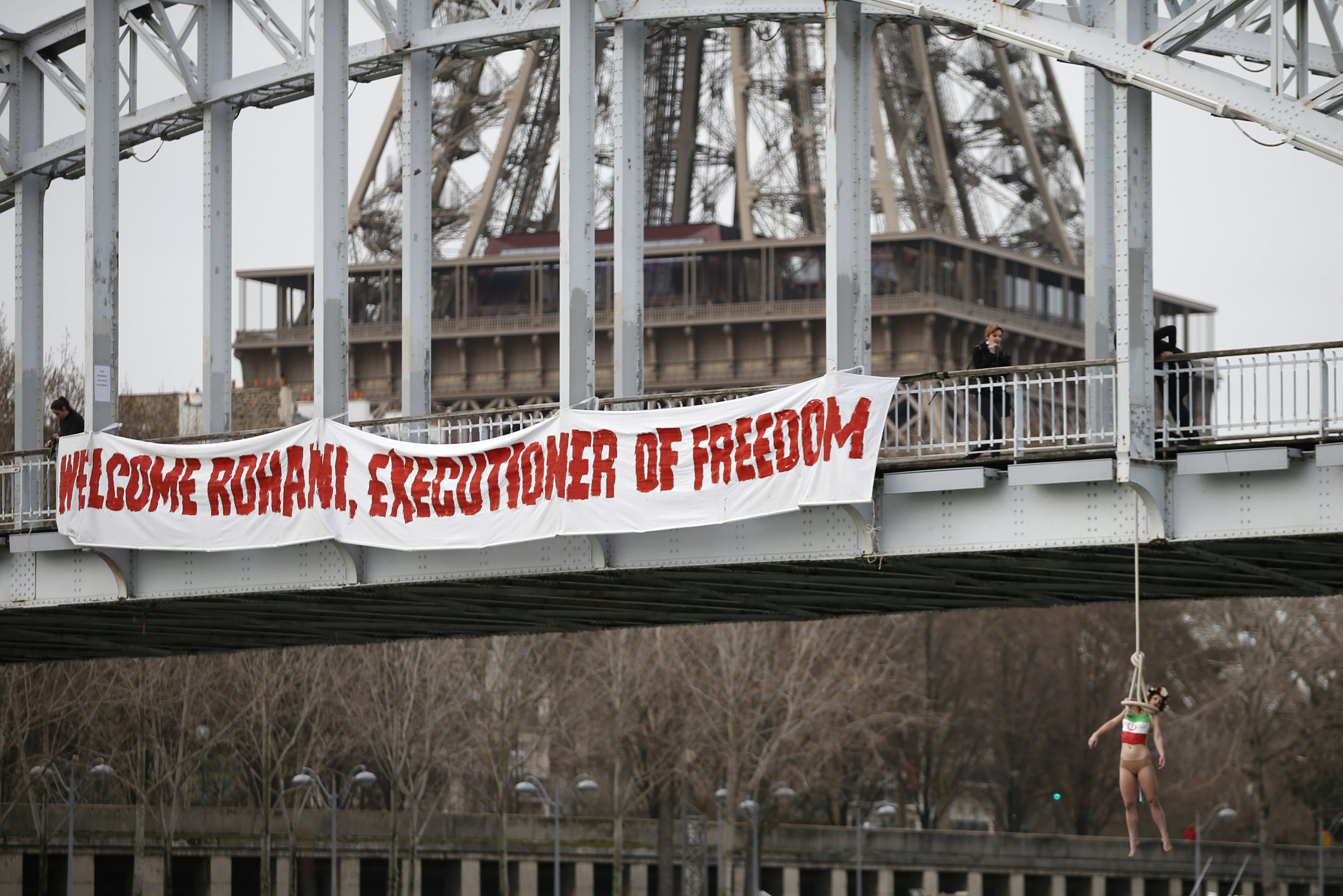 A topless activist from the global women's rights movement Femen staged a mock execution in Paris on Thursday. The stunt was a protest against Iranian President Hassan Rouhani's visit to the French capital.
The activist, painted in the Iranian flag, hung herself from a mock noose on the Debilly Footbridge over the River Seine in a demonstration against Iran's continued use of the death penalty.
"We organized this public display as a little reminder of the fact that every year, more than 800 people are sentenced to death in his country," Femen France spokeswoman Sarah Constantin told the Jerusalem Post.
"Among them are women, feminists, homosexuals, and free-thinkers who are rotting on death row, just because they are free-thinkers. And Francois Hollande doesn't take any of this into account," she added.
"He is welcoming him [Rouhani] at the Elysée Palace this afternoon to have a quiet cup of tea and sign a few contracts, and to sell him a few Airbuses. It shows that Francois Hollande doesn't care about human rights; the only thing he cares about is business."
Rouhani is in France to seal a number of major business deals that will see Peugeot re-enter the Iranian economy, the sale of more than 100 Airbus planes to Tehran, and projected deals in the health, agriculture and environment sectors. His first European tour comes after a landmark nuclear deal, signed with world powers, saw the lifting of a crippling economic sanctions regime on Tehran.
Femen's leader Inna Shevchenko tweeted: "We just wanted Rouhani to feel like home."
Former Italian Foreign Minister Giulio Terzi, speaking to Newsweek from an anti-Rouhani march in Paris, joined the chorus of condemnation, criticizing European nations for their silence on Iran's human rights record as Rouhani continues his four-day visit.
"There is not a single word that I have listened to in Rome and now in Paris on human dignity, in the inalienable rights of all men and women, the death penalty and the repression of minorities," he says. "Not a single word about all this. We Europeans, we are following the Iranian agenda."
Rouhani's visit to France followed a trip to Italy to meet with Prime Minister Matteo Renzi, when historic Italian statues were put behind wooden boxes to cover up their nudity, and a meeting with Pope Francis in which the pontiff called on Iran to promote peace in the Middle East and work to prevent extremism.